Major averages finished roughly flat after trading lower, finishing near the top end of their trading ranges.
Here's an interesting graphic showing how the S&P 500 has corrected the least since 1914, or 103 years: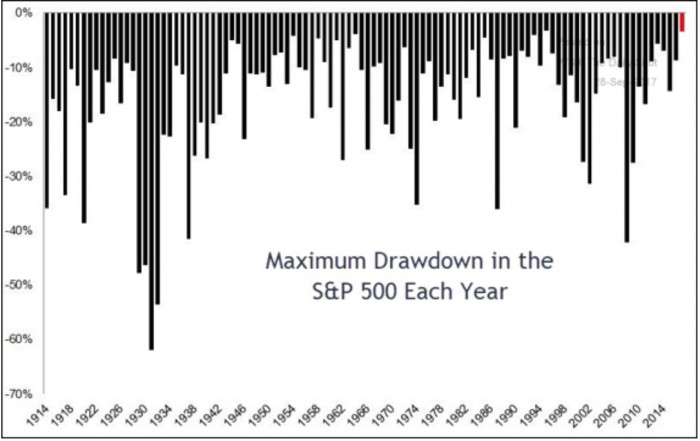 Despite some who say the Federal Reserve ended QE long ago, what counts is the total aggregate QE by all the world's central banks which remains at all time highs. This explains how central banks are now the majority shareholders in some of the most liquid stocks.
Focus List Review
ANET continues to hold support at its 10-dma, but the action has been choppy. We view pullbacks to the 20-dema as the safest entries for those seeking to buy the stock.
BABA is finding resistance at its 20-dema and appears set to retest its 50-dma.
NFLX closed right at its 20-dema yesterday as volume dried up to -32% below average. So far this is pulling back towards its 50-dma in orderly fashion after testing the line earlier in the week. Failure to hold the 50-dma would be a bearish develoment.
WTW closed right at its 50-dma on volume that was -53% below average yesterday. This would put the stock in alower-risk entry position using the 50-dma as a very tight selling guide.