Major market averages reversed to close down yesterday after starting the day off on a strong note. The small-cap
Russell 2000 Index
suffered the worst damage, down -1.2% on the day, while the S
&P 500 Index
was down -0.41% and the
NASDAQ Composite Index
fell -0.28%. Volume was lighter on the NYSE but higher on the NASDAQ. While the S&P 500 and Dow avoided a distribution day, the NASDAQ Composite posted a distribution day on an outside reversal to the downside off the intraday peak.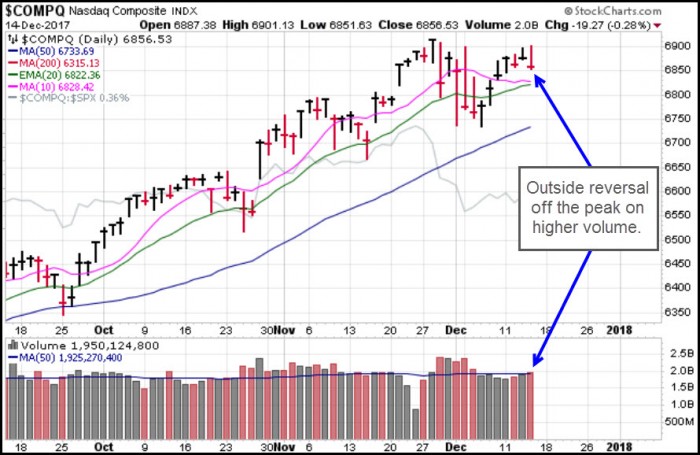 Leading stocks were mostly weak, with industrial names like
Kennametal (KMT)
getting hit on volume selling today. KMT had two strong up days after posting a pocket pivot on Monday, matching its prior early November highs on Wednesday before turning tail yesterday. This illustrates the short-term swing-trading nature of this market, as well as the reality that buying on the more subtle signals within a base is much safe than attempting to buy strength. Breakout buyers would no doubt view Tuesday's action as a positive base breakout, only to be left holding the bag as KMT flipped back to the downside.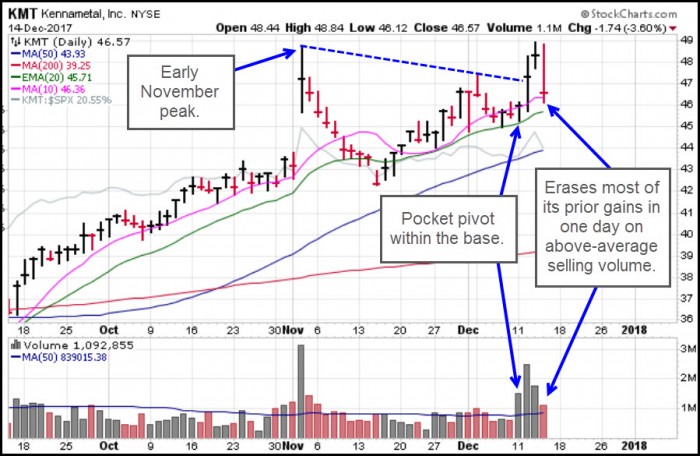 Futures are up this morning continuing the pattern of what Gil refers to as the overnight futures "auto-goose." Regardless of how weak the market might look by the close of any regular trading day, the futures have consistently been goosed to the upside overnight. This gives the market an especially erratic flavor, adding to what is essentially a trendless environment among most stocks while the indexes give the illusion of a powerful market trend.
Focus List Notes:CAT
sold off on above-average volume. The 10-dma at 143.23 serves as the nearest reference for potential support, with the 20-dema at 141.33, near the top of the prior base, next in line.
FB
closed near the lows of its trading range yesterday, and well off its intraday highs, but still close up on the day as volume declined to -17% below average. The 50-dma remains the primary reference for downside support.