Major market averages sold off yesterday on lighter volume. Fears over a government shutdown were again cited as the reason for the sell-off, but an initial slide was bought into as the indexes closed well above their intraday lows. In addition, the percentage declines were negligible. as was the case with the NASDAQ, which closed down a mere -0.03%. The NASDAQ 100 Index was up 0.02%, while the Dow was down the most at -0.37%, still a paltry decline given the extended state of the indexes at this time.
Futures are currently higher on investors shrugging off concerns of a government shutdown in anticipation of a continued bull run during earnings season. The House on Thursday passed a spending bill
that would keep the government funded through Feb. 16, but the stopgap measure currently doesn't have enough support to clear the Senate.
Note that while U.S. government shutdowns aren't always bad for stocks, the following slide is misleading since, for example, the NASDAQ Composite fell -3.5% along with other major indices after 9/30/13 before recovering by 10/11/13 then gaining an additional 3.1% by the end of the shutdown: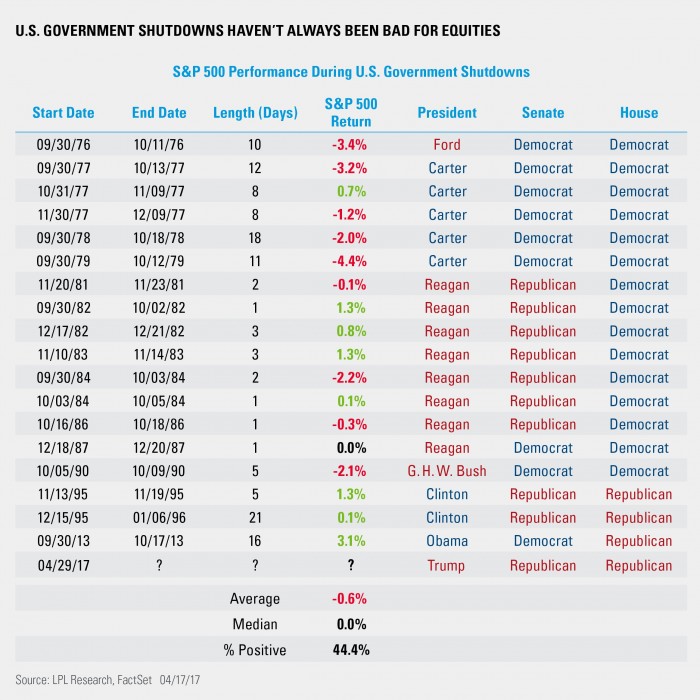 Focus List Notes:EA
posted a pocket pivot as it gapped up slightly and away from its 10-dma.
FB
regained its 50-dma by nine cents on lighter volume, but volume that was still 36% above-average. As we wrote yesterday, we viewed the stock as buyable with the idea of using the 174.67.
NVDA
remains within buying range of its recent buyable gap-up and base breakout.
SQ i
s holding along its 50-dma as volume declines. We would expect to see the stock continue to hold support along the line.
TTWO
remains in a buyable position along its 20-dema, and yesterday briefly pulled into the line, providing a more optimal, lower-risk entry opportunity for those alert to it.
WB
posted a new all-time closing high, but we would prefer to see pullbacks to the 10-dma as lower-risk entries, if we can get 'em.