The indexes swung around wildly yesterday but for the most part the market closed flat. The
NASDAQ Composite
and S
&P 500 Indexes
were down -0.05% and -0.04%, respectively, while the Dow, riding strong moves in BA, MMM, JNJ, UTX, and GS, managed to close up 0.54% or 140.67 points. Volume was lighter as the market seemed to take its cue from comments coming out of Davos regarding the U.S. dollar. The dollar has been in free-fall since the start of the year, but yesterday found volume support off its intraday lows to close up on the day as measured by the
PowerShares U.S. Dollar Index Bullish ETF (UUP)
. This is the sharpest 12-month drop in the dollar since 2010.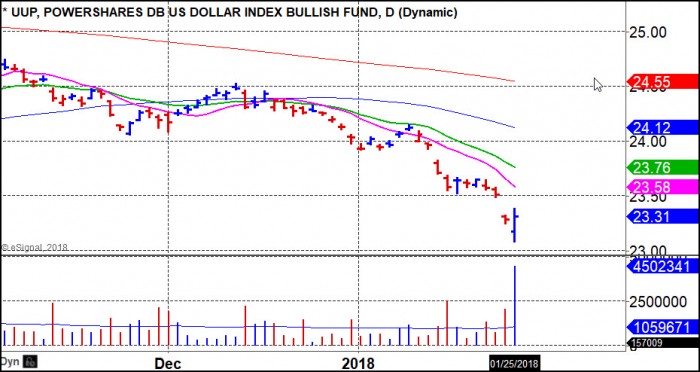 Future fell briefly but remain soundly higher after the advance fourth quarter GDP was reported to grow at 2.6% vs, estimates 3.0%. December durable goods orders rose 2.9% vs. est 0.9%. The prior month's reading was revised to +1.7% (from +1.3%). Excluding transportation, durable orders increased 0.6% vs. est +0.7%) to follow the prior month's revised uptick of 0.3% (from -0.1%).
Focus List Notes:CAT
reported earnings and gapped up at the open, only to reverse course and drop just below its 20-dema, over 10 points below its hiopening price of 173.10. By the close CAT was up 1.03 points as it held maximum downside support at its 20-dema.
EA
pulled into its 10-dma and closed a few cents below the line on lighter volume. The stock was extended from its 50-dma, where it last posted a pocket pivot nearly three weeks. Earnings are expected on January 30th, so some profit-taking ahead of the report as the stock gets extended is logical. We would lay back and wait for earnings to come out before venturing into the stock at these current price levels and just before earnings next week.
FB
is holding tight near its highs as volume dries up. We would look for the stock to move higher from here, perhaps on a clean breakout. Earnings, however, are expected on January 31st.
SQ
again tested the top of its prior cup-with-low-handle breakout point yesterday and held again after selling off hard in the morning. The stock has been exhibiting some intraday volatility over the past three days as sellers come in and hit the stock, but it has recovered all three times once the selling has subsided. On a closing basis, however, the stock is holding very tight as volume dried up to -59% below-average today. SQ also announced yesterday that it had acquired certain assets of Entrees-on-Trays, a restaurant delivery service.