The jobs number came out this morning and the BLS reported 148,000 new jobs created in December vs. expectations of 188,000. This has lit up the futures as bad news is perceived as good news since it keeps the QE spigot from being shut tight.
On the short side of the market, we're still negative on
Tesla (TSLA)
, which reported putrid sales and delivery numbers Wednesday after the close. The stock rallied off its intraday lows after undercutting the lows of the prior week, which looks logical, but ran into resistance at the 50-dma. We would be inclined to test this as a short here, using the 50-dma as a tight upside stop.
Bitcoin Investment Trust (GBTC)
looked yesterday like it was setting up here along the 10-dma and 20-dema as volume dries up sharply. Is Bitcoin mania revving up again??? Note the U&R set-up eight days ago on the chart as GBTC undercut prior lows in the pattern and bounced off the 50-dma. Bitcoin futures are up about 1,000 this morning.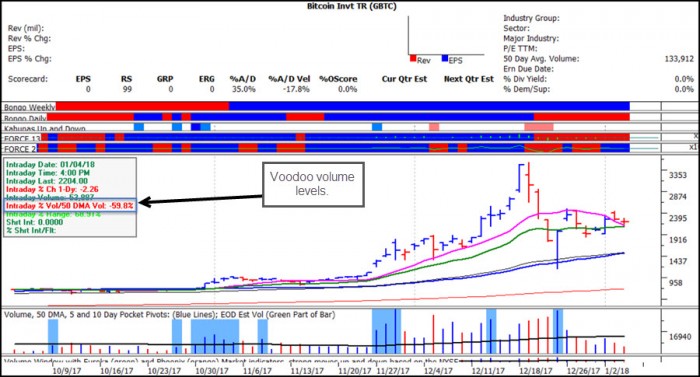 Focus List Notes:Caterpillar (CAT)
rebounded smartly off its 10-dma and posted a new all-time closing high. This was constructive as it holds up very tightly without giving up ground beyond the 10-dma. That is the market of a leader.
Facebook (FB)
ran out of gas on a breakout attempt yesterday. The "meaty" part of the move occurred on the first two days of the year, and now the breakout becomes tentative.