Notice to VoSI members: this Monday Pre-Market Pulse report is sent out as a courtesy to our broader e-mailing list. Members should refer to additional reports, including the weekend Focus List Review, VoSI VooDoo Report, and others that may have been issued over the weekend, for specific discussions regarding our latest individual stock ideas.
Rebounding technology stocks led the
NASDAQ Composite
to all-time highs on Friday as volume ballooned thanks to triple-witching options expiration. The S&P 500 Index also posted a new all-time high while the Dow Jones Industrials achieved a new all-time
closing
high. For now the trend remains to the upside, and Friday's action likely indicates that the major market indexes will make a run into year-end. How much will depend on the action of individual stocks.
What we're looking for here as potential vehicles with which to participate in any such rallies would be "Ugly Duckling" long set-ups in recovering leaders that were beaten to a pulp the week before last. Some of these are in fact setting up using the broader and perhaps unorthodox "OWL" types of set-ups that Gil Morales has identified. We may issue reports to members this week through the VoSI VooDoo Report, which deals specifically with unorthodox long set-ups of the Ugly Duckling variety.
Recapping the prior week, Bitcoin stole the headlines early in the week following the CBOE's launch of futures trading in the leading crypto-currency last Sunday. Last Monday we wrote about the the launch of Bitcoin futures trading on the Chicago Board Options Exchange as follows: "Whether this produces an opportunity in Bitcoin or any of the related "pixie dust" stocks is an open question, and something we'll be watching closely this week. If we see anything actionable anywhere within the overall Bitcoin theme, will will alert members via real-time reports." As it turned out, on Monday morning
Riot Blockchain (RIOT)
posted a buyable gap-up (BGU) move for which we sent a report to members that morning once it had set a firm intraday low and was pushing up through the 19 price level. A day later it was trading over 70% higher from there, and has since had one day of downside retracement followed by a new closing high on Friday.
RIOT is now in "chop land" as it flops back and forth following a crazy two-day move after the BGU on Monday. At best, it likely needs to settled down in here, although pullbacks to the 10-dma could be watched as references for possible, albeit riskier, entry attempts.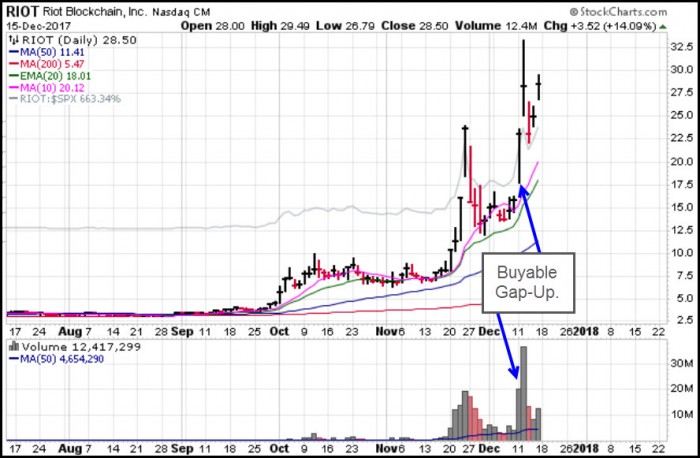 Yesterday, the Chicago Mercantile Exchange launched trading in Bitcoin futures as well, and the leading crypto-currency is trading higher as a result. This morning, futures are up sharply as the market rejoices over a final "tax reform" bill going to a final House and Senate vote this week.