Notice to VoSI members: this Monday Pre-Market Pulse report is sent out as a courtesy to our broader e-mailing list. Members should refer to additional reports, including the weekend Focus List Review, VoSI VooDoo Report, and others that may have been issued over the weekend, for specific discussions regarding our latest individual stock ideas.
While we've seen out share of strange market action in our 26-plus years of investment experience, last week's action will go down as one of the strangest. First, there were the strange divergences seen on Wednesday, Tech, internet, and growth names were hit with heavy selling as leading names like Nvidia (NVDA) diving nearly 20 points on an intraday basis, FB and NFLX diving below their 50-dmas, and Chinese names continuing to come under pressure. At the same time, on the same day, the
Dow Jones Industrials Index
rallied 103-odd points but the big surprise was the Transportation Index which was up over 322.35 points.
On Thursday, the Dow rallied some 350 points on an intraday basis, but in the face of this huge strength in the non-NASDAQ side of the market, the VIX rallied nearly 12% on an intraday basis before settling down to close up 5.42% in an odd divergence. Generally, big upside market moves will see the VIX collapse, or at least move significantly lower.
On Friday, things got even crazier, as the market started out the day with a shallow rally, before ABC News released what turned out to be a "fake news" report that seemed to imply that former National Security Adviser Gen. Michael Flynn "had the dirt" on President Trump, with many pundits jumping the gun and issuing calls of a "constitutional crisis." This turned out to be far from the case, and after the Dow collapsed some 350-odd points in an instant after the news came out, things turned back to the upside and rallied sharply in what was a massive shakeout. The only issue was that most of the tech, internet, and growth names that had been beaten down earlier in the week haven't bounced much.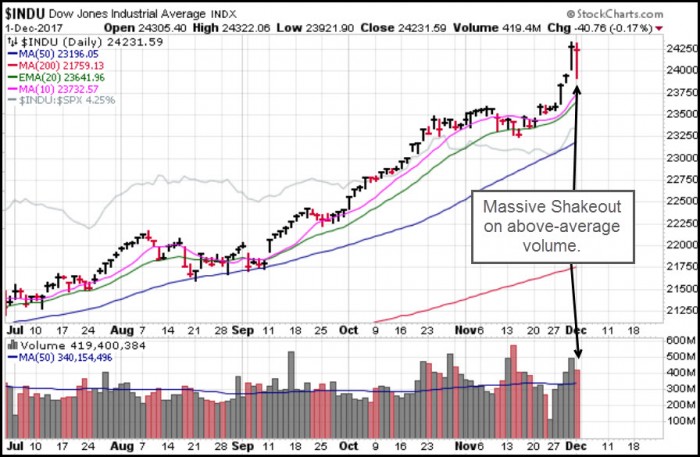 Early Saturday morning, just after midnight, the Senate passed its own version of tax reform legislation. Futures are currently up nearly 1% on the Dow, but while S&P and NASDAQ futures are up about half a percent. If the general market rally continues into year-end, we see some laggard areas where fundamentals and technicals are converging, and these are discussed in our weekend Focus List Review, sent out earlier to VoSI members.