Notice to VoSI members: this Monday Pre-Market Pulse report is sent out as a courtesy to our broader e-mailing list. Members should refer to additional reports, including the weekend Focus List Review, VoSI VooDoo Report, and others that may have been issued over the weekend, for specific discussions regarding our latest individual stock ideas.
The Dow cleared 25,000 for the first time in history this past week as the major market averages were up all four days of the week in a bullish start to trading in 2018. Many leading names also broke out of bases, particularly among big-stock leaders in the tech, internet, and growth areas that were mostly dormant in the latter part of the year after correcting hard in late November and early December. But the "Ugly Duckling" came a-calling and many of these names turned back to the upside, mostly on pocket pivot moves, several of which we reported on.
This morning, futures are down slightly.
Netflix (NFLX)
was our best idea of the week after we put out a Pocket Pivot Report on the stock on Thursday of the prior week when it came up through the 10-dma. The stock then closed above the 50-dma, but the pocket pivot was actionable on the basis of the move off the 10-dma, making the next day's small close just below the 50-dma irrelevant. The stock ten gapped up sharply on Monday and broke out to all-time highs. Members who bought the stock on the pocket pivot likely have enough profit cushion to sit through the expected January 22nd earnings report.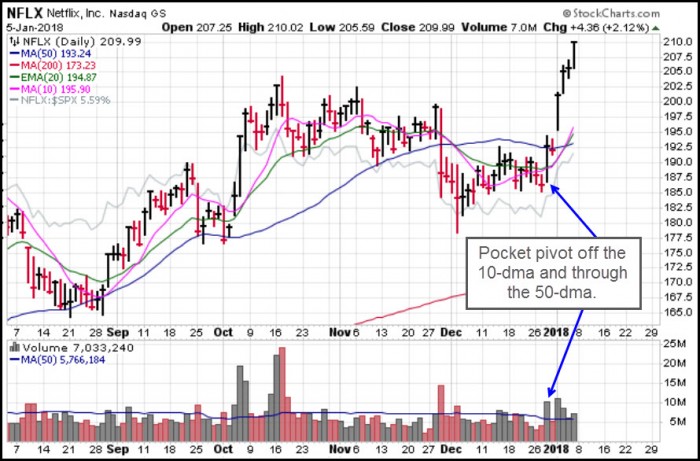 Another strong-performer for us on was Square (SQ), which posted a stalling pocket pivot off its 20-dema on Thursday. We issued a report at that time, but wanted to see a move above the 50-dma as confirmation of a bona fide pocket pivot. The 20-dema can be used as a moving average from which pocket pivots will occur, but usually a confirmation at the 10-dma or 50-dma occurs very quickly as well. That confirmation came on Friday as SQ cleared the 50-dma on big volume and closed 7.1% above the 50-dma. We consider the stock to be extended at this point. Some might note that the earliest buy signal on SQ acutally occurred on Tuesday of this past week on an "undercut & rally" move back up through the prior 35.58 low in the pattern. That is a typically long set-up we discuss frequently in our VooDoo Reports and live webinars.