Market averages sold off yesterday on lighter volume after gapping up at the open on news that the Senate had passed the final version of tax reform legislation in the wee hours of the morning. The gap-up move stalled, however, and the indexes closed lower as buyers weren't eager to take shares. The market averages and leading stocks are mostly range-bound as they chop back and forth in the short-term.
The potential for a year-end rally still remains a possibility, and we would remain focused on individual stock set-ups. Investors should remain alert, however, since yesterday's sell-the-news response to the passage of tax cut legislation could leave the market open to more sell-the-news action. This morning futures are up courtesy of the standard overnight "futures goose." Meanwhile 3rd quarter GDP estimates came in at 3.2% vs. estimates of 3.3% while initial jobless claims came in at 254k vs. estimates of 236k.
Among stocks mentioned in recent BGU or Pocket Pivot reports,
Micro Technology (MU)
set a low at 44.86, and closed at 45.75, keeping its BGU alive.
Navistar (NAV)
, however, failed to hold its 44.30 BGU low from Tuesday, but yesterday filled its Tuesday gap-up "rising window" and then rallied off the intraday lows to close at 42.73. With the BGU under pressure, the gap-fill could be considered as putting the stock in a lower-risk entry position using the 42.34 level, the bottom of the "rising window," as a selling guide. NAV was hit with an analyst's downgrade, which put pressure on the stock. If the gap-fill is going to hold, we would expect the stock to rally soon after the initial news hit from the downgrade.
Kennametal (KM)
was buyable again at the 10-dma on Monday, and it is back to it prior highs. This was an initial pocket pivot and has worked.
Aerojet Rocketdyne (AJRD)
moved higher yesterday after pulling into its 50-dma and successfully testing the line on Tuesday.
General Motors (GM)
closed tight along its 20-dema yesterday as volume dried up - that looks like a lower-risk entry spot using the 20-dema as a tight selling guide.
Cloudera (CLDR)
is setting up again after failing to hold a buyable gap-up two weeks ago. The stock acts well, and is generally best bought on pullbacks as it shows resilience each time it comes in, as can be seen on its chart below.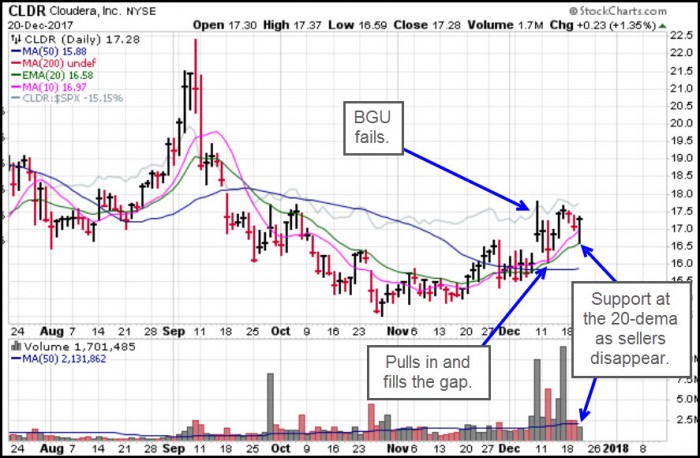 Focus List Notes:Caterpillar (CAT),
a major beneficiary of lower corporate tax rates, responded favorably to the tax cut news and rallied to higher highs on light volume. The stock is extended from the 10-dma, which would serve as a reference for a buyable pullback, assuming it occurred on light volume.
Facebook (FB)
failed to hold its 20-dema after finding support at the line the prior day, and yesterday broke lower to test its 50-dma, which it held on lighter volume. Technically, this puts the stock in a lower-risk entry position using the 50-dma as a selling guide.