The major market averages gapped down and sold off at the open yesterday, but soon found their feet to close near the highs of their daily price ranges. A report from Bloomberg that China was cutting back its purchases of U.S. Treasuries was the instigator, and sent bonds selling-off to the downside. Bonds had already been selling off over the past few days, so its not like this was anything new.
However, if money comes out bonds, then it may very likely end up in stocks, which, as we like to say, "are the new bonds." If the breakdown in bonds, combined with the breakdown in the dollar, and the current rally in gold is forecasting inflation, then stocks are traditionally seen as a hedge against inflation. So the linkage between a bond sell-off and a stock sell-off like we saw at the open yesterday doesn't necessarily hold, and that may be why stocks closed as well as they did.
This morning futures are up after a Chinese regulator blasted a report that Beijing will scale back its U.S. bond purchases as "fake news." That said, China may eventually find that U.S. bonds are becoming less attractive and that trade tensions with the U.S. could provide a reason to stop buying U.S. bonds. 2017 was the weakest year for the dollar in seven years. Over a third of China's foreign exchange reserves of $3.1 trillion are held in U.S. Treasurys.
Here's a VooDoo set-up for you:
Stitch Fix (SFIX)
, a recent hot IPO that formed a nice IPO flag and broke out in raucous fashion two weeks ago, but the party didn't last too long as it was sold into. This is understandable since "flippers" who bought the IPO may have decided to bank some profits given that the stock came public at $15 a share. That has sent it right back into the top of the prior flag and the 20-dema, with volume drying up to -78.1% today. This thing averages 1.6 million shares a day in average volume, and is one of the best-acting IPOs we've seen in a while based on its price movement from its initial offering price and first day of trading. It is typical of something that would be featured in the VoSI VooDoo Report.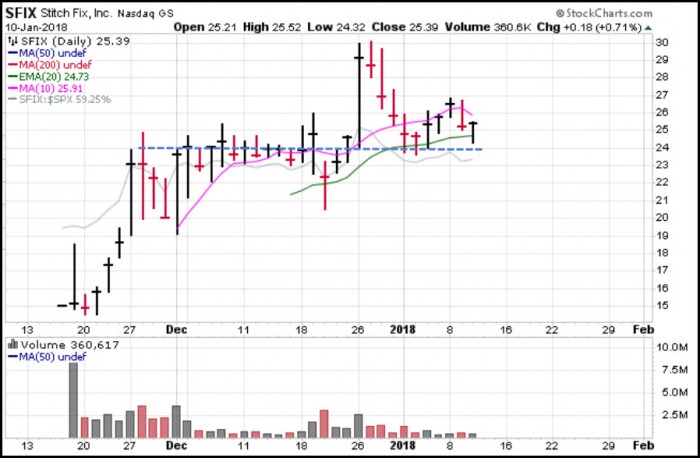 Focus List Notes:Coherent (COHR)
pulled (or rather, dove) into its 50-dma on below-average volume, putting it in a lower-risk entry using the 50-dma as an uber-tight selling guide. We would want to see a quick recovery off the line. Earnings are expected on February 5.
Square (SQ)
is holding very tight sideways as volume dried up to -46% below-average. This looks buyable here on the basis of last Friday's pocket pivot at the 50-dma, using the line as a selling guide.
Take-Two Interactive (TTWO)
pulled into its 50-dma yesterday and found support near the line, closing up on the day. We discussed in yesterday's notes that such a pullback would present a lower-risk entry.