The final trading week of 2017 commences today, and this has been an odd year, to say the least. While the media has made much of the major market averages' respective marches to all-time highs, the story has remained mixed among leading and formerly-leading stocks. Most tech, internet, and growth leaders from earlier in the year remain in choppy patterns after breaking down in late November into early December, and have not seen the steady upside that is apparent in the major market averages.
After gapping up on Monday, major market averages like the NASDAQ Composite and S&P 500 Index spent the last week moving sideways as volume decline into the long holiday weekend in constructive fashion. It would appear that a rally into year-end may be in the cards as there is little reason for investors to dump stocks in wholesale fashion. However, it is not clear that such a rally will include previously beaten-down tech, internet, and growth names as futures this morning are diverging with S&P futures down 0.50 and NASDAQ 100 futures down -27.25 at the time of this writing.
Meanwhile, industrials, but most of these, outside of one of our Focus List favorites in the space,
Caterpillar (CAT)
, are somewhat lacking as compelling fundamental themes. Nevertheless, strong rallies have been seen over the past two weeks in steels, metals, coals, and oils. We have felt that
CAT
provides a strong candidate in this area to focus on, hence the reason why it has remained a flagship name on our current Focus List.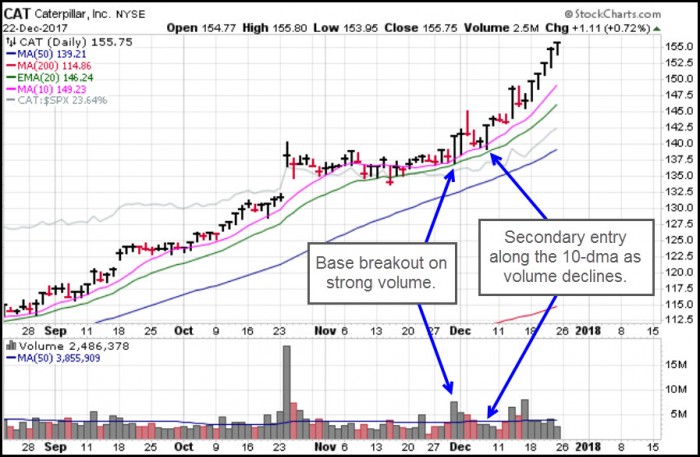 Bitcoin mania finally ran into some headwinds as the
Bitcoin Investment Trust (GBTC)
ETF went into a climax top move on Monday. This was the largest single-day point move in the entire run since we first reported on the stock as a pocket pivot buy back on October 30th. The stock was also up 8 out of 9 days in a row as it went vertical. From there
GBTC
broke its 10-dma, which could have been used as a maximum selling guide as the move went vertical.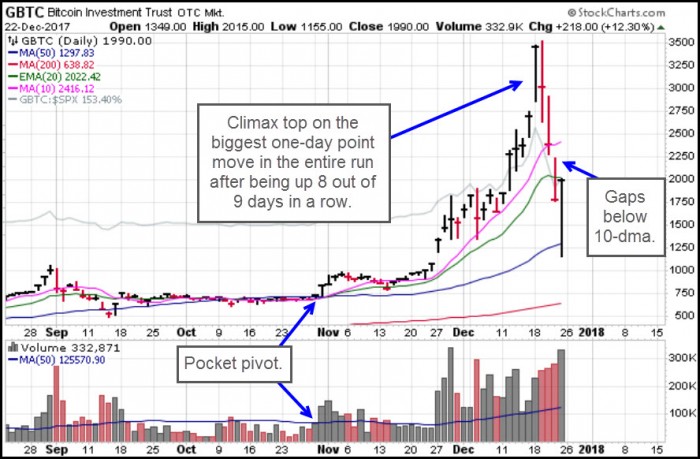 At the same time, on an anecdotal basis, we were seeing a plethora of crypto-currency-related and pseudo-related stocks going nuts to the upside, such as
Longfin (LFIN)
, which came public at $5 the week before last and then rocketed to an intraday peak of 142.82 on Monday. In addition, other signs of a bubble-mania were evident in the case of
Long Island Ice Tea (LTEA)
, which announced that it was changing its name to Long Blockchain and reserving the website domain longblockchain.com. That sent the stock up from a Wednesday close of 2.44 to a 9.49 intraday peak on Thursday, a massive one-day move, although nothing in comparison to
LFIN
. Two Fridays ago, Fox Business News interviewed a high school student who had become a Bitcoin millionaire and treated him as an expert in crypto-currencies. His advice at the time: "Never sell Bitcoin."
Taken together, these are all signs of a near-term mania in the crypto-currency space. While we readily admit that blockchain technology has a bright future, just as the internet did back in the late 1990's during the dotcom bubble-mania of that era, there are times when things get overdone and overbought on a technical basis as the mania reaches absurd proportions. This absurdity becomes obvious when all a company has to do is say that it is now shifting its business operations from making tea to engaging in the development and use blockchain technology in order to general a several-fold stock price move. Do those who make tea truly and suddenly possess the expertise to make a huge impact in the complex world of blockchain?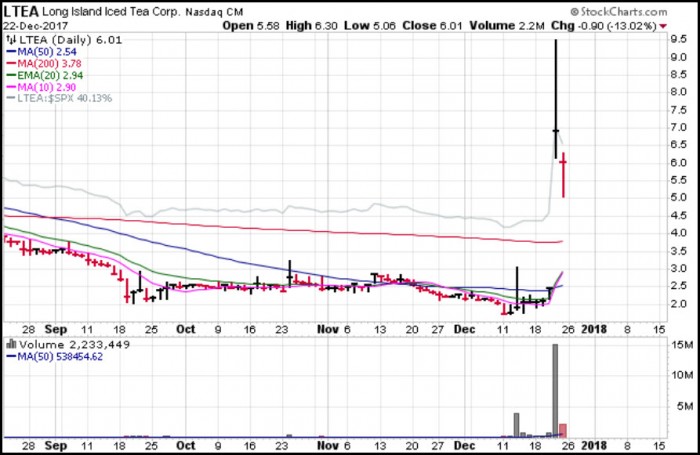 Surely, the Bitcoin mania of 2017 is one for the market annals as well as its 20 million-fold move from an average price of 0.001 in 2009 to nearly 20,000 just recently. Singularly, nothing in the history of speculation has ever appreciated to such an extent over such a span of time, and this includes bitcoins many bubbles and "obituaries" since 2009 such as two 93% corrections, two 75-80% corrections, and numerous "run of the mill" 40-60% corrections along the way. Where it goes from here is anyone's guess though over the long run, it should reach 7 figures by 2022 based on a conservative price trajectory.
We believe blockchain technology, and the basic idea of non-fiat, alternative currencies like Bitcoin, Ethereum, Ripple and Litecoin, among others, that are not controlled by governments and central banks, is likely a compelling future investment theme, just as the basic concept of the internet was in the late 1990's. As the technology develops and broadens its reach, there will be winners and losers, but the most exciting aspect of blockchain technology is that there will likely be more and more legitimate, less bubble-like investment opportunities to come.