The market posted its largest one-day sell-off since August of 2011, but on a point-basis the Dow's decline was the largest in history. On an intraday basis, the index dropped nearly 1600 points. Volume was heavy as all of the major market averages gave up all of their gains for the year. Leading stocks of all stripes broke down sharply, and the market is now in full correction mode. This is the worst correction in two years with the major averages down several percent off their highs. Investors should have heeded trailing stops and sold positions off as these were broken, allowing themselves to be naturally forced out of the market.
Futures have been volatile and are currently trading slightly lower at the time of this writing after yesterday's sharp correction which may not yet be over. Volatility instruments such as XIV nosedived after the VIX spiked 84%, it's largest one-day increase of all time. This caused XIV and other related instrument to lose most of their value.
XIV's prospectus
says that if the ETN drops below 20% of its value the prior day it can be "accelerated," which means that it is effectively liquidated, and the holders receive a cash equivalent to the closing value on that date. The massive losses in these instruments could be another headwind for today's markets.
Bond prices bounced yesterday after their sweeping nosedive as shown in the 20+ Year Treasury Bond ETF TLT below: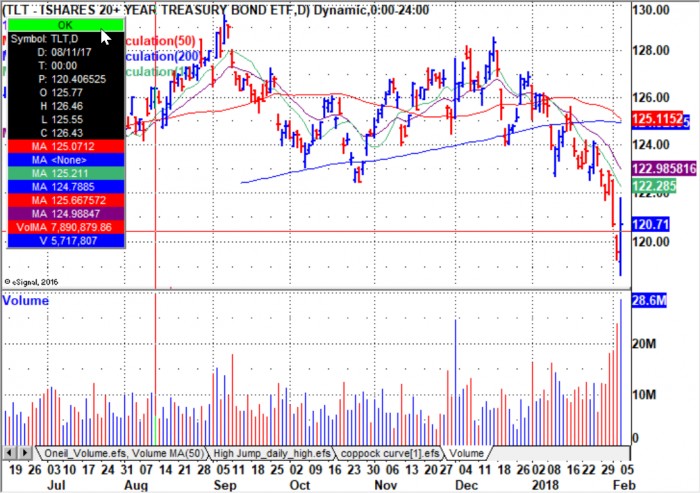 The bond bear market has just begun. As for stocks, the question is whether sufficient inflows from global QE can counter the market's concerns of higher interest rates which may derail the fragile economic recovery.
Focus List Notes:CAT
broke below its 50-dma and has been removed from the Focus List.
EA
has been removed from the Focus List. Over the weekend we indicated that the stock should be sold after failing on its recent buyable gap-up.
FB
closed just below its 50-dma and per our notes yesterday should have been sold on the breach of the 10-dma early in the day.
NVDA
failed at its prior breakout point and is attempting to hold its 50-dma.
SQ
broke below its 20-dema and has been removed from the Focus List.
TTWO
has failed on its recent base breakout.