All of the major market indexes made new highs yesterday except for the Dow, which had already stolen all the headlines last week when it cleared the 25,000 level. Meanwhile, leading stocks are getting extended to the upside, and the question of when we will see any kind of buyable pullback remains unanswered. That is what is known as a tough problem to have if one is long stocks like
Caterpillar (CAT)
or
Netflix (NFLX)
. Otherwise there isn't much setting up here given the extended state of affairs.
This morning futures are up on a continuation of the global rally. Markets in Asia ended Tuesday on a positive note with Japan's Nikkei (+0.6%) closing at its best level since November 1991. The Bank of Japan announced it will reduce its daily purchases of government bonds of 10-25 years left to maturity and 25-40 years left to maturity by 10 billion yen each. This is equivalent to about $89 million which is not a meaningful amount, but it is the first time the BoJ has reduced purchases since 2012.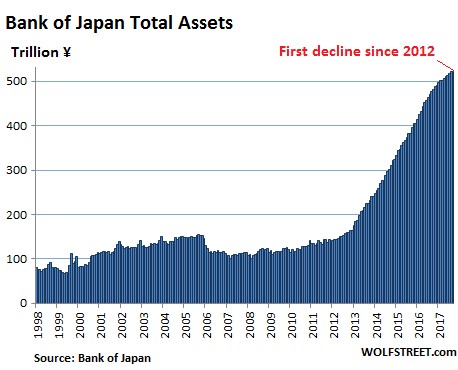 Further, the ECB began tapering in April 2017, slashing its monthly asset purchases from €80 billion to €60 billion. As of January 2018, the ECB has tapered further, cutting its monthly purchases to €30 billion.
So QE that has powered global financial markets for years is beginning to evaporate. The question remains whether the global economy which still remains weak can weather a significant drop in QE without sliding into a serious recession, keeping in mind QE levels are still substantial. The US markets have been the major recipient of the flow of QE capital with major central banks being the primary shareholders in many blue chip names.
Major averages at this time are all extended above their respective 10-day lines so a pullback of some magnitude such as the one observed on December 1, 2017 would not come as a surprise.
Focus List Notes:COHR
posted a pocket pivot trendline breakout on strong volume. It was buyable early in the day yesterday nearer to the 10-dma and 50-dma. It was added to the Focus List on Sunday.
NVDA
posted a buyable gap-up yesterday as it broke out of its current base. The intraday low was set at 218.58.
SQ
pulled in slightly on above-average volume that was lower than Friday's pocket pivot volume levels. The stock is slightly extended from its 50-dma, so a pullback closer to the line would offer a lower-risk entry.
All other names on the list are in extended positions. Review names on the list for areas of potential support if we see any pullbacks in any of these.