The NASDAQ Composite and the S&P 500 both posted their sixth straight up day in the New Year. This is the best yearly start for the market since 1964.
This morning, futures are down after the S&P logged records for six straight sessions, or all of the trading days in 2018, tying with 1964 for the longest streak of records to begin a new year. Bond legend Bill Gross said Treasurys are entering a bear market after breaking long-term 25-year trendlines in the 5-year and 10-year notes. Interest rates have been heading higher in light of central banks attempting to reduce their central bank balance sheets. Further, today's report that China is considering stopping its U.S. bond buys and yesterday's action by the Bank of Japan to cut its bond purchases after years of ultra loose monetary policy pushed the yield on the 10-year Treasury note closer to 2.60%.
The wildest stock that we've reported on recently is without a doubt
Weight Watchers Int'l (WTW)
. Gil sent out a VoSI VooDoo Report on the stock last Friday when it was near the 46 price level as it posted voodoo volume levels along the 20-dema and 50-dma. In the past two days it has rocketed over 10 points, or more than 20% higher from there. We previously pointed out the pocket pivot that occurred six days ago on the chart, the day after it appeared that the stock was a late-stage failed-base short-sale set-up in process. However, the pocket pivot negated that, and the stock set up again in VooDoo fashion. Not all VooDoo set-ups will work this well, but the set-up generally offers a low-risk entry when a stock is "quiet" rather than presenting a situation where one is scrambling to buy into extended strength.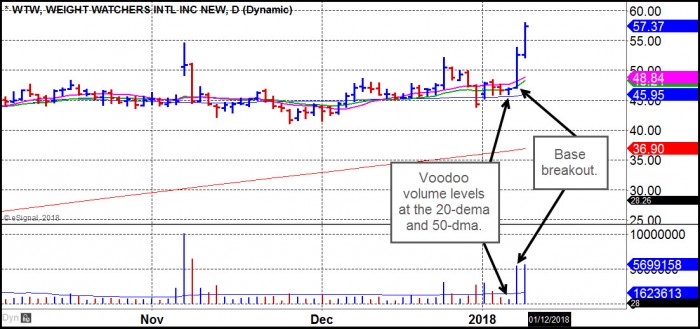 Focus List Notes:

Most names remained extended as earnings season approaches.
Square (SQ)
held support near the 50-dma and right at its 10-week moving average. Heavy selling right at the open was a bit disconcerting as the stock dropped to a low of 39.22 before finding support and rallying to close up 12 cents at 40.88. As we wrote yesterday, a pullback closer to the 50-dma would provide a lower-risk entry, and despite the scary action at the open that turned out to be the case.
Take-Two Interactive (TTWO)
pulled back towards its 50-dma on below-average volume. Pullbacks to the 50-dma would constitute lower-risk entry opportunities. Earnings are not expected until February 6th.