Major market averages reversed yesterday on heavy volume after gapping up sharply to all-tim highs at the open. Many leading stocks posted similar reversals, with some, posting big-volume outside reversals. Fears of a government shut-down was cited as the reason for the reversal, but the bottom line was that the indexes and many leading stocks were quite extended. Thus a pullback was not unexpected, and it remains to be seen how this plays out from here.
This morning futures are up at the time of this writing despite the possibility of a government shutdown this weekend. Lawmakers are hustling to hammer out a deal on immigration seen as key to breaking the deadlock. The possibility of a government shutdown has occurred a number of times in the past several years. Outside of actual shutdowns, markets have briefly sold off on the threat of a shutdown only to quickly retrace losses.
The only actual
shutdown
since 1995 occurred on Oct 1, 2013 when the government shut down for 16 days after Congress was unable to agree on a budget for the new fiscal year. The NASDAQ Composite fell -3.5% from peak-to-trough then immediately retraced its losses by Oct 11, before the end of the shutdown.
Gold has been moving higher in a sort of alt-currency "echo" to the recent Bitcoin mania. We also note that silver, which has been lagging gold, is starting to shows signs of percolating as the
iShares Silver Trust (SLV)
posted a pocket pivot last Friday and found support yesterday at the 10-dma. This may be ready for a breakout as silver perhaps plays catch-up to gold. So far, the technicals seem to be lining up favorably here, and a "higher-octane" way to play any breakout would be to use the leveraged
ProShares Ultra Silver ETF (AGQ)
.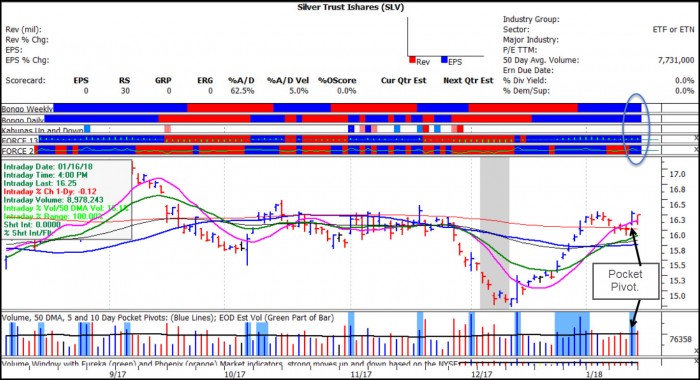 Meanwhile, the dollar continues to plummet to new three-year lows.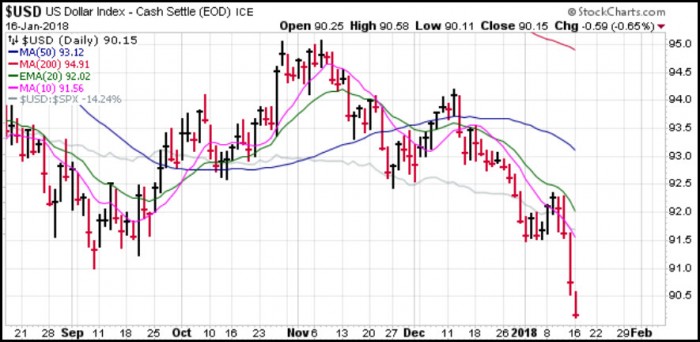 Focus List Notes:BABA
posted a big-volume reversal on a failed breakout attempt. This underscores why buying pocket pivots coming up from the lower areas of a base tend to work better than buying breakouts in many cases.
COHR
gapped up to a higher closing high, but is now extended from its 50-dma where it was last buyable per our prior notes on the stock.
FB
reversed back below its 50-dma after gapping above the line earlier in the day. As we discussed over the weekend, we would not be "reflex buyers" of the stock here solely because it was down on news. Instead, we would watch to see what develops if the stock undercuts any of the prior lows in pattern per our weekend discussion.
WB
, like BABA, broke out to new all-time highs and held those highs, although it reversed well off its intraday peak to close up 1.75 after being up 6.93 earlier in the day.
The following names pulled into key support levels, but volume was higher, though below-average. Generally, we prefer to see volume dry up as a stock pulls into a key moving average, such as the 10-dma, 20-dema, or 50-dma. If these names can hold support and we see things settle down, they could become actionable. The stocks are:
EA
and
NVDA
both pulled into their 10-dmas;
TTWO
pulled into its 20-dema; and
SQ
pulled into its 50-dma.