Major averages were streaking higher yesterday before news of a North Korean missile launch hit the wires, sending the
Dow Jones Industrials Index
down about 140 points fro its intraday peak in short order. But at that point the indexes stabilized and turned back to the upside, with the Dow leading the charge with a 1.09% gain on higher volume. The
S&P 500
wasn't far behind with a 0.98% gain, while the
NASDAQ Composite
posted a lesser gain of 0.49% on the day as big-stock NASDAQ names lagged. Volume was higher on both exchanges.
News regarding the impending Senate vote on its own version of so-called tax reform legislation continues to swirl, with no clear resolution evident just yet. However, the market appeared to respond positively to news that the Senate Banking Committee had approved the bill, a technicality that is necessary to move it to the floor for a vote. In our view, it mostly appeared that the North Korean missile launch only served as the impetus for a big technical shakeout that cleared sellers out of the way, enabling the indexes to recover strongly and push beyond their prior intraday highs in a show of impermeable strength.
Market averages posted new all-time highs across the board. Financials rallied sharply, after bullish comments on interest rates from Fed head Powell, with the
Financial Select Sector SPDR Fund (XLF)
posting a big-volume pocket pivot off the 50-dma as it also cleared its 10-dma and 20-dema. The XLF's action is reflective of its biggest components,
Bank America (BAC)
,
Citigroup (C)
,
Goldman Sachs (GS)
, and
J.P. Morgan (JPM)
, which all posted similar pocket pivots. The strength in financials, many of which populate the
Russell 2000 Index
, enabled the Russell to lead all indexes with a 1.53% upside move on the day.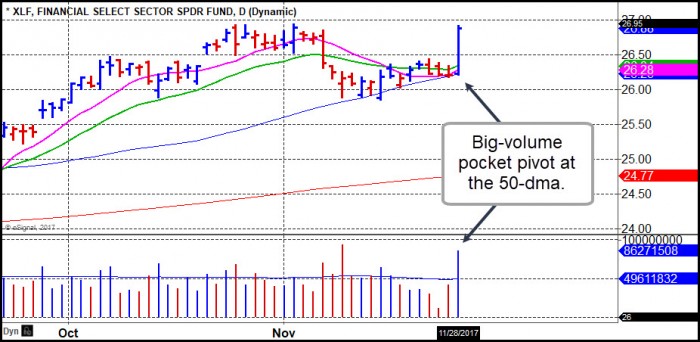 Futures are mixed but mostly flat with Dow futures up the most at 0.35% at the time of this writing.

Focus List Notes:ANET
remains in a five-day base as it found support near its 10-dma yesterday on light volume.
BABA
closed just below its 10-dma, and the next reference for support lies at its 20-dema, which is just below at 185.54.
CAT
rallied off its 10-dma on low volume, but pullbacks to support at the 10-dma and 20-dema offer better, lower-risk entries.
FB
reversed off its intraday highs yesterday to close down on increased, but just below-average voluime. The 10-dma at 180.43 is the nearest reference for support.
NFLX
posted a pocket pivot at its 10-dma and 20-dema after finding support near the 50-dma earlier in the day. Volume came in at just about average, and the stock was already buyable along the 10-dma/20-dma confluence per our Focus List Notes on the stock yesterday morning.
NVDA
pulled into its 20-dema, closing just above the line after dipping below it intraday after the North Korean missile news. Volume was higher, but still below-average. The sell-off was attributable to an analyst's comments that the company's exposure to crypto-currencies was "limited and declining." The net decline was only -1.6%. Technically, the stock is in a lower-risk entry position here at the 20-dema, using it or yesterday's intraday low at 208.24 as a selling guide.
TTWO
pulled an outside reversal to the downside on below-average volume that was higher than the prior day's volume levels.
WB
is attempting to hold support along its 10-dma but closed below the line yesterday as it stalled and closed about mid-range. The 20-dema down at 110.44, in our view, remains a better entry point on a deeper pullback. Chinese stocks in general have been somewhat weak as of late, so we would tend to take the more opportunistic approach of looking for a deeper pullback.