Market Lab Report
by Dr. Chris Kacher
The Metaversal Evolution Will Not Be Centralized™
QE vs Fed Pivot
At present, the Fed is still facing inflation well above its target 2%. It remains focused on combatting inflation. So while the banking crisis pushed the Fed to have to print over $400 billion, reversing nearly 2/3 of its quantitative tightening in two weeks, going forward, it will only print "just enough" to satisfy any remaining depositors who withdraw their funds. So this current spike in liquidity is likely a one-off, barring any future black swans.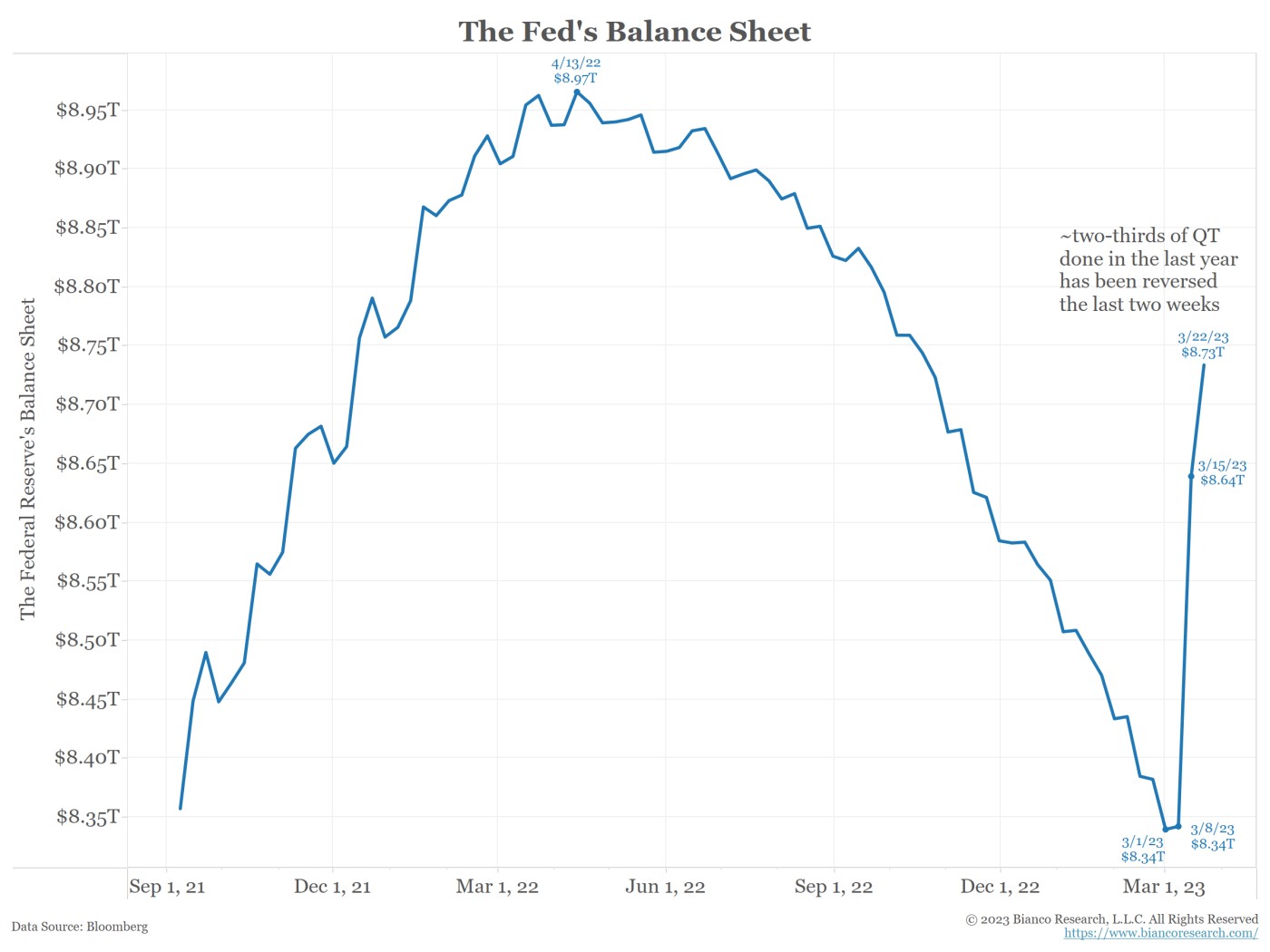 This is therefore not anywhere near the level of QE post 2008 or in COVIDs post March 2020. Only if something else breaks forcing the Fed's hand to print a substantial sum exceeding $1 trillion will this force a new bull market.
Inflation has also been moderating which gives the market hope the Fed will be able to pivot. But such is not bullish if history bears out. The Fed typically hikes too much which causes something to break; the Fed is then forced to pivot, and a nasty recessionary bear market ensues. This was especially true in the early 1930s though has occurred throughout history since then. CME Fed Futures currently predicts one more 25 bps rate hike before the Fed starts to lower rates. Such rate reductions will likely be spurred by other things breaking or by the onset of recession.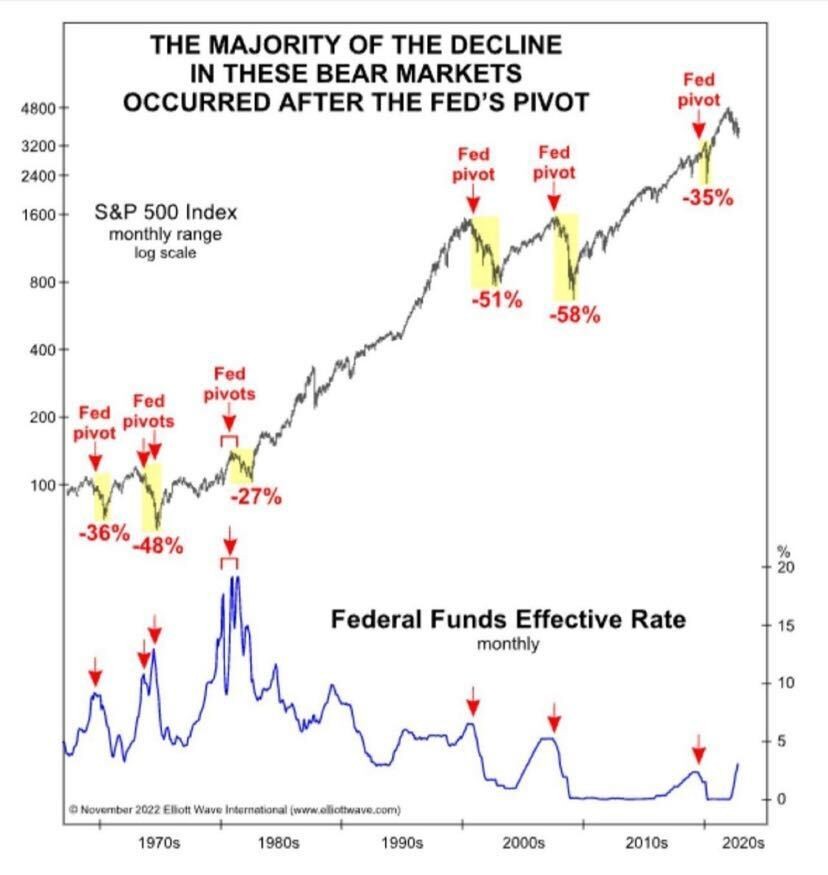 Two Bitcoin mining stocks to consider
We recently published reports on Bitcoin's ETNs and ETFs for our less conservative investors, and precious metal stocks and their ETFs having actionable entry points.
Bitcoin's metrics such as hash rate continue to reach new highs. With global M2 continuing to rise, especially in light of recent events, this may continue to bode well for Bitcoin and precious metals, though a Fed pivot as discussed can bring down both stocks and crypto, so one should remain fluid to market changes.
Bitcoin mining companies use significant computing power, specialized hardware, and energy consumption to capitalize on rising Bitcoin prices, but also can be shortable during price drops in Bitcoin. Two mining companies are standouts in terms of longevity, liquidity, and correlation to the price of Bitcoin that offer both long and short entry points.
Marathon Digital Holdings (MARA)
Marathon Digital Holdings is one of the most prominent Bitcoin mining companies globally, with its headquarters in the United States. The company has several mining facilities and has plans to expand its operations by acquiring new mining equipment. Its mining operations are powered by renewable energy, making it a more eco-friendly option than some of its competitors.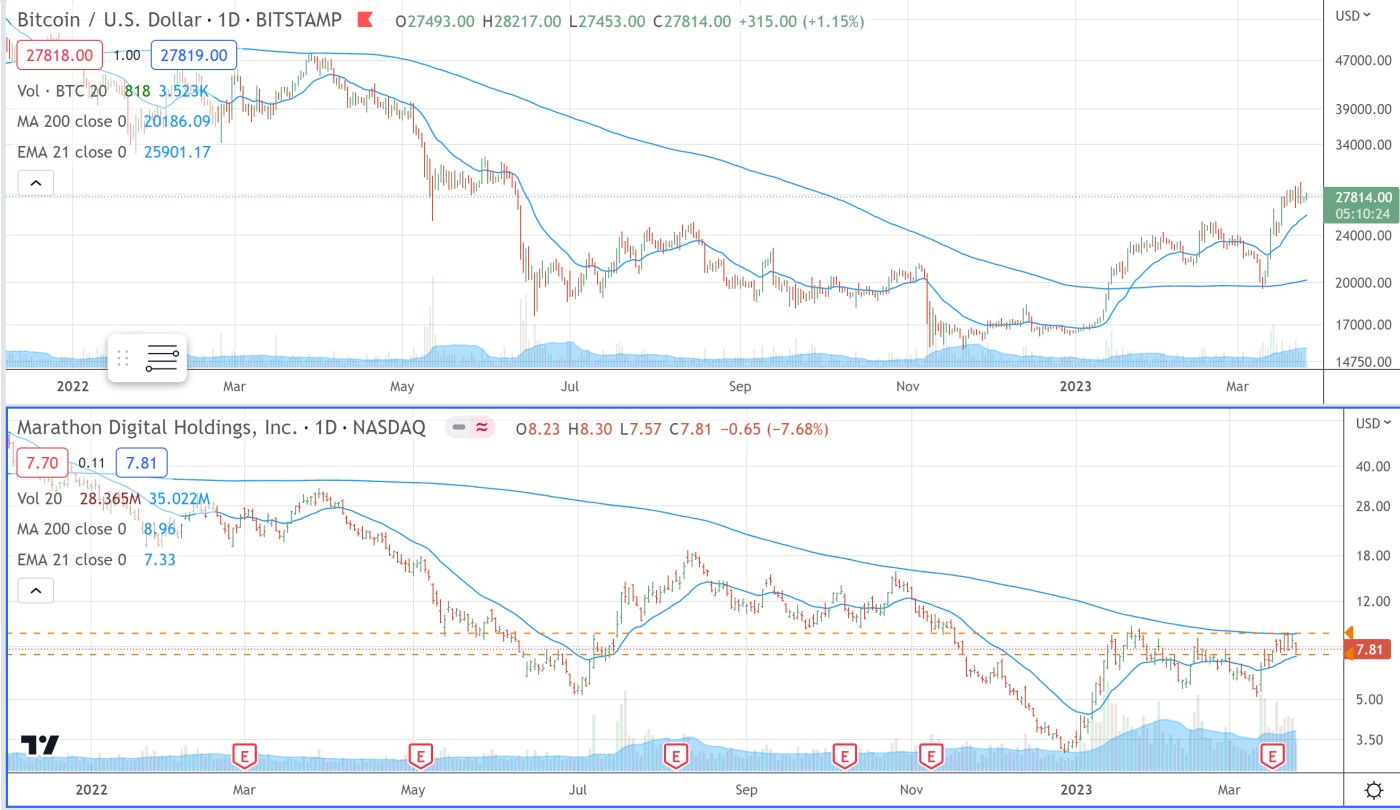 Riot Blockchain (RIOT)
Riot is another leading Bitcoin mining company that focuses on mining, development, and support services for blockchain technologies. The company has mining facilities in Canada and the United States, and it uses renewable energy to power its operations. Riot Blockchain purchased Whinstone which has substantially increased its mining capacity.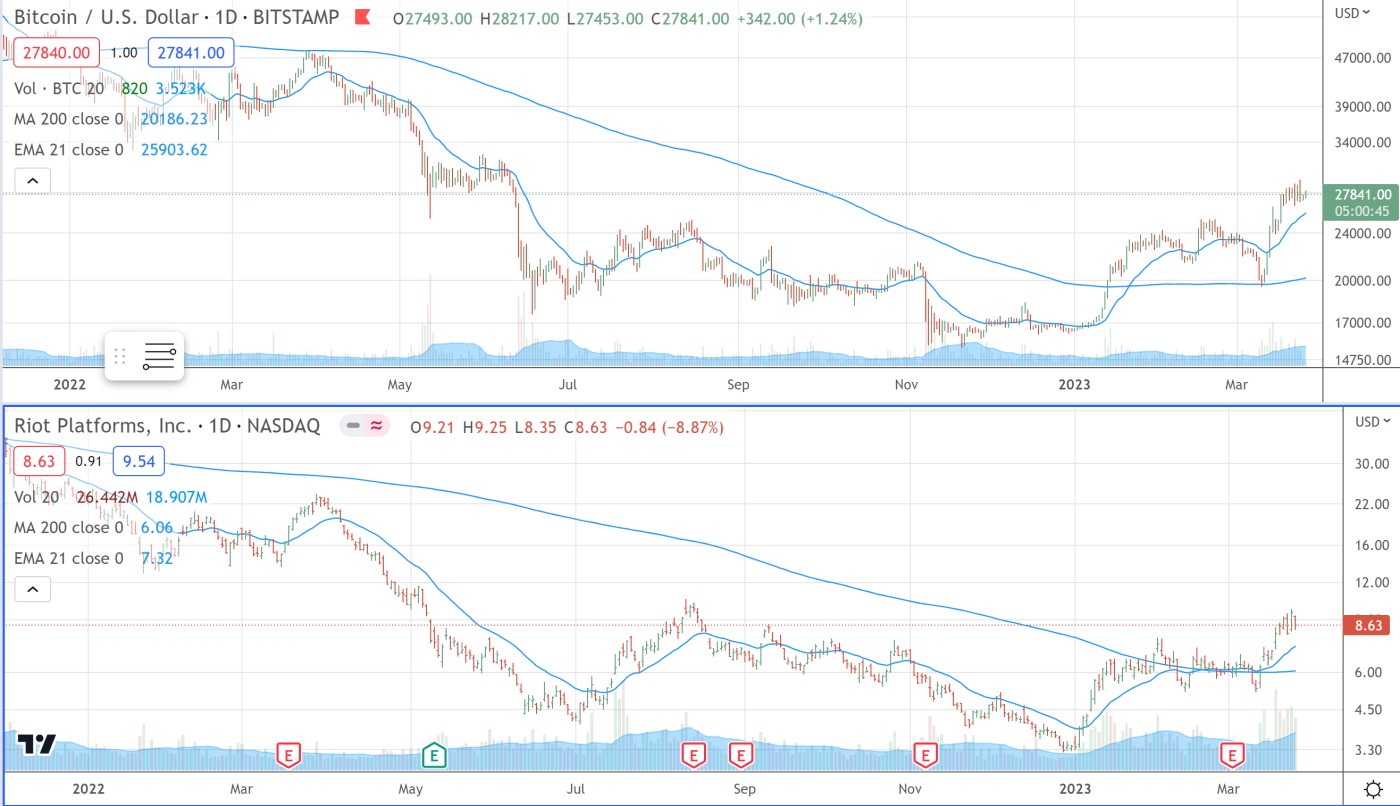 Both companies are highly liquid and correlate with the price of Bitcoin though both tend to have more volatile price swings. The risk/reward works well for more aggressive investors.
The weekly charts of MARA and RIOT show their price moves can be substantial, especially when Bitcoin trends, whether up or down. Using daily moving averages that correlate with your investment timeframe (egs: 10-dma, 21-dema, 50-dma) can help keep you in your position to maximize profits during uptrends or downtrends.