Last Sunday we issued a Short-Sale Set-Up report on Tesla Motors (TSLA). The stock opened up just above the $200 price level and then proceeded to reverse, ending the week about 5% lower at 190.56.
This represents an undercut of the stock's September and October lows at 193.45 and 192, respectively. On an intra-week basis, TSLA reached a low of 185.96, undercutting its prior late June low of 187.87. The 10-week moving average is now at 199.29, so any rallies up towards the line would represent your most optimal potential short-sale entry points.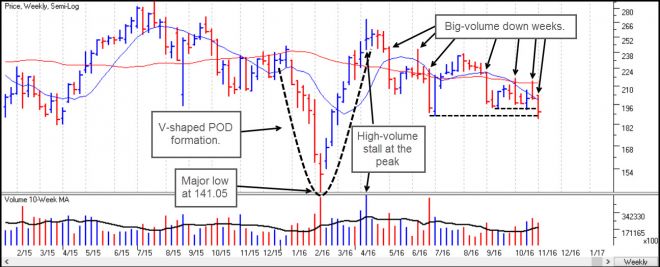 Near-term, however, the prior September and October lows have served as upside resistance, so it is possible that this will remain the case and the stock will simply continue lower if it cannot move above resistance at 193.45. Our long-term downside price target is the February 2016 low at 141.05, which marks the low point of a large, v-shaped POD formation. TSLA failed from the right side of that deep v-shaped POD in April of this past year. It is now starting to shows signs of breaking down from a seven-week bear flag formation as it "breaks out" to the downside.