A couple of weeks ago we put out Short-Sale Set-Up Reports on CAT, BERY, WB, X, NVDA, and TSLA. Of these six, only the first four have remained as actionable short-sale targets in the near-term. That can change, however, so we believe all six should remain on your short-sale watch list while being open to the fact that the "Ugly Duckling Principle," where stocks look quite ugly but then suddenly recover and turn back to the upside, as NVDA and TSLA have done recently, could turn these names back into actionable long situations. Such is the nature of this market!
Nvdia (NVDA) has recently regained its 50-dma and is now holding tight along the 50-dma with volume drying up. This sets up the possibility that the stock will attempt to move up and off of the 50-dma, perhaps with a pocket pivot. However, should the stock breach the 50-dma on heavy selling volume, it would become actionable as a short-sale target on the basis of that "trigger."
Tesla (TSLA) has recently been added back to our long Focus List following its bottom-fishing pocket pivot of not quite two weeks ago. This is discussed in our Focus List Review piece sent that has also been sent out to members this weekend.
Caterpillar (CAT) gave short-sellers a lower-risk short entry point on Tuesday as it failed at the 50-dma, a logical point of resistance. Notice now that it is finding resistance at the lower 10-dma, so becomes actionable as a short here, using the 10-dma as a tight upside stop.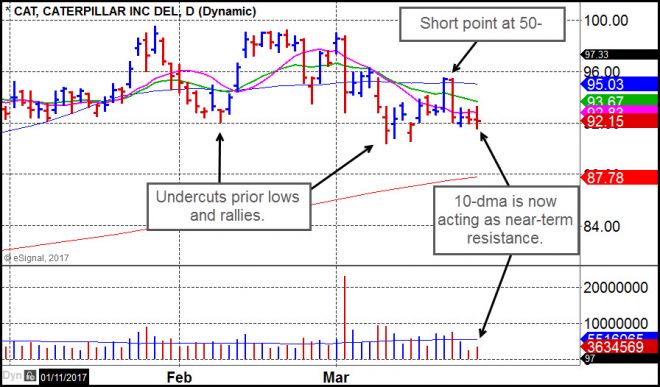 Berry Plastics Group (BERY) was last actionable as a short-sale entry last week when it found resistance at the 50-dma. Now the stock is extended to the downside, but watch for weak rallies into the 20-dema as a potential secondary short-sale entry point.
U.S. Steel (X) tends to be a volatile stock, and shows a tendency to slide through areas of technical support or resistance before turning the other way. Thus using "triggers" at the 50-dma or 20-dema lines when the stock begins to breach the lines as entry signals can work as short-sale entries. In its current position, X is extended to the downside, and would only become shortable again on rallies up to the 10-dma, 20-dema, and 50-dma moving average confluence.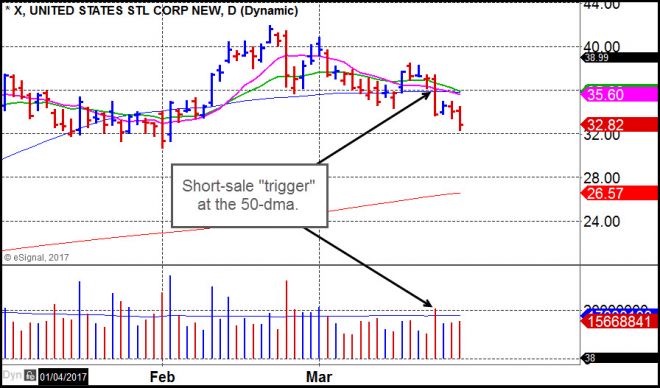 Weibo (WB) has been moving tight sideways in what is either a "LUie" formation in the making or simply a bear flag awaiting a breakout to the downside. Since there have been no positive technical developments here (see SINA in our Pocket Pivot Review also sent out this weekend), the bear flag thesis remains intact. We can see that WB ran into resistance at the confluence of its 10-dma, 20-dema and 50-dma on Friday as volume picked up. This puts it in a lower-risk short-sale entry using the 20-dema or Friday's intraday high as a tight upside stop.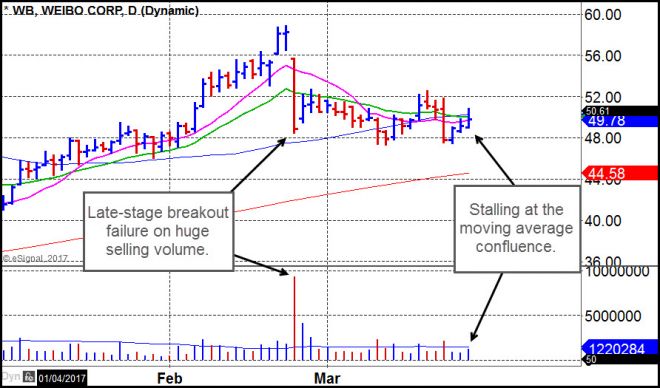 We again remind VoSI members that short-selling is a complicated and risky affair. Unless one is highly experienced on the short side, we advise starting with small positions as one learns the ropes of the short side. In addition, we highly recommend that would-be short-sellers first read our book on the topic "Short-Selling with the O'Neil Disciples: Turn to the Dark Side of Trading" (Wiley, 2015), which is intended as an update and follow-up second edition to the original "How to Make Money Selling Stocks Short" by William J. O'Neil and Gil Morales (Wiley, 2004).
Our objective with our Short-Sale Set-Up reports is to provide members with generally actionable set-ups, but would-be short-sellers should have enough knowledge, gleaned from reading up on and studying the topic beforehand, to identify, on their own, specific short-sale entry points based on the real-time action of the stock and an understanding of the basic short-sale set-up's properties.