Trading Journal notes from Gil and Dr. K regarding this past week's Pocket Pivot and Buyable Gap-Up reports. Note that each of these occurred on Monday as the general market bottomed after the sharp sell-off seen two Fridays ago.
Glaukos (GKOS)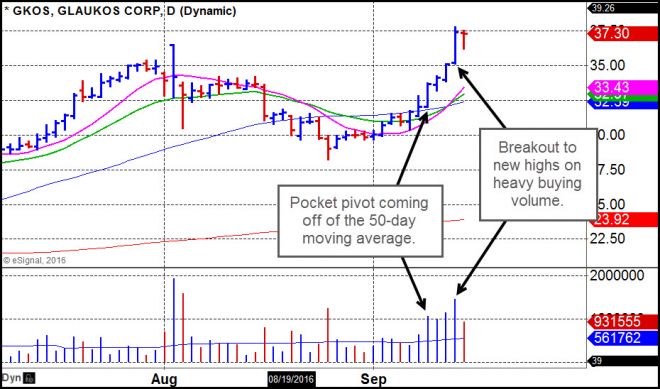 GM - GKOS posted a roundabout pocket pivot on Monday as it was coming up the right side of a new base. The stock broke out on Thursday on very strong volume. I would prefer to buy this on any pullback to 35 down to the 10-day moving average at 33.43.
Dr. K - On 9-9-16, markets sharply corrected while GKOS was one of the few stocks that managed to close up on the day. Indeed, it displayed price/volume strength in the face of the major averages pulling back hard which led to its pocket pivot. As always, everything is contextual so this pocket pivot on 9-12-16 was not extended. Its subsequent move to new high ground seems normal, all things considered.
Weibo (WB)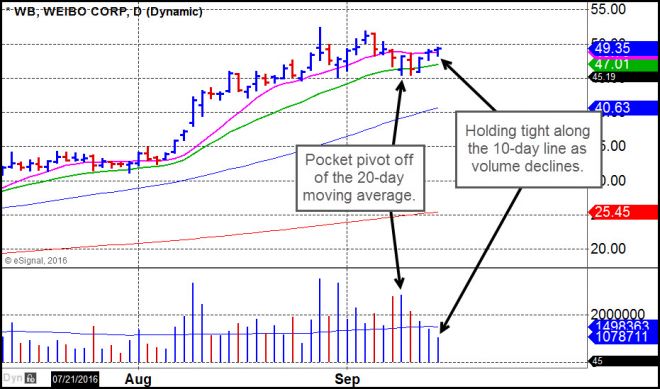 GM - WB posted a somewhat subtle pocket pivot off of the 20-day exponential moving average on Monday and then held tight along the line over the next two days, offering buyers additional lower-risk entry opportunities. It then moved back above the 10-day line and held tight at the line on Friday as volume declined.
Dr. K - WB is the Chinese facebook with a few hundred million users and growing. WB has displayed true leadership qualities on both fundamental and technical fronts. Since its ascent earlier this year, it tends to get support around its 20-day moving average.
Momo (MOMO)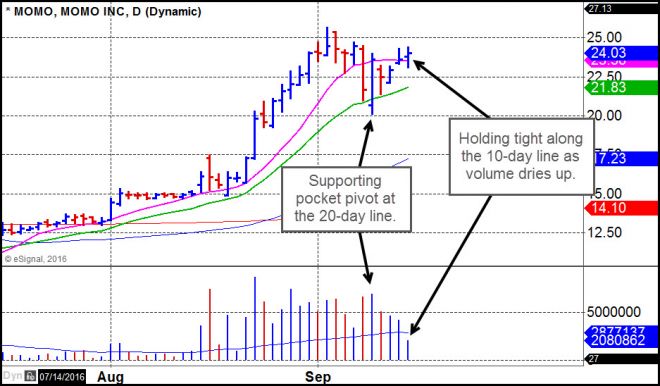 GM - MOMO posted an nice supporting pocket pivot off of the 20-day exponential moving average, but the reality is that one should have been looking to use the pullback to the 20-day line as a lower-risk entry. After the fact, the stock is now extended from the 20-day line and hence back in a higher-risk entry area as compared to buying on the pullback to the 20-day line. However, the stock held tight along its 10-day line on Friday as volume dried up, which is constructive.
Dr. K - MOMO sharply pulled back along with the rest of the general market. This is where buying on weakness after it undercut then move back above its 20-day moving average worked well, but one had to be nimble. For those who cannot watch the market during the trading day, a stop-limit order could be placed before the open on 9-12-16. The buy limit could be placed around its 20-day line with a sell stop maybe 5-6% below its 20-day line. Note, the 5-6% allowance is somewhat natural given the speed at which MOMO launched to new highs starting in mid-August. Of course, this 5-6% may be too much risk for some who is more risk averse, thus MOMO would not be traded in this situation.
Netease (NTES)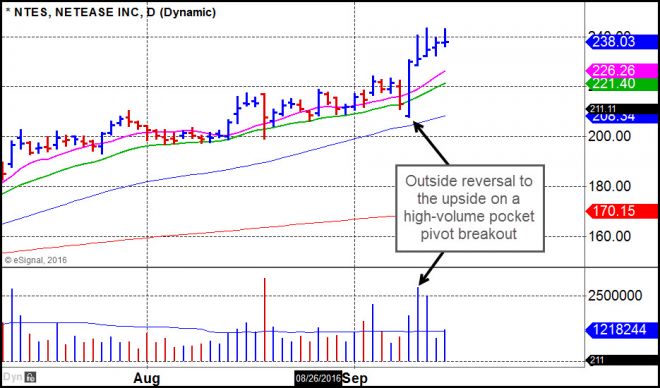 GM - NTES posted a big outside reversal to the upside on Monday after gapping down slightly right at the open. By the close the upside reversal had turned into a big-volume pocket pivot base breakout. The stock is now extended, and pullbacks to the 10-day line at 226.26 would be your next references for potential lower-risk entries.
Dr. K - Outside reversal pocket pivots are strongly bullish patterns, thus one can allow themselves to buy at a price that would be slightly higher than in the case of a normal pocket pivot. That said, always know where you would set your sell stop to thus determine how much risk you're taking in the trade.