Trading Journal notes from Gil and Dr. K regarding Pocket Pivot and Buyable Gap-Up Reports sent out to members this past week:
Align Technology (ALGN)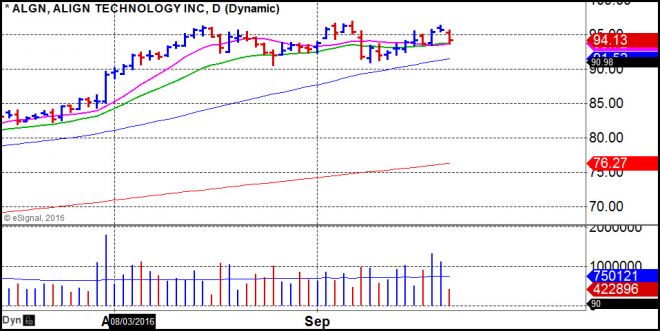 GM - ALGN is one of those excruciatingly slow stocks that has actually trended higher all year long with few dynamic price moves along the way. Whether it is revving up for one now remains to be seen. Following Wednesday's pocket pivot as the stock rallied with market after the Fed policy announcement, ALGN has now pulled back into the 10-day line as volume dries up. This puts it in a lower-risk entry position using the 10-day line as a tight selling guide.
Dr. K - The 10- and 20-day lines have converged so act as good support. The 50-day line also has a good longer term track record for acting as strong support. Given the slower nature of ALGN, an undercut of its 50-day line is less than 3% away from Friday's closing price.
iShares Silver Trust (SLV)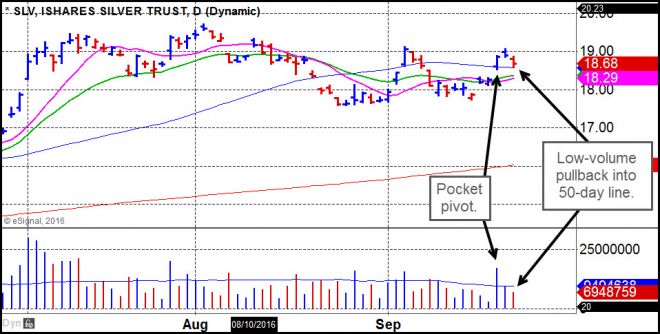 GM - With the Fed on hold precious metals popped nicely on Wednesday after the policy announcement. While the GLD did not post a pocket pivot, the SLV did, but both precious metals ETFs remain within consolidations that extend back to early July. The SLV pulled back on Friday right into the 50-day line which puts it in a lower-risk entry position using the line as a tight selling guide. The key is whether this recent show of strength is a precursor to an impending breakout to higher highs. Prior shows of strength within the current three-month consolidation have not led to further upside.
Dr. K - With the Federal Reserve and Bank of Japan recently supportive of continuing their accommodative monetary policies, this bodes well for precious metals. When either GLD or SLV get into tight intraday ranges on low volume during pullbacks, these are often the best buy points. Some examples: 6/2, 9/19 to 9/20 on GLD and 6/2, 8/29, 8/31 on SLV. Right now, SLV has bounced off lows which could be the start of a run to new highs. Keep stops tight by using the 50-day line if you decide to play here.
Silver Wheaton (SLW)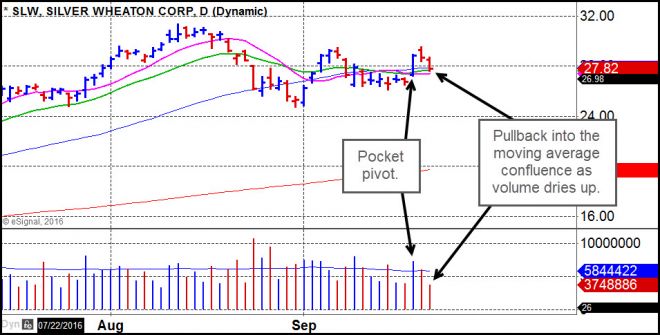 GM - rallying with precious metals on Wednesday, silver pure-play SLW also posted a pocket pivot along with the SLV. It is now mimicking the SLV's action as it pulls back into the confluence of its 10-day, 20-day, and 50-day moving averages. This puts it in a lower-risk entry position, using the 10-day line as a tight selling guide.
Dr. K - SLW correlates highly with SLV so one could use SLV as a guide to buying or selling SLW.