Trading journal notes from Gil and Dr. K regarding this past week's Pocket Pivot and Buyable Gap-Up reports.
Line Corp. (LN)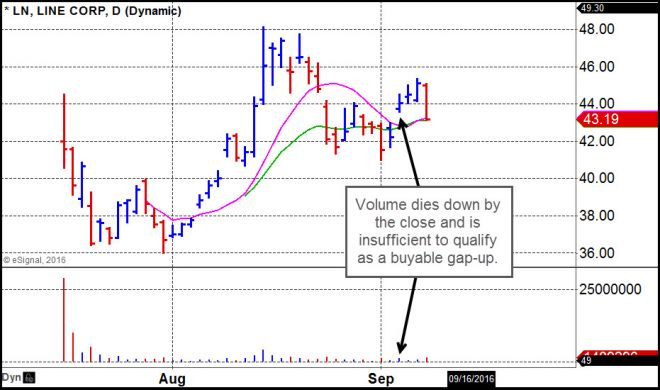 GM - LN got off to a strong start on Tuesday morning as it gapped up with volume rates running very heavy early in the day. However, by the close, volume petered out significantly and came in at levels far too low to qualify as a bona fide buyable gap-up. Like every other stock in the market on Friday, LN was hit with volume selling during a sharp and substantial general market sell-off.
Dr. K - LN sits at support as its 10- and 20-day moving averages converge. Should the market stabilize sometime this week, watch for LN to offer a low risk buy point near support.
Nevro Corp. (NVRO)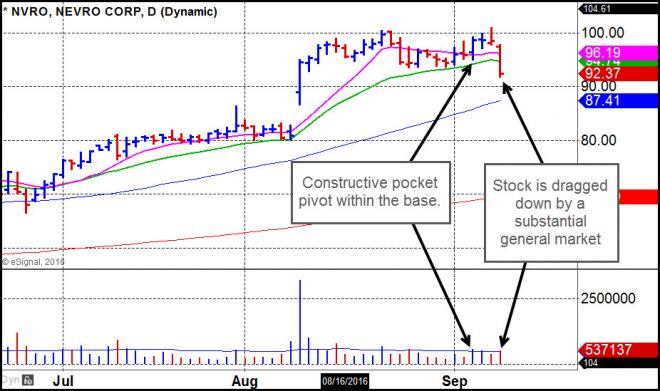 GM - NVRO is an interesting little bio-tech name that posted a very constructive pocket pivot on Tuesday coming up through its 10-day moving average. The stock was unfortunately dragged down with the brutal general market sell-off on Friday as leaders across the board were carpet-bombed. I would note that the stock is now undercutting the lows of the consolidation it was forming since the early part of August. Should the general market stabilize in the coming days, there is always the outside chance that an undercut & rally type of move might ensue. That is something to watch for, although admittedly doesn't look all that likely based on Friday's extremely weak general market action. But in this market you have to be prepared for anything.
Dr. K - Just as the general markets have done, NVRO has undercut and closed below its recent consolidation on above average volume. It may find support around its 50-day moving average should market weakness continue. It's prior gap higher on strong earnings bodes well for this stock finding a floor sooner than later, market permitting.