Trading journal notes from Gil and Dr. K regarding pocket pivot and buyable gap-up reports that were sent out to members this past week:
Netease (NTES)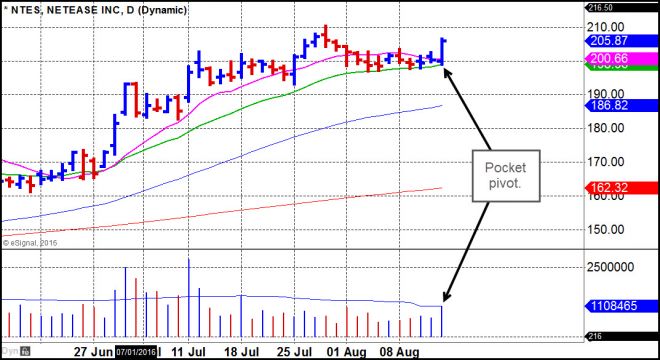 GM - NTES is expected to announce earnings this coming Wednesday, August 17th, so its not clear whether one would want to take a position in the stock ahead of earnings. The pocket pivot is constructive, but I would prefer to buy it on a pullback to the 10-day moving average at 200.66.
Dr. K - The dragon has seemingly awakened as it breathes life into a number of Chinese stocks. Naturally, such names often carry more risk in terms of reporting accuracy as well as outright volatility in their patterns. NTES is a leader in online gaming, an area with huge growth. If you have a position, a sell stop could be placed just under the lows of its recent price action at 196.9 which would be -4.3% from Friday's closing price. One could then decide whether to sell the day before earnings are reporting should they not have a sufficient profit cushion in the stock.
Alibaba (BABA)
GM - BABA gave buyers a chance to jump in on Thursday when we reported on the actionable buyable gap-up following earnings. If you got on board at that time you benefited handsomely from the +7.06% upside move on Friday that came on even heavier buying volume than Thursday's BGU.
Dr. K - We love stocks that are leaders in their respective spaces. BABA is the Chinese Amazon. It has the widest global shipping network so is able to ship goods to customers free of charge in many cases. It also carries goods not available on Amazon or at an even lower cost. BABA is coming out of a long base. It could be bought on constructive pullbacks. Our suggested sell stop would be 1-2% under the low of its BGU day, or 1-2% under 91.26.
Twilio (TWLO)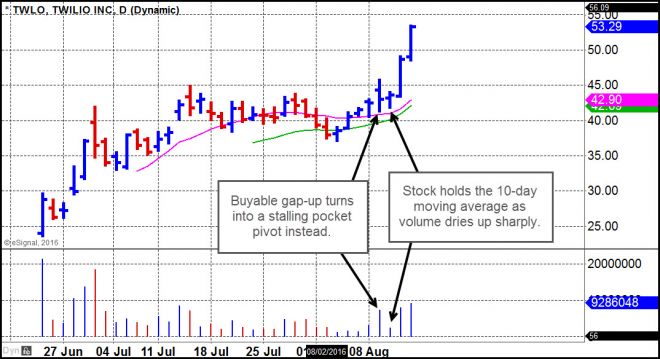 GM - TWLO started out the day on Tuesday as a gap-up move that never set a firm intraday low for the day as it drifted back down to fill the morning gap. However, that day would have still qualified as a stalling pocket pivot at the 10-day line. The next day, Wednesday, TWLO tucked into its 10-day moving average as volume declined sharply, providing buyers with a much lower-risk entry point. The stock then jacked over 20% higher from there on Thursday and Friday.
Dr. K - Low volume trading days with tighter ranges are often a sign of stability when taken in context with a prior high volume day, in this case on earnings. Wednesday, the day after its stalling pocket pivot, it exhibited a low volume, relatively tight trading range then proceeded to launch higher on higher volume on Thursday.
Ebix (EBIX)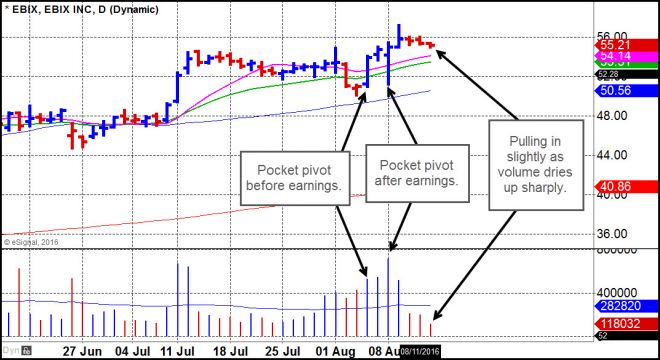 GM - EBIX got run through the "washing machine" on Monday after announcing earnings, but eventually recovered to close above its 10-day moving average on a clear pocket pivot. The stock has now pulled down slightly towards its 10-day moving average but is right on top of the prior four-week base as volume dried up sharply on Friday. This looks buyable here using the 10-day line as a selling guide.
Dr. K - The super tight, low volume VDU trading action of the last three days is beautifully constructive. One could buy here or on the first sign of strength, say at 56.1, for those who prefer to buy on strength. Its 10-day moving average would also provide a good entry point.