Caterpillar (CAT)
and
Facebook (FB)
were both added to the Focus List, so discussion of these two stocks can be found in the Focus List Review report emailed to members this weekend. Going forward, not all Pocket Pivot and Buyable Gap-Up reported stocks will be added to the Focus List by default.
Our intent is to provide members with actionable pocket pivot and buyable gap-up set-ups in real-time, some of which may only provide shorter-term trading opportunities with potentially significant time value in the short-term. Such stocks would not qualify as Focus List stocks. That said, stocks that do qualify tend to showcase longer term, thematic potential that can outperform the major averages on a risk/reward basis.
We reported on Monday's subtle pocket pivot in the
Bitcoin Investment Trust ETF (GBTC)
. We've been waiting for a good spot to alert members to a possible long set-up in this ETF, which offers a way to play strong moves in the Bitcoin cryptocurrency itself. In our view, the current popularity and interest in cryptocurrencies is rooted in the same thematic context as the move in gold since the early 2000's. This is the basic idea of wealth seeking havens away from the current centralized, government-controlled fiat money-printing scheme known as quantitative easing, gold and silver have both found favor over the past 17 years from investors seeking "honest money" and hard, alternatives to the mass-printing of devaluing paper fiat currencies.
While some, like Jamie Dimon, the CEO of crony capitalist big-bank J.P. Morgan and a primary beneficiary of QE, call bitcoin a "fraud," they don't seem to have many concerns about the Ponzi scheme being conducted by the Fed as it engages in QE, or what is essentially the monetization of record levels of government debt, now to the tune of over $20 trillion and growing. While any asset can become overbought to the point of creating a "bubble," and bitcoin is certainly not immune to this phenomenon by any stretch of the imagination, a price move is a price move. Furthermore, we believe that the move in bitcoin is at least partially based on the idea of sound money that is not exclusively controlled and printed at will by global central banks.
Some members indicated that they were concerned about the "premium" in GBTC vs. bitcoin itself. In our view, this is a foolish way to think, since a premium can also work in your favor, and that was the case over the past four days. GBTC actually
outperformed b
itcoin cryptocurrency itself this past week, giving buyers of the GBTC pocket pivot on Monday a more than 30% gain in 2-4 days. That's what we're talking about when we refer to the "time value" of a trade. Getting bogged down in, for lack of a better phrase, ignorant, knee-jerk "concerns" about a premium in GBTC vs. bitcoin causes one to miss the boat entirely.
Further, because GBTC overshoots on the upside, it also tends to over-correct on the downside. This enables the nimble trader to pick up shares of GBTC at a discount when bitcoin is correcting.
GBTC is now extended as it runs up towards its late August peak over $1,000. We will be watching this closely if it should start to pull back, since it is not clear whether moving averages like the 10-dma or 20-dema will be useful when it comes to determining near-term support for something like a cryptocurrency. In many ways, these are uncharted waters, but fascinating nevertheless.
Keep an eye on the actual price of bitcoin via
https://www.tradingview.com/chart/p8vhxXsi/
as it can help you finesse trading GBTC. For example, last Wednesday, the price of GBTC was up over 30% in two days, well ahead of the actual price of bitcoin. Once GBTC violated its 620 as shown in the 5-minute bar chart below, one could have sold around $930 which was somewhat close to the top of that day's trading range. Near the end of the day after GBTC fell to 840, one could have bought it back since the price of bitcoin had remained strong by that point. Indeed, GBTC gapped higher the next day by over 10%. Keep in mind GBTC is highly volatile so position size accordingly.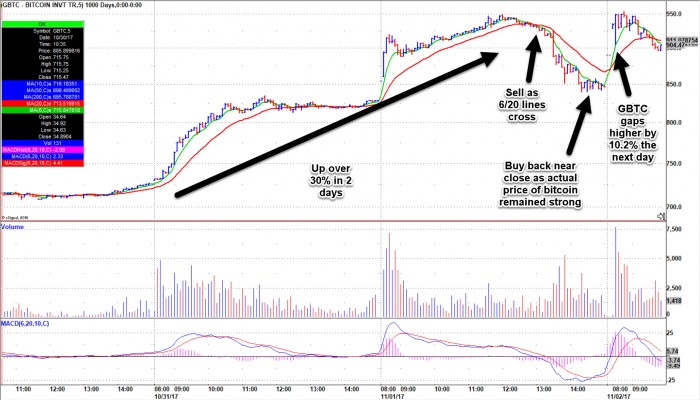 Canada Goose Holdings (GOOS)
is a maker of high-end weather gear, including parkas, coats, jackets, and other clothing. The stock came public in March 2017 at $17 a share, had a sharp run-up from there, and has since rolled over and built a large cup-with-handle base. It posted a pocket pivot on Monday, which we felt was extended, so we waited to issue a report on the stock until we started to see a pullback develop. That did occur, and on Friday GOOS found support at the 50-dma, where it is buyable using the 50-dma as a tight selling guide. GOOS is expected to report earnings on Thursday, November 9, before the open, so we would also be on the lookout for a possible BGU or other type of cup-with-handle breakout after earnings.