This has been a good week for pocket pivots that we've identified and reported on in terms of upside follow-through. Please note that Five Below (FIVE) did not qualify as a pocket pivot per our report of 3/17 as it did not close at least break even on that day. The company also is expected to report earnings on Tuesday so can still be watched given that it is holding up in a tight consolidation.
Maxlinear (MXL)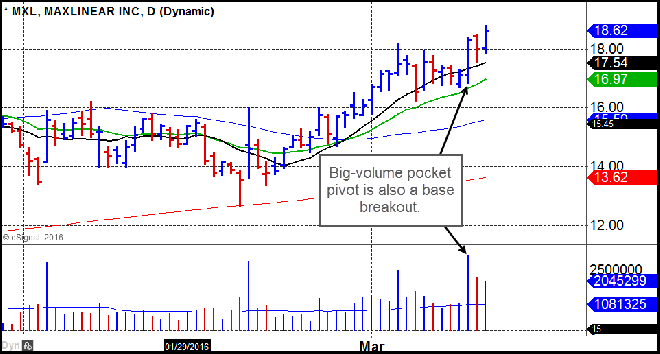 GM - Following Wednesday's pocket pivot MXL gave buyers a shot at a lower-risk entry on Thursday when it briefly pulled into the 10-day line early in the day. This is the sort of pullback following a pocket pivot that you want to keep an eye on. The pocket pivot also coincided with a clean new-high base breakout, and the stock follow-through on Friday with further upside.
Dr. K - The current base showcased two powerful upside moves on two strong earnings reports, thus increasing the odds the stock will outperform the general market should the uptrend in the market continue. Indeed, it has well outperform the S&P 500.
Universal Forest Products (UFPI)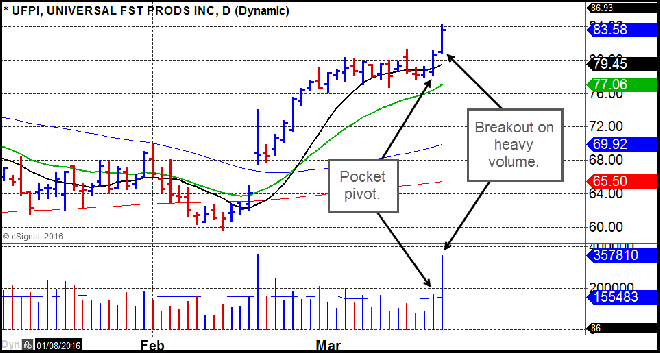 GM - UFPI has blasted higher following Thursday's pocket pivot as volume ballooned. From here only a pullback back into the rising 10-day moving average at 79.45 would offer your lowest-risk entry points.
Dr. K - While the uptrend in the general market has been much due to defensive names, some rotation into cyclical names has been observed. The industry group rank of UFPI is a strong 5 out of 202 groups.
Ebix (EBIX)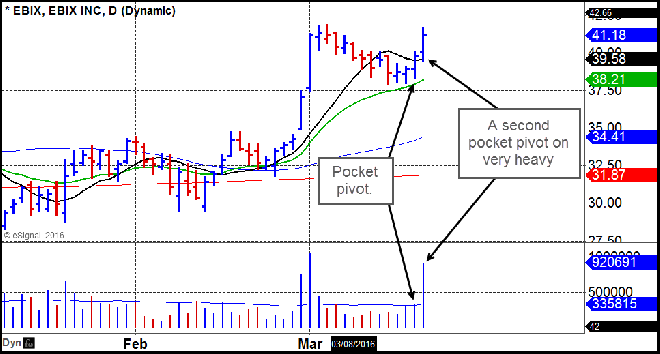 GM - Another nice follow-through after a pocket pivot is seen here in EBIX. I also liked the initial position of this pocket pivot on Thursday as the stock had pulled back into its green 20-day exponential moving average. When it was able to poke its head back above the black 10-day moving average it cleared as a bona fide pocket pivot. Note that Friday's action also qualified as a second pocket pivot given that the stock moved up and off of the 10-day moving average on very heavy volume.
Dr. K - Each time this stock has reported earnings over the last several earnings reports, it has moved higher, thus it is unsurprising that it was one of the first stocks to hit new highs on March 1. The constructive pullback allowed an optimal entry point into the stock.