We haven't issued a large number of reports during February, which isn't all that surprising given the crazy volatility we've seen in the market over the past month. Below is a spreadsheet of stocks reported on during the month of February, providing a survey of where these stocks were reported on and where they've gone since then.

Keep in mind that in some cases the ride has not been a smooth one. For example,
Square (SQ)
would have likely stopped one out after it was first reported on as a pocket pivot on February 6th. Shortly after posting a supporting pocket pivot at the 50-dma on February 6th, SQ broke below its 50-dma on February 9th. However, that was the same day that the market indexes bottomed after undercutting their prior November lows and then rallied on an intraday basis. SQ mimicked this undercut & rally action in the indexes by doing the same thing, undercutting a prior January low in its own pattern and then rallying from there. That was a very typical U&R type of long set-up that is used when stocks are rebounding off lows as they undercut prior lows in their patterns and begin to rally back above those prior lows, often in tandem with the general market doing the same thing. The U&R set-up is one we discuss in our live webinars as a potent weapon when the market and individual stocks get oversold and begin to reflex rally back to the upside. At the very least it can provide a nicely profitable swing-trade off the lows, but sometimes can provide one of the most optimal entries for a potentially longer price move. Currently SQ is looking like it is trying to set up for a breakout as it sits along its 10-dma.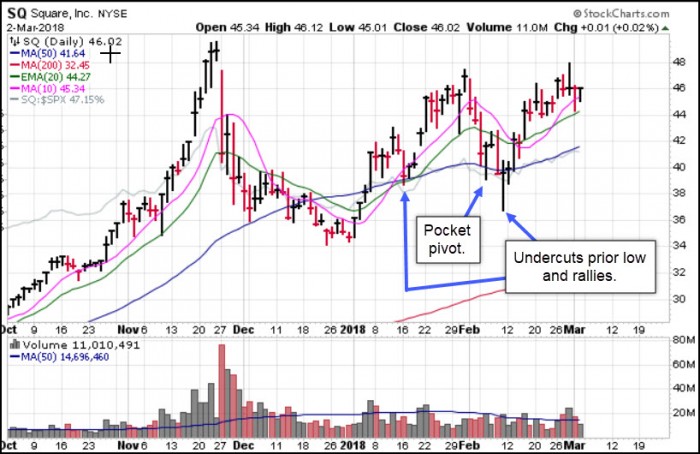 Of the remaining names on the list,
BB
posted an undercut & rally move on Friday, creating a new long entry set-up using the 11.87 prior low as a selling guide,
ETSY
remains within range of its buyable gap-up move of this past Wednesday,
FTNT
posted a continuation pocket pivot on Friday, and
TEAM
is breaking out on heavy volume. These are the most actionable on the list currently. Meanwhile,
AMAT
may be setting up for a double-bottom breakout.