Market Lab Report / Dr. K's Crypto-Corner
by Dr. Chris Kacher
Nation-state command-and-control will transform into a self-organized digital society: Viva la Evolution™
The World's Richest Man Endorses and Buys Bitcoin + TIMELINE
Elon Musk first added a #bitcoin onto his twitter profile which sent the bitcoin market soaring over the next few hours. It then reversed all gains before finding its footing then moving to new highs over the ensuing days. Musk then tweeted his company Tesla is buying $1.5 B worth of bitcoin. Bitcoin shot to new highs. This sets an important precedent of the world's richest man endorsing bitcoin, and how amazingly far he has come since we were introduced in 2013. He is also eyeing ethereum and decentralized finance (DeFi).
Expect an avalanche of companies onboarding bitcoin in the coming months to guard against falling fiat. There is speculation that Apple (AAPL) may buy some bitcoin given its massive war chest of over $200 billion, though its current CEO Tim Cook has little to no understanding of the technology and utility behind bitcoin and blockchain so may take his time. Meanwhile, the CFO of Twitter said the company was considering buying bitcoin and the CEO of Uber said they will look at using bitcoin and other cryptocurrencies as a form of payment. And while Visa is also getting involved in cryptocurrencies, not to be outdone, Mastercard will let merchants accept payments in bitcoin and crypto later this year. The Bank of New York Mellon Corp, the nation's oldest bank, says it will custody bitcoin and other crypto on behalf of its asset-management clients. And now, for the first time, a central bank is switching to bitcoin. The Central Bank of Kenya announced plans today to switch to bitcoin to solve problems with its devaluating national currency. This is just the beginning before bitcoin potentially becomes the world's reserve currency.
In addition, DeFi TVL (total value locked) is now at $38 B, up from just $600 M in 2020, Grayscale has reached $30 B worth of bitcoin in assets, and Amazon is working on a key project to enable customers to convert their cash into digital currency for e-commerce.
I made an abridged TIMELINE of a few of my many predictions
, thus the gaps in the timeline. This set covers the internet, AI, VR, blockchain, and bitcoin (my hit rate: roughly 9 out of 10):
1994 I started Virtue of Selfish Investing, launched Jan-1995, one of the first 3000 websites in existence, and only one of 8 finance/stock related websites. The internet will upend traditional retail as well as video and audio platforms. #blockbuster
RESPONSE: Why waste your time? The internet is used for porn and credit card fraud. You'd be crazy to think Congress won't do anything about it.
1995 Congress holds hearings on how to remove or control the internet.
RESPONSE: The internet is just a fad. Audio streaming sounds bad and video is pathetic.
PRESENT: The internet is still here though big tech has the power to censor. Decentralized social media platforms will solve this.
1996 I spoke with the head of IT at William O'Neil+Co. about my visions for the future which included eyewear that projects large images which are voice or touch controlled to surf the internet, answer emails, and hold video conferences, among other things. I said we won't need roads in the future since we will have flying cars, but the airspace will be quite empty as most will be able to hold meetings and social gatherings through VR. With massive bandwidth, your mind's eye won't be able to tell the difference, and sense of touch and smell can be integrated for a truly immersive virtual experience. Well, these things only took a quarter century for some of these things to be realized. #exponentialgrowth #expotech
2002 [At the height of the bear when the NASDAQ Composite was -87% off its highs.] The best internet companies will continue to thrive despite many bad business models which killed 19 out of 20 internet companies.
RESPONSE: The internet is just a fad and dot-boms proved this tech is no good. What do you expect from something built on porn and fraud?
2003 March - Ebay and Amazon are the first two dot-coms to issue major buy signals have a 3 year bear market, the worst in the history of the NASDAQ Composite.
2010 Telepathic technology will enable us to understand each other like never before.
RESPONSE: Yet another crackpot idea of yours. [In fact, it often made enemies of certain leftist friends who felt I was spreading nonsense, conspiratorial or otherwise. One didn't even believe brainwaves exist.]
2012 I keep hearing that bitcoin is right up my alley in terms of its ideological posture and potential to actually change the world.
2013 January - I see a chart of bitcoin with its super clean and predictable breakouts, so I postponed the impending yet-to-be-signed contract with one of London's top music producers, Andy Wright, who felt he could monetize me in a big way as he did for Simply Red among other majors. But once again, I put music on the backburner, as I pivoted into blockchain. I bought my first bitcoin in the low teens.
2013 June - Bitcoin will reach $10k sooner than we think.
RESPONSE: It has no value and is used for underworld activities. Some still think this in 2021. #Buffett #Roubini #Schiff
2015 - Explosion of articles on AI in the mainstream press. AI will dominate as we will become cybernetically integrated.
2015 - Online gaming continues to thrive so traditional video gaming companies with retail outlets will fail. #gamestop
2017 Nov - I am to give the keynote speech at the WealthTech Conference in Geneva, Switzerland. One of my slides predicts bitcoin reaching $1,000,000 by the end of 2023. My prediction still stands. #rabbithole
2018 Jan - My metrics give a major sell signal, the first since early 2014. I sell most of my cryptocurrencies for dollars. I finish the year up strongly vs. the average median cryptofund down nearly -50% according to an analysis done by big four auditor Price Waterhouse Coopers (PwC).
2018 Dec - In the depths of the crypto bear, cryptocurrencies are now considered junk, ICOs possum poison, and Warren Buffett a god. I use the analogy of how crypto is rhyming nicely with the dot-com boom/bust cycle of the early 2000s so the best coins will emerge as big winners.
RESPONSE: Bitcoin and crypto don't stand a chance against governments who will put an end to this wealth destructive nonsense.
2019 Mar - I issue a comprehensive report on why bitcoin's major low was in Dec-2018. I predict the cryptospace will have a valuation of $10 trillion by the peak of the next bull cycle.
2020 Jan - I predict bitcoin will reach $500k and ethereum will reach $50k in the current bull cycle which should run through 2021.
Unsurprisingly, bitcoin is growing at a faster pace than the internet. There will be 1 billion users by 2025.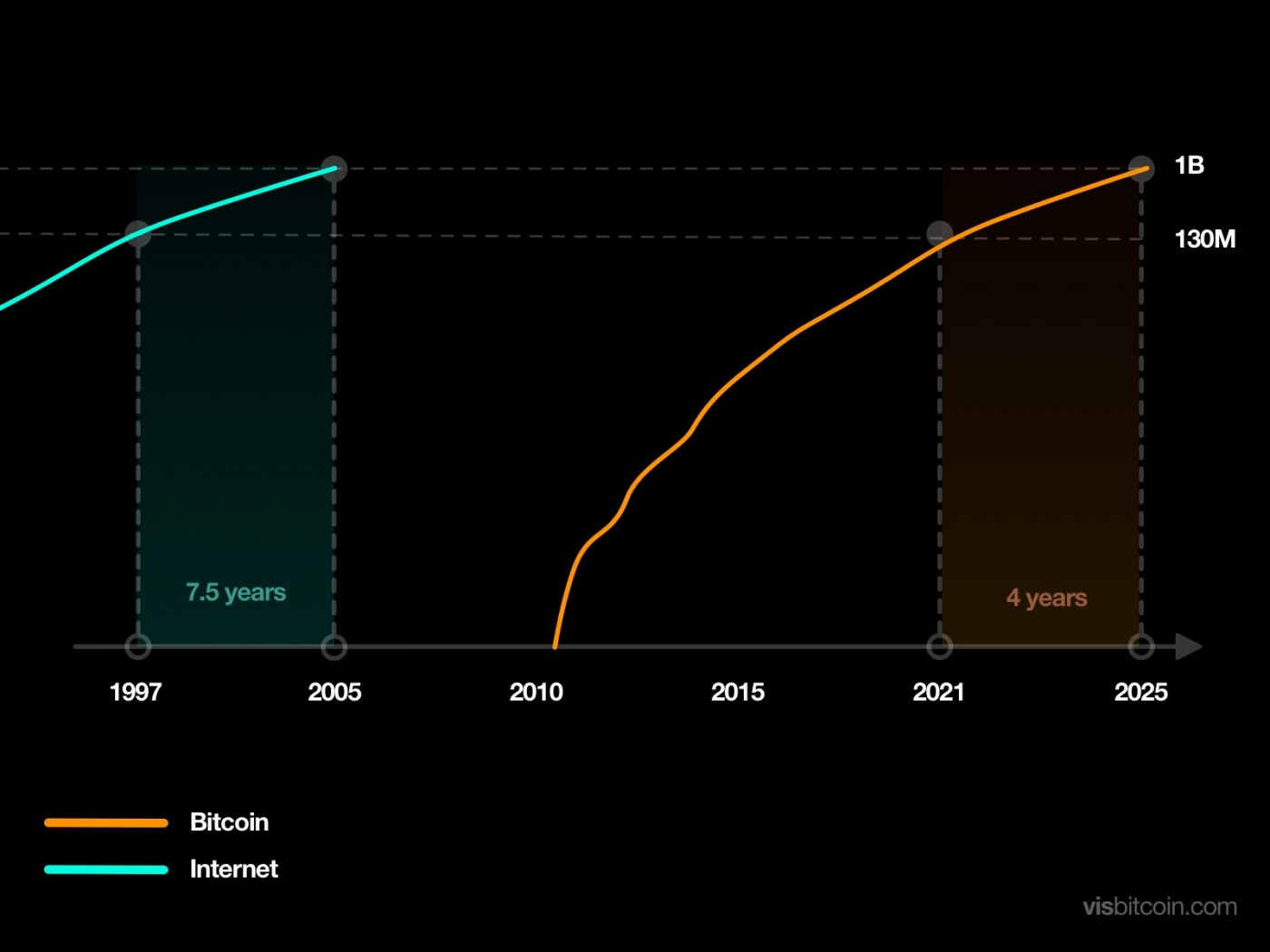 Ethereum Supply Crisis?
As concerns the growth and price of ethereum, given that when ethereum goes to 2.0, it will be deflationary as PoS is far more efficient at a tiny slice of the fees of PoW. Thus a scenario for ethereum over over the next two years could show - 25% locked by never-sellers, 20% locked in DeFi, 15% locked in balance sheets as companies start buying it, 5% locked in Grayscale, 3% locked in ETH bonds, for a total of 70% of ethereum locked. Then in 2022 annual issuance drops from 4.5% to near 0%. Demand but no supply will create a supply-side crisis so expect the price of ethereum to be at least $50,000 by this time.
FAQ
Q: Some of these altcoins are really starting to run and many are probably sitting on sizable gains. Your experience or how you personally handled exiting altcoins during the prior cycle might be beneficial to the group.
A: My cryptocurrency timing metrics are a huge help here. They have called every major top and bottom in bitcoin since 2011 (in real-time since 2013). In January 15 and 30, 2018, they gave a major sell signal. This was the first time since early 2014 when such a major sell signal occurred. A confluence of events created this signal. I sold roughly half my positions then most of the other positions in January. By January 30, 2018 I only kept a core position in bitcoin and two very small positions in other cryptocurrencies. I was thus able to achieve strong returns in 2018 vs. the median cryptofund which was down nearly -50% according to a study done by big four auditor Price-Waterhouse-Coopers (PwC).
The rules used with stocks (buying, pyramiding, position sizing, selling) apply in even greater measure in cryptocurrencies due to the speed of ascent and volatility. As one of many examples, I found myself buying Chainlink (LINK) in 2019 several times on the way up. LINK then became well oversized in my portfolio so I then started to sell 10% positions to buy new buy candidates. I also did this in June 2017 when the cryptomarket had a mini top. I bought a huge position in NEO (Antshares at the time) even though most all coins were heading lower, NEO rocketed several hundred percent. I then started selling out small pieces of NEO to buy other coins that were breaking out such as WLT, LSK, ADEX, and OMG. By the fall of 2017, a number of coins such as these were issuing buy signals.
The liquidity of a coin must be monitored. A coin that rises 5x does not always have its liquidity rise as quickly, thus enough of the coin must be sold to bring it back in line with its liquidity. I keep my portfolio in balance, position sizing in the two top guns, BTC and ETH, vs. top quality alts such as AAVE and SNX vs. smaller alts
This bull still has further to run as the number of alts with market values over $1 billion is only twice that of the Jan-2018 peak. This time, we have far greater use cases and utility as well as institutions, corporations, and HNWIs buying.
(͡:B ͜ʖ ͡:B)