Market Lab Report / Dr. K's Crypto-Corner
by Dr. Chris Kacher
The (R)Evolution Will Not Be Centralized™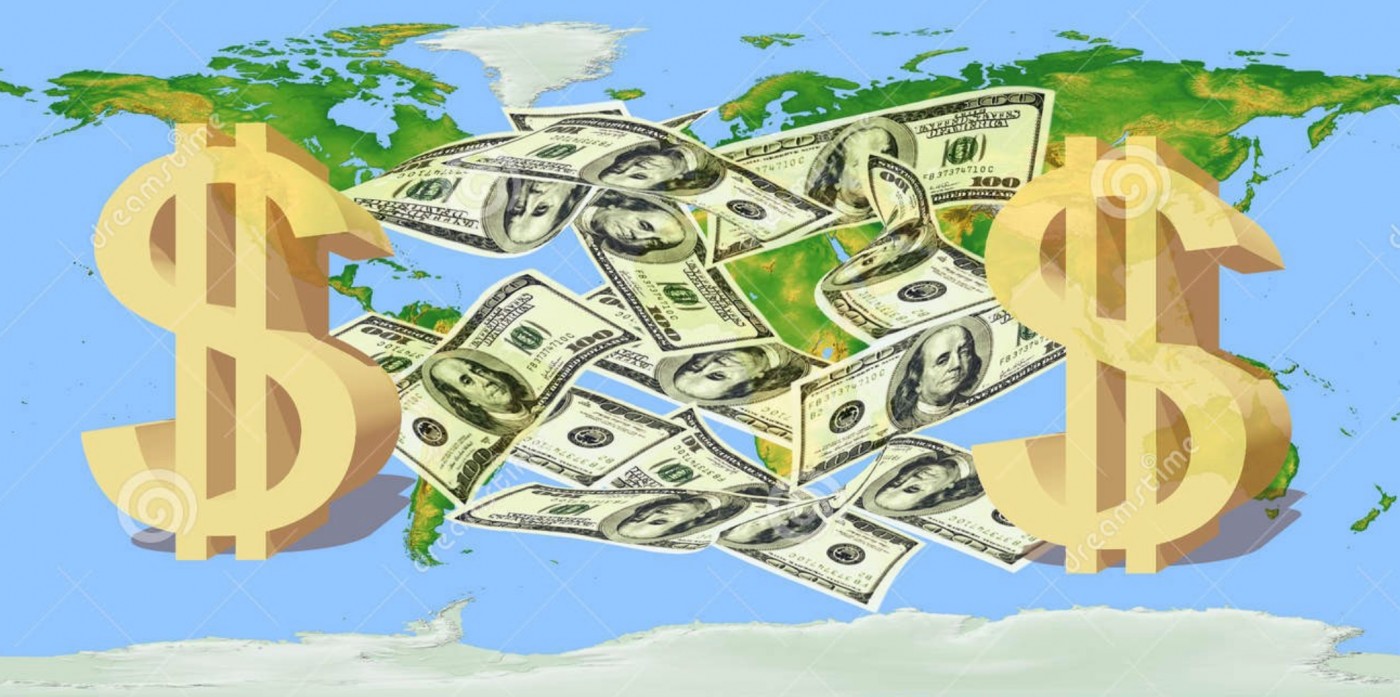 Professor Philipp Sandner who heads the Frankfurt School Blockchain Center enjoyed my
recent piece
on where things are likely headed on the basis of 500 years worth of historical cycles where I discussed quantitative easing, interest rates, global debt, the U.S. dollar, and the U.S. stock market. As a suggested add-on to my piece, he shared with me some interesting graphs including how the U.S. dollar is dominating all other currencies. Around $12 trillion worth of U.S. dollar denominated debt is debt owed to the U.S. by other countries.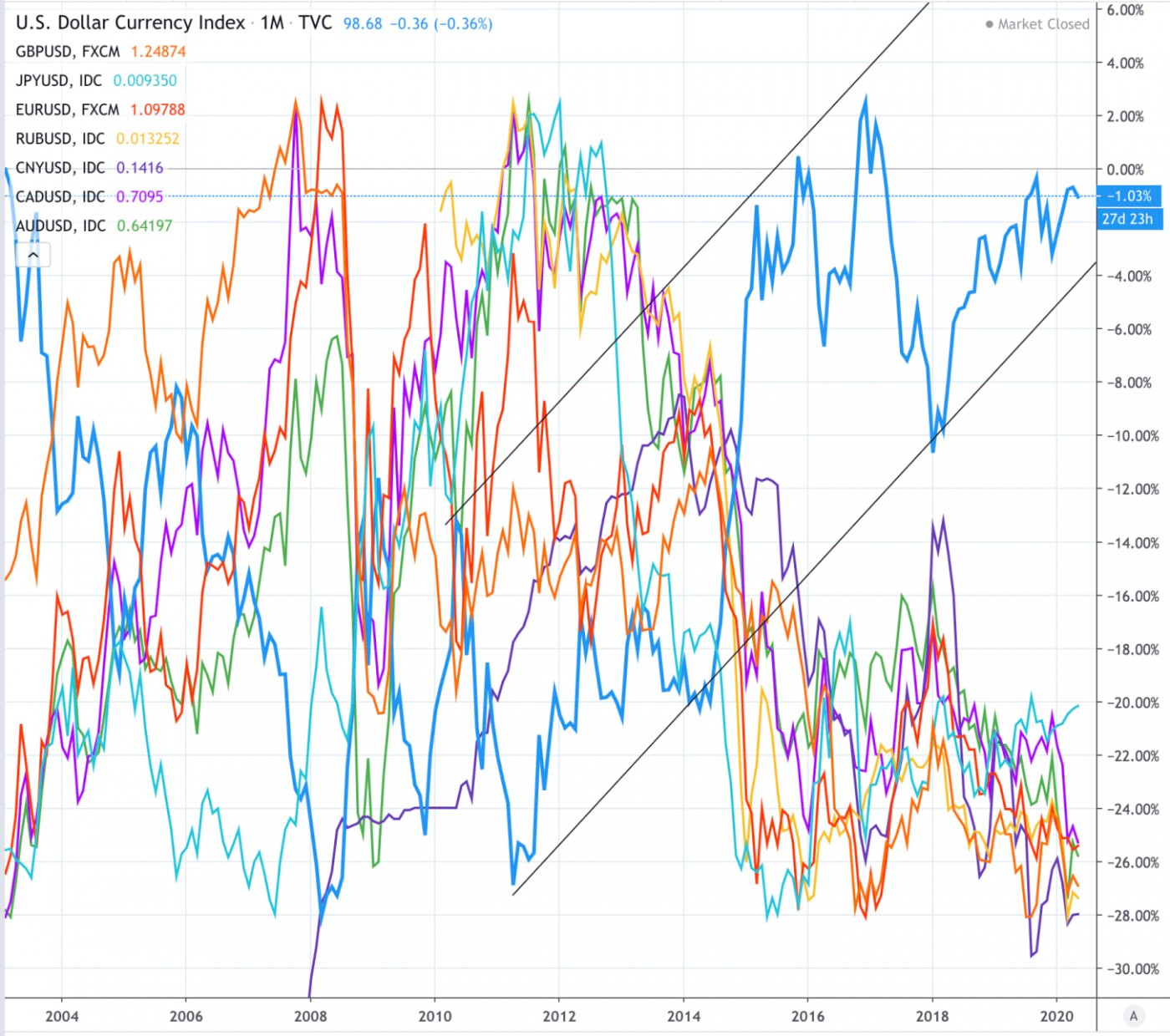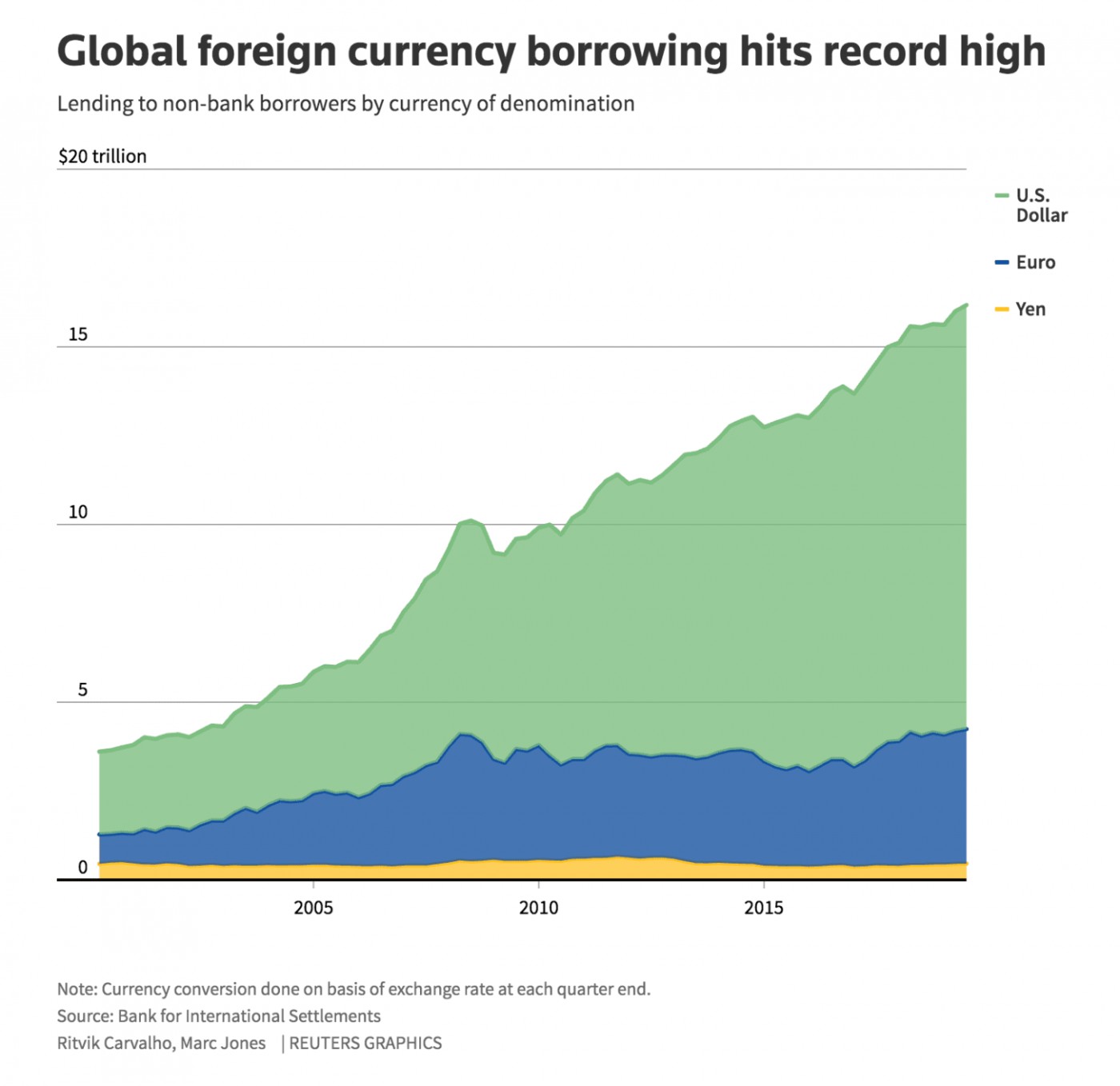 As the dollar continues to strengthen, foreign countries must pay more in their own currency to service the debt. They can only do one thing: Print their own currency, sell it, and buy dollars. The more that is printed, the more the local currency is devalued. In consequence, the dollar could turn into a wrecking ball for global economies, especially emerging economies that are more vulnerable to devaluing their own currencies. The whole world will be pushed into dollars and U.S. treasury bonds which will further devalue their local currency while the dollar is further strengthened.
This will have onerous second order effects where the U.S. stock market continues to climb as its companies are operating in more stable environments which attracts foreign capital. Due to the strong dollar, the price of imports drops, while exports decline drastically as USD denominated products are now too expensive and noncompetitive. This could further trigger additional stimulus by the Fed though the US is not an export-led country, so it should continue to maintain its pole position.
Stocks and Bitcoin to Benefit
Both U.S. stocks and bitcoin will be the beneficiaries up until there remains no choice but to restructure the record levels of debt as we are at the 11th hour in this long term debt cycle. This suggests debt restructuring within the next several years, a small span of time within the context of the average length of long term debt cycles. Money printing can go a lot longer then people expect. Thus, in the meantime, over the next few years, the price of bitcoin should continue its exponential rate of appreciation.
The bitcoin price low of Dec-2018 is likely the major low, not to be retested as tailwinds abound from the May halving, to collapsing economies buying bitcoin, to millenials preferring it to gold, to institutional onboarding, to a broad array of bullish metrics such as hash rate, transaction volume, market value to realized value, usage doubling each year, Moore's law 4x, realized value to transaction volume, VWAP ratio, on-chain momentum, and others. So, just as Jan-2015 was the major low for bitcoin which then embarked on the start of a long bull market run, slowly at first then accelerating, Dec-2018 was the major low from which a new bull market began, also slow at first, with accelerations in price likely to come over the next 12-24 months.
Then, once debt is restructured, a euphemistic way of saying the debt bubble has burst, in a few to several years, everything including bitcoin will experience steep corrections, much as happened in late 2008, but bitcoin and gold are likely to bounce to new highs first, being the prime beneficiaries of such a situation.
Bioweapons and Apple Computer?
Talk about the post-COVID world has included how bioweapons are the future. The U.S., E.U., and China all contributed to fund various virology labs according to numerous accounts. But then technology is always double-edged. What can destroy can also be overcome. What can be overcome can reach new heights. The opposite of bioweapons is personalized, preventative medicine. Healthcare is going to undergo massive growth. Apple Computer invests $1 billion a month into healthcare tech for its devices. AI will also work hand-in-hand with such tech. AAPL's latest COVID-driven initiative with Google could implement widespread contact tracing through voluntarily shared mass consumer data, tracking civilian movements and precise interactions between tracked users and their health data. Meanwhile, GOOG is one of the world's biggest investors in digital health startups and is applying AI to everything from disease detection to new data infrastructure, and possibly even insurance. AAPL is near its 50-dma??? while GOOG is near its 200-dma???.
FAQ: Please discuss good entry points for SPCE and your thoughts on this stock.
A: It had a pocket pivot on Wednesday off a confluence of compressed moving averages which is generally a bullish sign. That said, it had a climax top in February so has been relatively choppy, a natural situation after a climax top. As it is a development stage company, earnings are zero and sales are near zero but it has first mover advantage in the tourism space industry. The potential is sizable. According to recent studies, the flight has a 0.5% chance of crashing compared to a 1.5% space shuttle or a .00002% commercial flight. It's geared towards tourism, unlike Blue Origin and SpaceX. Just this week, it revealed a new partnership with NASA to develop a high-speed vehicle for point-to-point travel on Earth. The project seeks a sustainable way to apply high-speed transportation technologies to civil and commercial aviation. Virgin Galactic says it has a head start because of the work it has done to date on developing, engineering and flight-testing its existent vehicles. It uses traditional runways for take-off and landing, while the rocket-propelled SpaceShipTwo skims the outer edge of Earth's atmosphere at the boundary of space to provide its commercial tourist passengers with a trip that includes stunning views and a few minutes of weightlessness. It has already sold 625+ tickets for $250,000 and is expecting to make $800 Billion by 2040, or roughly 33,000 passengers per year. This is less than 1% of the top 1% of Americans so the numbers are achievable.
If you didn't buy it yet, you could wait for a constructive pullback closer to the day of its pocket pivot, a volume dry up over a period of at least a few days, or a constructive buyable gap up should this materialize.
Other names:
OKTA, DXCM, and LVGO all been hitting new highs multiple days in a row since I mentioned them in prior webinars. They have strong post-COVID themes in healthcare and online security so their bullish moves shouldn't be terribly surprising.