Current Focus List

The VoSI Focus List is a compilation and reference list of stocks for which Pocket Pivot or Buyable Gap-Up Reports have been issued. It is not intended as a "buy list" or a list of immediately actionable recommendations. Stocks on the list may or may not be in proper buy positions, and investors should exercise discretion and proper judgement in determining when and where stocks on the Focus List can be purchased. The following notes are intended to assist in this process. Please note that members can enlarge the Focus List image by clicking on the body of the email and then holding the Control Key while pressing the "+" key until it is large enough to read.
General Observations:
The NASDAQ Composite Index gapped to all-time highs on Monday, continuing higher all week until reversing off of its intraday peak on Friday on heavy, month-end volume. The S&P 500 and the other NYSE-based indexes have moved right up to their prior March highs and are currently backing-and-filling just below those highs. The small-cap Russell 2000, which was contributing significantly to the NASDAQ's move early in the week, reversed on a breakout attempt but remains near its recent all-time highs.
While the market could pull back here given the prior strong upside over this past week, the general trend remains to the upside. This is also confirmed by positive action among the majority of names currently on the Focus List.
The Market Direction Model (MDM) is currently on a buy signal, while the VIX Volatility Model (VVM) is currently on a sell signal.
Removed from the List this Week: None.
Focus List Stocks Expected to Report Earnings this Week:
Monday: Chemours Company (CC) before the open. Tuesday: Facebook (FB), Square (SQ), and Tesla (TSLA) all after the close.
Notable Action:
Amazon.com (AMZN) gapped higher on Friday after earnings, opening at 948.83 but slid lower all day to close near the lows of its intraday range at 924.99, up less than 1%.
Baozun (BZUN) has posted three five-day pocket pivots along its 50-day moving average over the past four days. This is highly constructive action and puts the stock in a lower-risk entry position using the 50-day line as a selling guide, with an additional 1-3% to account for any downside porosity. Earnings are not expected to be reported until May 23rd.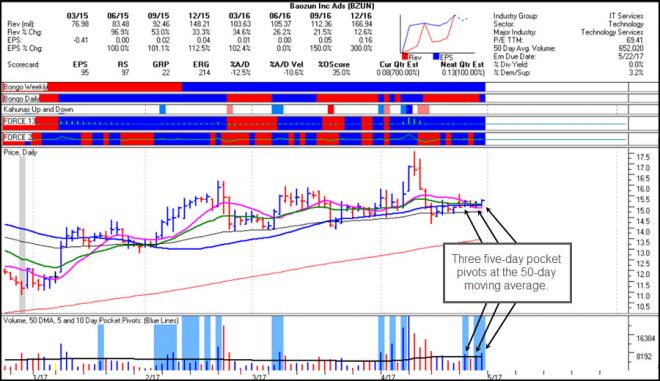 Momo (MOMO) is holding tight at its 10-day moving average with volume drying up. This puts it in a lower-risk entry position ahead of earnings which are expected to be reported on May 16th.
ServiceNow (NOW) was added on Thursday following a buyable gap-up move after the company beat on earnings Wednesday after the close. The stock briefly dipped below the 93.30 intraday low of Thursday's BGU on Friday, but closed tight with the prior day as volume declined. This remains in a lower-risk entry position using the 93.30 low, plus another 2-3% to account for NOW's slightly volatile tendencies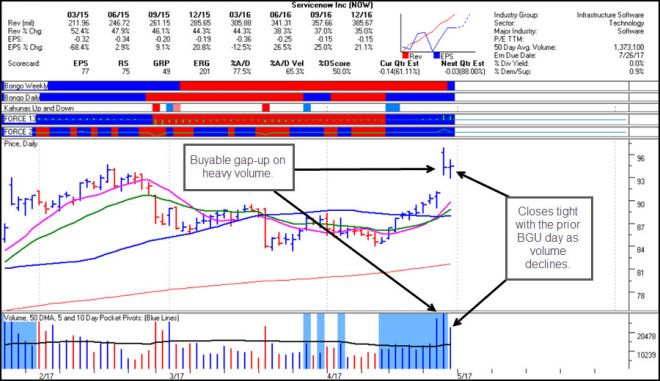 Snap (SNAP) has posted four straight five-day pocket pivot volume signatures with the first two being in buyable positions along the 10-dma and 20-dema. It continues to move higher ahead of earnings, which are expected on May 10th.