Current VoSI Focus List

The VoSI Focus List is a compilation and reference list of stocks for which Pocket Pivot or Buyable Gap-Up Reports have been issued. It is not intended as a "buy list" or a list of recommendations. Stocks on the list may or may not be in proper buy positions, and investors should exercise discretion and proper judgement in determining when and where stocks on the Focus List can be purchased. The following notes are intended to assist in this process.
General Observations: We are adding Qualcomm (QCOM) back to the Focus List based on the recent action. The stock broke down hard last week but undercut the lows of its current base and rallied back up above the 50-day moving average. The rally did occur on light volume, which is wedging-type action, but the low-volume pullback followed by a close in the upper part of the daily trading range helped to "correct the wedge."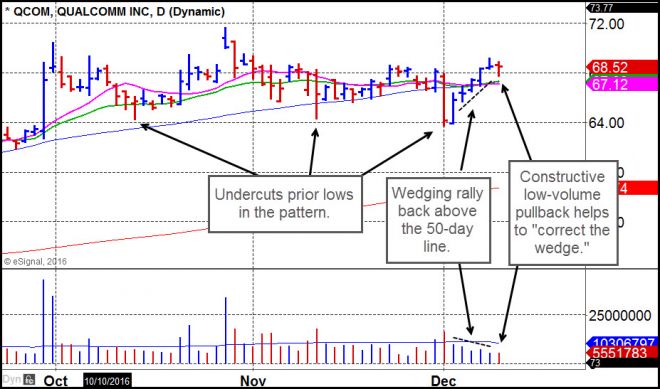 QCOM's weekly chart also shows a base-on-base formation with the prior week's price and volume bars indicating supporting action along the lows of the base. As long as the stock remains within this current base, it may make sense to try and enter the stock on pullbacks closer to the 50-day/10-week moving averages. In the meantime, we might also keep a close eye out for any pocket pivots that might develop along key moving averages ahead of earnings, which are expected to be reported in late January 2017.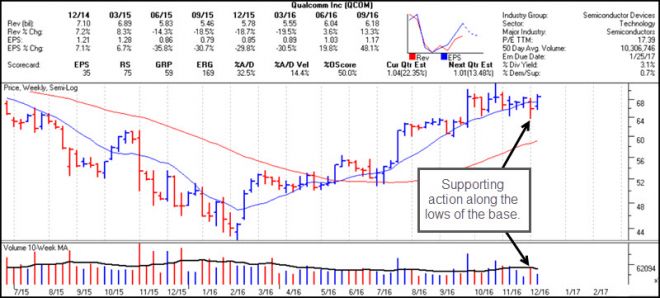 QCOM is moving forward on two new fronts. The first is the company's move into making chips for the "connected car" theme that includes autonomous vehicle technology but which also extends well beyond that when it comes to the future configurations of all automobiles. The second recent move has been to collaborate with Microsoft Corp. (MSFT) to enable Windows 10 on mobile computing devices powered by next-generation Snapdragon™ processors, enabling mobile, power efficient, always-connected cellular PC devices. This is a key development as PC-type devices become more mobile.
The Trade Desk (TTD) is also being added back to the list after it was able to recover back above all three of its current moving averages, the 10-day, 20-day, and 50-day, following the prior week's base breakout failure.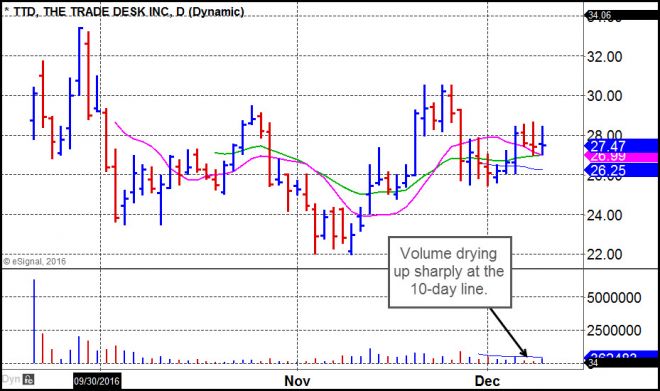 Eight of the ten stocks currently on the Focus List were added this past week in various Pocket Pivot Reports, so members should refer to our separate Market Lab Report sent out this weekend that reviews those reports for further detail on these names.
Argan (AGX) and Nvidia (NVDA) constitute the other two stocks on the list. AGX is currently extended after we first reported on the stock on November 10 when the stock was trading at 58.80.
NVDA has been a long-term leader that has stayed on the list throughout its run since we first issued a Pocket Pivot Report on the stock way back on April 6 when it was trading at a "paltry" 35.80. NVDA has nearly tripled from there, and while it was hit with some heavy selling volume the prior week, the net effect on the weekly chart is that the stock simply appears to be trying to build a new base after a huge price run for most of 2016.