Current VoSI Focus List

The VoSI Focus List is a compilation and reference list of stocks for which Pocket Pivot or Buyable Gap-Up Reports have been issued. It is not intended as a "buy list" or a list of recommendations. Stocks on the list may or may not be in proper buy positions, and investors should exercise discretion and proper judgement in determining when and where stocks on the Focus List can be purchased.
Stocks Removed from the List this Week: NFLX with MOMO and NTES on removal watch.
General Observations: The Focus List is down to six names, but two can currently be considered to be "on the ropes." Momo (MOMO) came out with a strong earnings report Tuesday before the open and gapped up at the open. However, that move quickly reversed, sending the stock into a massive outside reversal to the downside on huge selling volume. Technically, the stock has violated its 50-day moving average, but in our view anyone long the stock would have sold on the big-volume reversal on Tuesday.
On Wednesday MOMO broke further below its 50-day moving average as Chinese stocks in general took a hit on the perception that a Trump Administration is hostile to China and Chinese businesses. That may or may not be true, and like the situation with infrastructure stocks, the precise policies that will emerge with respect to trade with China are unclear and could turn out to be less onerous than the market initially believes.
For this reason we would (though out of the stock right now based on the action earlier in the week) take a potentially opportunistic stance based on the possibility that the initial news might be an overreaction. While sitting well below its 50-day moving average, the stock is holding along the lows of a base that it has been forming since early September. If the stock cannot recover soon, it will certainly be removed from the Focus List, but this pullback saw selling volume dry up sharply on Friday, which could set up some sort of upside reaction from here that will offer further clues as to MOMO's longer-term direction.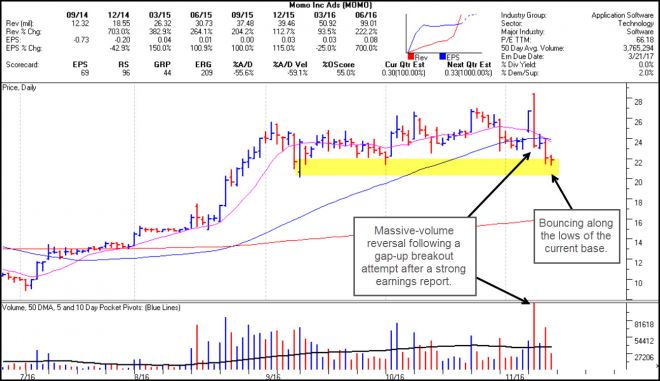 Another Chinese name on the list, Netease (NTES) had already broken down to its 50-day moving average and was trying to hold on Wednesday as it tried to recover with the rest of the market following the post-election futures sell-off. On Thursday the stock busted its 50-day moving average on very heavy selling volume, but on Friday found volume support along the highs of a flag base it formed between mid-August and mid-September. This breakdown looks fairly negative in the face of NTES' prior uptrend within which it acted in fairly coherent fashion. For this to remain viable we would expect to see it regain its 50-day moving average relatively soon, but any weak rally up to the 50-day line could simply bring the stock into position as an optimal short-sale.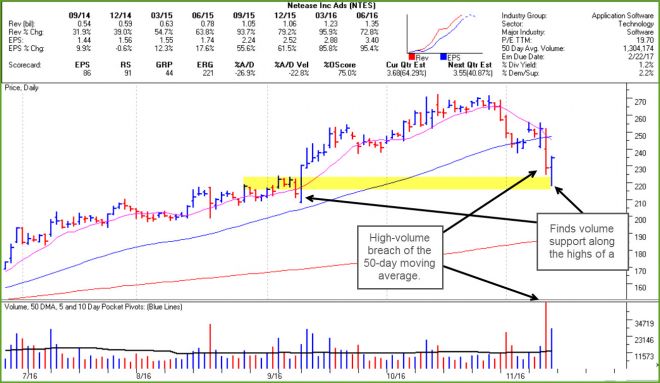 We pointed out the weakness in both of these stocks last weekend, but MOMO bucked that weakness early in the week when it actually broke out to a new closing on Monday. Tuesday's action, however, immediately negated that breakout attempt. So while both NTES and MOMO remain on our Focus List for now, we would consider that more a "provisional" consideration as both should have been sold already.
Meanwhile, Nvdia (NVDA) posted a huge-volume buyable gap-up move on Friday after handily beating earnings the night before.
Netflix (NFLX) is weakening as it breaks below the 116.50 of its October buyable gap-up move and has been removed from the list. As we suspected, that has turned out to be a short-term long swing-trade, and with the stock now below its 20-day moving average could be considered a short, using the 20-day line as a guide for an upside stop.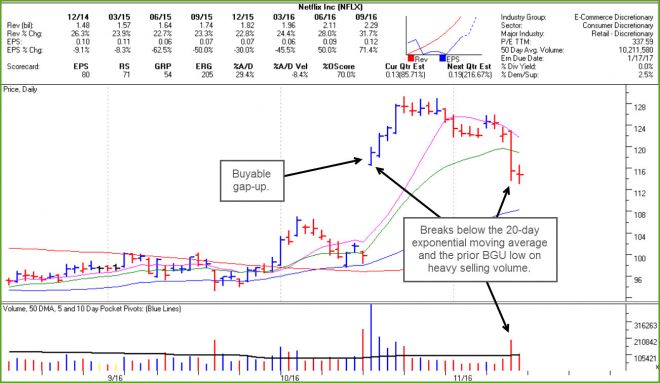 Despite the movement in the narrow Dow Jones Industrials and broader small-cap Russell 2000 Indexes moves to new highs, the situation with respect to individual stocks remains mixed. Big-stock NASDAQ names were hit across the board in a stark divergence, and it is unclear whether this is a bearish development or whether we will see a major rotation take place that sees new leadership crop up in other areas and sectors of the market. The objective evidence of this would occur in the form of more stocks showing up on our pocket pivot and buyable gap-up screens, and we believe that exercising patience in the service of allowing this time to develop is a prudent approach at the current time.