VoSI Focus List

The VoSI Focus List is a compilation and reference list of stocks for which Pocket Pivot or Buyable Gap-Up Reports have been issued. It is not intended as a "buy list" or a list of recommendations. Stocks on the list may or may not be in proper buy positions, and investors should exercise discretion and proper judgement in determining when and where stocks on the Focus List can be purchased.
Removed from the List this Week: Line Corp. (LN) was on the list only briefly this week as it immediately failed following Monday's bottom-fishing pocket pivot move up through the 20-day moving average. The stock was downgraded to "sell" on Friday by a major brokerage firm and sold off on heavy volume in response. It may stabilize and set up again, but for now we prefer to keep a close eye on it while booting it from the Focus List.
General Observations: We added Acacia Communications (ACIA) back to the list this past week even though it has not posted a pocket pivot recently. However, with telecom and fiber-optic names performing well in this market, we believe ACIA, as a fundamental leader in the space, has a reasonable chance of rounding out the lows of a potential new base after declining over 50% from its early September highs.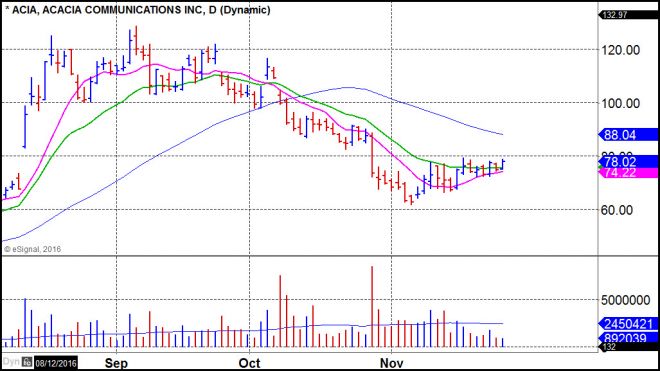 The stock has finally showed some signs of turning up off the lows as it holds tightly along its 10-day and 20-day moving averages with volume drying up. This sets up the potential for a roundabout type of pocket pivot off of this moving average confluence, which should be watched for.
Chinese stocks have had a rough go of it since the U.S. Presidential Election results given that a Trump Administration is viewed to be somewhat hostile towards China with respect to trade. A number of Chinese names have come under pressure, but New Oriental Education & Technology (EDU) has bucked this group weakness by holding up tight near its recent highs. This looks like it is in a constructive buy position along the 10-day and 20-day moving averages, which can also serve as tight selling guides.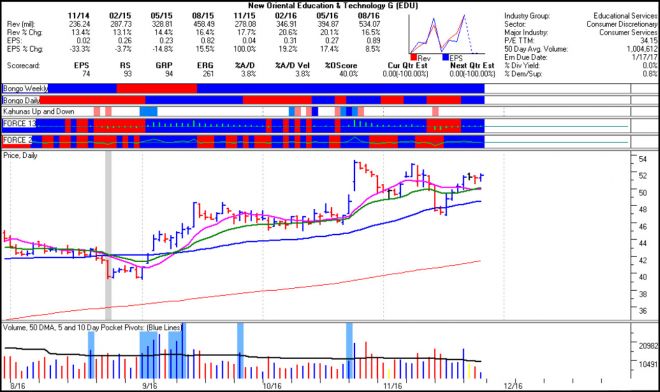 Further discussion of stocks on the Focus List will be found on the accompanying Weekend Review of Pocket Pivot Reports for the prior week, sent out separately.