Current VoSI Focus List

The VoSI Focus List is a compilation and reference list of stocks for which Pocket Pivot or Buyable Gap-Up Reports have been issued. It is not intended as a "buy list" or a list of recommendations. Stocks on the list may or may not be in proper buy positions, and investors should exercise discretion and proper judgement in determining when and where stocks on the Focus List can be purchased.
Removed from the list this week: ISRG
General Observations: Several names on the list have stabilized, including BABA and GIMO, which we discussed in last week's Focus List Review as being on the fence. GIMO is holding tight along its 50-day moving average ahead of earnings this coming Tuesday, while BABA has posted a successful "Wyckoffian Retest" of its 50-day moving average: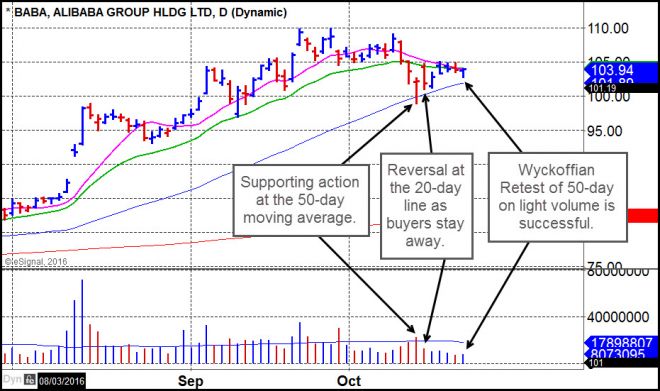 Now that weaker names on the list have fallen by the wayside, we are left with a relatively compact list of names, some of which are in actionable positions. We would, however, caution against taking aggressive position in names that are expected to announce earnings over the next few days. Often, rather than playing "earnings roulette," one can simply wait for a potentially actionable move to occur after earnings, as was the case with NFLX this past week.
Despite the market volatility, only one name was removed from the list this past week, and we are alert to any potential rotational action that might occur as a result of a potentially short market correction. Over the past week we have noticed a shift into big-cap NASDAQ names such as NFLX and FB, but also breakouts in big NASDAQ notables like GOOGL and MSFT, while AMZN continues to hold above its September breakout.
As money has moved into some of these big-cap NASDAQ names, it has been rapidly running out of recent hot IPOs that were on our list such as ACIA, LN, PI, and TWLO, and it is not clear that any of these will recover any time soon. At best, there could be some bounces off of support levels that might provide brief, trade-able moves, but we would tend to think that after such severe technical damage, these names will require a period of time to heal.
We did notice on Friday that ACIA, which is now down -34% from its prior all-time high of 128.73, undercut the 83 low of its mid-August buyable gap-up move and held, closing just above at 84.79. With the stock down -34% it may be reaching a point where it stabilizes and attempts to round out the right side of a potential new base.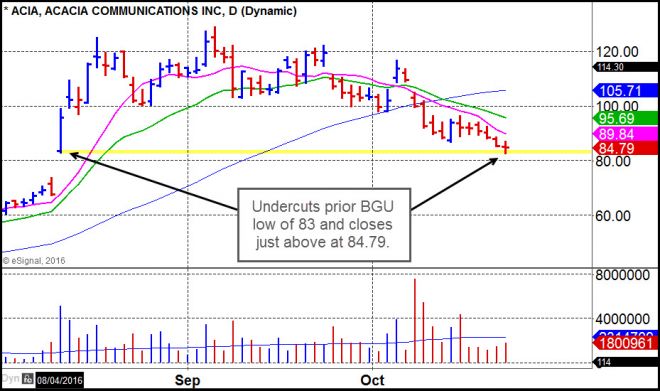 Otherwise, this current period of market correction and volatility has helped to weed out the weaker names. We would expect that those names that have held up the best and which comprise the current Focus List would be your best bets for strong upside performance IF the general market can find its feet and regain its prior highs.
Stocks expected to announce earnings this week: Monday: EDU; Tuesday: GRUB; Thursday: AMZN and GIMO.
Pocket Pivots among existing names: FB (Friday), PAYC (Friday).
Construction pullback to or action along the 10-day/20-day moving averages: EDU, EGRX, GRUB, MOMO, NVDA, NTES, SSTK, WIX.
Constructive pullback to or action along the 50-day moving average: BABA, GKOS.
Pullback to potential support along the top of a prior base: WB.