Current VoSI Focus List

The VoSI Focus List is a compilation and reference list of stocks for which Pocket Pivot or Buyable Gap-Up Reports have been issued. It is not intended as a "buy list" or a list of recommendations. Stocks on the list may or may not be in proper buy positions, and investors should exercise discretion and proper judgement in determining when and where stocks on the Focus List can be purchased.
Removed from the list this week: AMZN, EGRX, GKOS, GRUB, SSTK, WB, WIX.
General Observations: Seven more names were removed from the list as the market leadership continues to deteriorate. Most notably, big-stock NASDAQ leader Amazon.com (AMZN) broke below its 50-day moving average on heavy volume this past Friday. We wrote three weeks ago on October 9th "As we see more names break down and get removed from the list, this gives us some idea as to the market's character 'under the hood.'" With this pattern of expanding breakdowns in leading stocks continuing since then, we have seen that those initial clues seen three weeks ago in the behavior of leading stocks were in fact meaningful.
As always, acting on the basis of what the stocks themselves are doing and heeding one's carefully placed stops and trailing stops keeps one out of trouble as the market situation "under the hood" deteriorates substantially. For example, Twilio (TWLO), which was removed from the list over two weeks ago when it gapped below its 20-day moving average on heavy selling volume was already flashing warning signals when it failed on a new-high breakout attempt in late September. Once it gapped below the 20-day line all bets were off as it quickly violated the 50-day moving average. The stock has continued much lower since then, but the exit signs were there for those who heed them.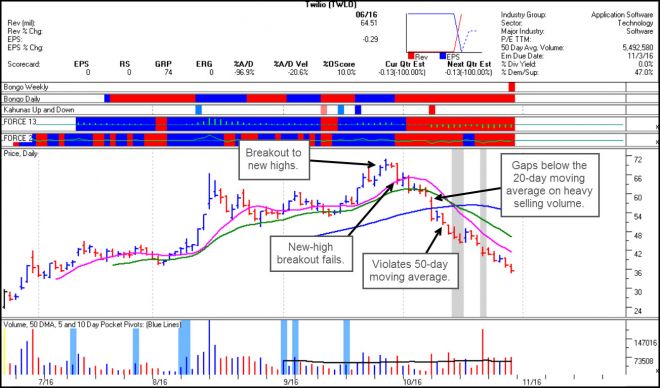 While some names on the list continue to hold up, we should remain mindful of the fact that in a deteriorating market environment, whatever is holding up today may simply be what breaks down tomorrow. That was certainly the case with several names that were removed from the list this past week. Caution is advised as we head into another market week.
Stocks expected to announce earnings this week: Tuesday: PAYC; Wednesday: BABA and FB.
Pocket Pivots among existing names: FB (Friday), GIMO (Friday).
Construction pullback to or action along the 10-day/20-day moving averages: MOMO, NTES.