The VoSI VooDoo Report
Offbeat Ideas and Commentary from the Depths of Gil's Trading Notes
3-D stocks have been resurgent lately, with both Three D Systems (DDD) and Stratasys (SSYS) throwing up some huge moves after posting bottom-fishing pocket pivots in early May. Over the past 3-4 weeks both stocks have consolidated and corrected after the initial sharp upside moves off the lows. Below we see DDD holding tight along its 20-dema as it pulls back on low volume to test the low of five trading days ago on the chart. Volume is picking up this morning as I write, but the consolidation along the 20-dema has been tight and on low volume so this may push back above the 20-dema.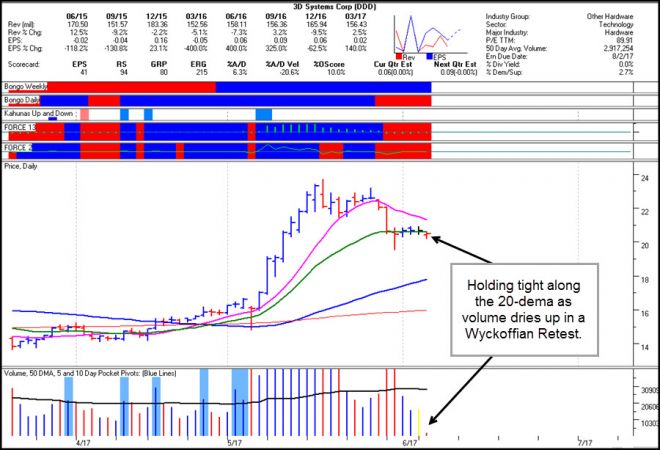 SSYS is a little more concrete here as an undercut & rally set-up after undercutting the prior 26.83 low from May 16th and rallying back above it and the 20-dema four trading days ago. It is now settling into the 20-dema in tight fashion as volume dries up to -48% below average today as I write.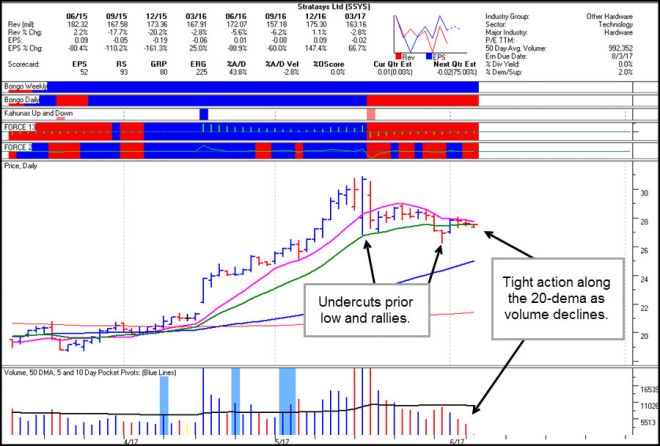 The consolidations following sharp prior run-ups look normal to me, even with some heavy-volume selling off the peak. Some profit-taking is to be expected after such torrid upside moves. As they tighten up along their 20-demas this may become buyable here for those oriented towards the Ugly Duckling side of this market. In this case SSYS is a U&R set-up, while DDD is working on posting a successful Wyckoffian Retest today. I am testing both of these stocks on the long side this morning with tight stops.