Notes from Dr. K and Gil's Trading Journals regarding this past week's pocket pivot reports:
American Woodmark (AMWD)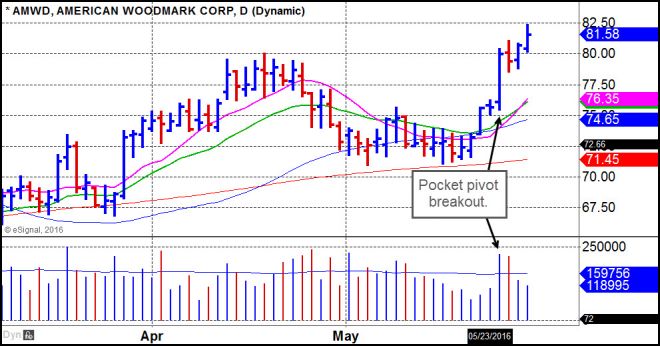 GM - AMWD posted its pocket pivot on a breakout to new highs. The stock is now extended as it continued higher on light volume. Watch for pullbacks below 80 as potential, lower-risk entry points.
Dr. K - AMWD could pull back closer to its 10-day moving average given that breakouts such as the cup with handle often do pull back in this environment.
Medivation (MDVN)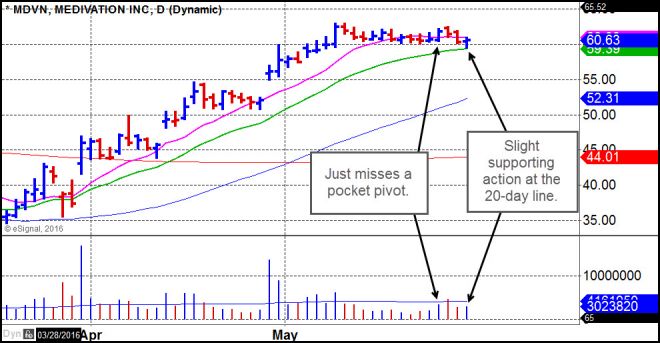 GM - MDVN just missed having a pocket pivot on Tuesday of this past week, but it has continued to act reasonably well. Friday saw the stock pick up some slight volume support at the 20-day exponential moving average, the green moving average on the chart, which puts it in a lower-risk entry spot.
Dr. K - MDVN nearly had a pocket pivot but deserves mention since it has traded in a tight band, and has had three gaps higher from its lows.
Boston Scientific (BSX)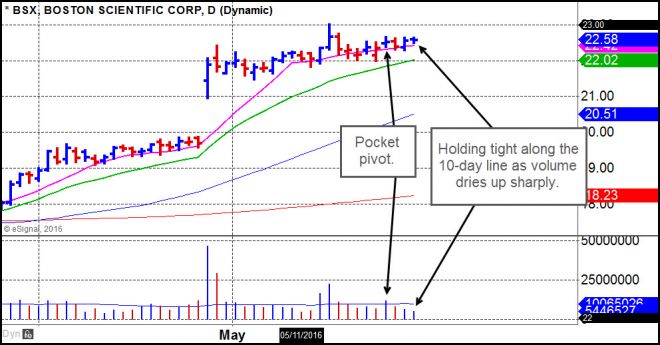 GM - BSX is holding very very tight along its 10-day moving average following this past Tuesday's pocket pivot. This puts it in a very buyable position right along the 10-day line.
Dr. K - Tight, constructive patterns such as shown by BSX mean your stop can also be placed tight which means less risk.
Current Watch List of Active Pocket Pivots and Buyable Gap-Ups
The spreadsheet below shows stocks which are still active as prior pocket pivots and buyable gap-ups. This can serve as a useful buy watch list as these stocks potentially move back into buyable positions following an initial Pocket Pivot or Buyable Gap-Up. More than half have had moves of 10% or greater to the peak price, while 7 have had moves in excess of 20%. Others are currently setting up in buyable positions: BSX, FB WBMD, EBIX, MDVN, ISRG, and JBT, for example.