Notes from Gil and Dr. K regarding Pocket Pivot and Buyable Gap-Up Reports sent out over the prior week:
Facebook (FB)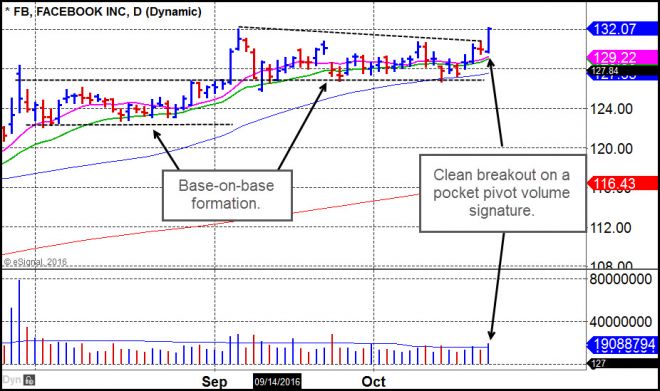 GM - FB broke out on Friday in a move that was both a new-high base breakout and a pocket pivot. In addition, note that this breakout is occurring from a base-on-base formation extending back to late August. This can be considered to be in a buyable position, but keep in mind that earnings are expected on November 2nd, not quite two weeks away.
Dr. K - FB is one of the FANG stocks that have been acting well. It finally broke out after trading in a tight, constructive manner. QE-based capital has been finding its way into US stocks especially big caps which offer the most liquidity.
Netflix (NFLX)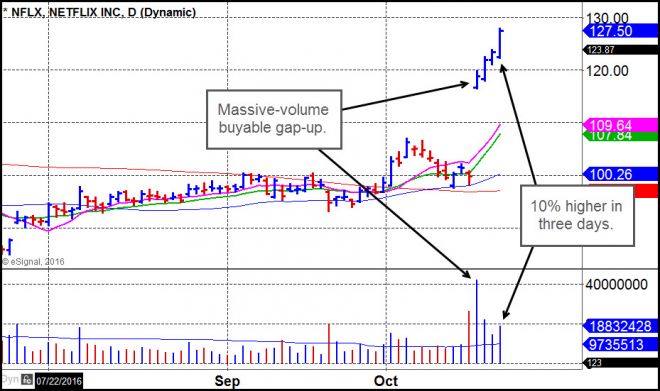 GM - NFLX had a powerful buyable gap-up following its earnings report. We sent out a report on the day of the BGU and the stock is now up about 10% from there in just three days. This is now extended.
Dr. K - NFLX is another FANG stock that is now extended so in the best of cases, may trade tight, sideways sooner than later as it has done prior, or worse, correct back down to its 10- or 20-day moving average.
Paycom Software (PAYC)
GM - PAYC's pocket pivot on Tuesday was a bit sketchy as the stock stalled by the close and ended the day one penny below the 50-day line. Over the next two days it proceeded to "violate" the 50-day line but held along the lows of its recent base. On Friday PAYC posted another pocket pivot, this time as it regained the 50-day line and closed above it by a penny. While this might be considered to be in a buyable position, note that earnings are expected to be announced on November 1st.
Dr. K - PAYC has reacted well to earnings each time over its last several earnings reports. Indeed, its earnings acceleration over the last several quarters has been vigorous. Risk here is about 3-4% using a sell stop below either Thursday's or Friday's low. Group rank is 9 as cloud-based companies have been faring well.