Notes from Gil and Dr. K regarding Pocket Pivot and Buyable Gap-Up Reports that were sent out during the week of January 23-27, 2017.
Momo (MOMO)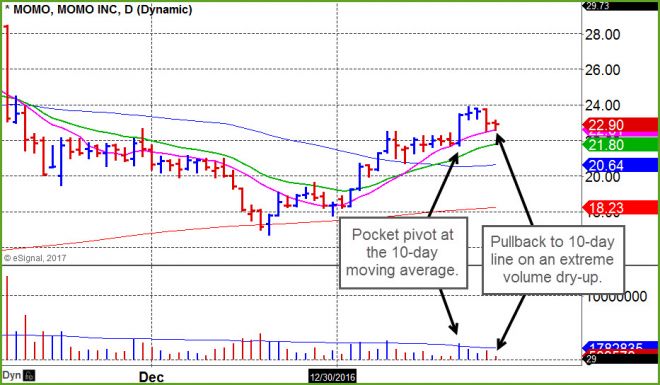 GM - MOMO posted a strong pocket pivot on Wednesday, and over the last two days of the trading week pulled down into its 10-day moving average. Volume on Friday was particularly light at -71.4% below average, which qualifies as a "voodoo" day, or an extreme volume dry-up (VDU).
Dr. K - Earnings and sales in MOMO continue to skyrocket. Leading Chinese stocks are in firm uptrends. MOMO is actionable with a tight stop under its 10-day line. A violation of the line could also be used as a stop. A violation occurs when it closes below its 10-day moving average then trades below that close in subsequent trading days.
Zions Bancorp (ZION)
GM - ZION posted a nice supporting pocket pivot at the 50-day moving average and then rallied back above its 10-day moving average. The stock is now pulling back into its 10-day moving average as volume dries up nicely. This puts it in a lower-risk entry using the 50-day line as a maximum selling guide.
Dr. K - Bank stocks remain strong (industry group rank 2 for this bank region). Banks tend to move more slowly thus tend to obey their 50-day lines better than their 10- or 20- day moving averages. A stop can be placed just below the 50-day.
Barracuda Networks (CUDA)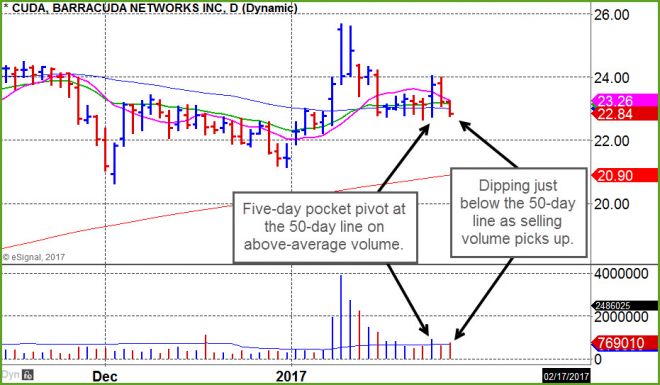 GM - CUDA looked quite strong on Wednesday but gave it up rather quickly as it dipped below its 50-day moving average on Friday with volume picking up and coming in at above-average. The one positive is that while CUDA is below the 50-day line on the daily chart, it is holding above the 10-week moving average on the weekly chart. The 10-week line lies at 22.77, which makes it a reasonable selling guide if this doesn't work out.
Dr. K - On Monday, the 10-week line will update thus Friday's close at 22.77 may adjust to a slightly lower price as it has done in recent weeks which may coincide with the low of 22.66 over the prior trading days. That can be used as a sell stop.
Alibaba (BABA)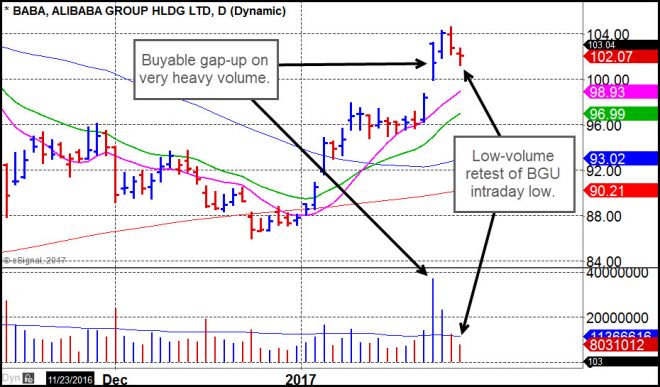 GM - BABA posted a big-volume buyable gap-up move on Tuesday after reporting earnings before the bell on the same day. It is now retesting the BGU low at 99.94. Friday's pullback to the 102 price level puts the stock about 2% away from the BGU intraday low, which serves as your selling guide.
Dr. K - The 10-day line is moving higher so may coincide with the BGU low of 99.94. Based on the 10-day line's rate of ascent, it should be around 99.54 on Monday. One may wish to use the 10-day as a slightly more liberal stop. Alternatively, one could be even more liberal and use an undercutting of the low of the BGU day by 1-2%. Sell stop placements are highly dependent on one's time frame, market context, and the amount of risk one is willing to take.