Trading journal notes from Gil and Dr. K reviewing this past week's Pocket Pivot and Buyable Gap-Up reports:
Medivation (MDVN)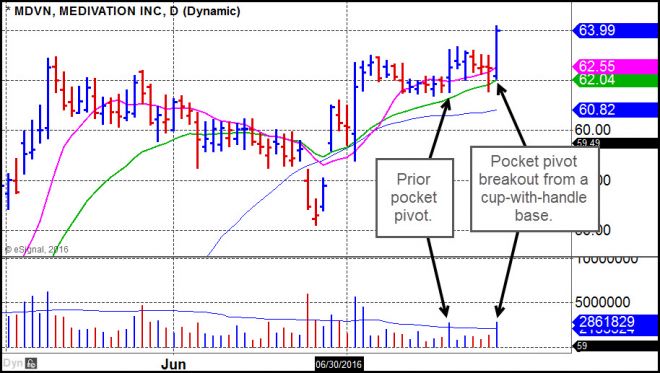 GM - MDVN was best bought on the pullback into the 10-day and 20-day moving averages following last week's prior pocket pivot on which we reported. This is slightly extended from the 10-day moving average but still within buying range of the cup-with-handle base breakout point at 63.34.
Dr. K - MDVN's constructively tight, sideways price action over the past few weeks is an excellent clue as to the odds the stock is setting up for a move to the upside. The pullback to its 20-day moving average was orderly so could have been bought on this weakness.
Ebix (EBIX)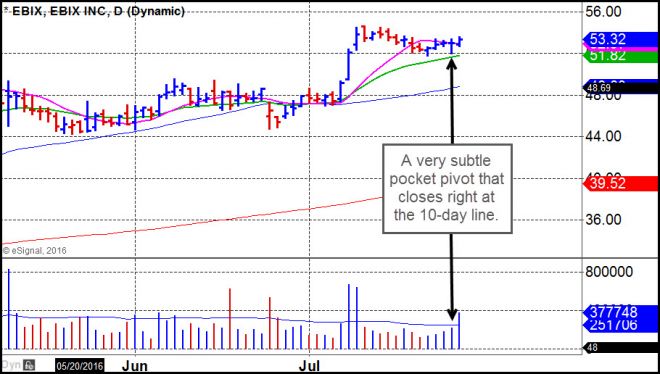 GM - EBIX is acting constructively as it sits tight along its 10-day moving average following its pocket pivot. However, the company is expected to announce earnings later this week, so its not clear that I would want to be playing "earnings roulette" with this going into earnings. Probably one to keep an eye on after earnings.
Dr. K - EBIX has closed higher on each of its last six earnings reports. Its chart has thus shaped into one of strength. Its recent price/volume action since it made new highs in early July is a clue the stock may move to new highs.
Amazon.com (AMZN)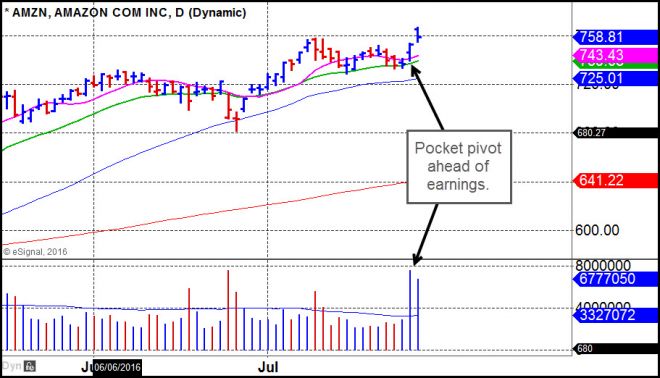 GM - AMZN posted a pocket pivot before announcing earnings on Thursday after the close. The stock gapped up on Friday but churned and stalled a bit to close in the lower part of its daily trading range. I would prefer to buy this one closer to the 10-day moving average at 743.43.
Dr. K - AMZN had two constructive pullbacks to its 20-day moving average before its pocket pivot on Thursday before its earnings announcement.
Boston Scientific (BSX)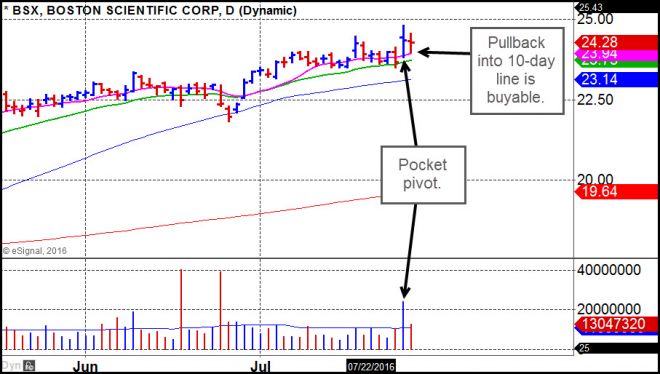 GM - BSX is in a buyable position following Thursday's pocket pivot. Alert investors could have used Friday's pullback into the 10-day moving average as a lower-risk entry opportunity. I would look for any further such pullbacks as similar opportunities.
Dr. K - After BSX's prior earnings report in April, it began a slow upward crawl despite the major averages having a couple corrections including the one involving Brexit. This is a sign of relative strength, thus BSX looks primed to move higher should markets also continue to trend higher.
Edwards Lifesciences (EW)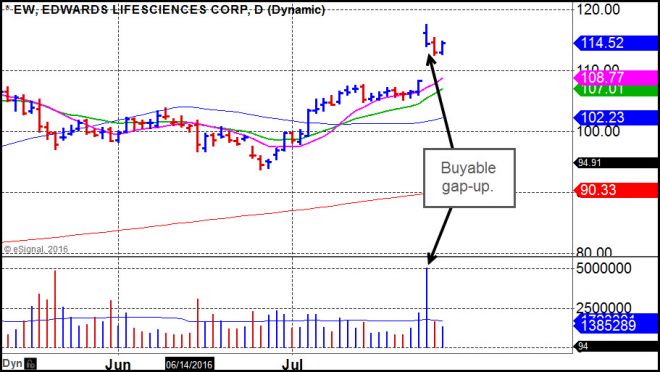 GM - EW posted a buyable gap-up move on Wednesday after earnings, and then drifted just 1.5% below its BGU intraday low of 114.01 before climbing back above that price level on Friday to close at 114.52. In my view it remains within buyable range of the BGU.
Dr. K - Most pullbacks 2-3% below the low of the BGU day can be held. This one remains in buying range.
Veeva Systems (VEEV)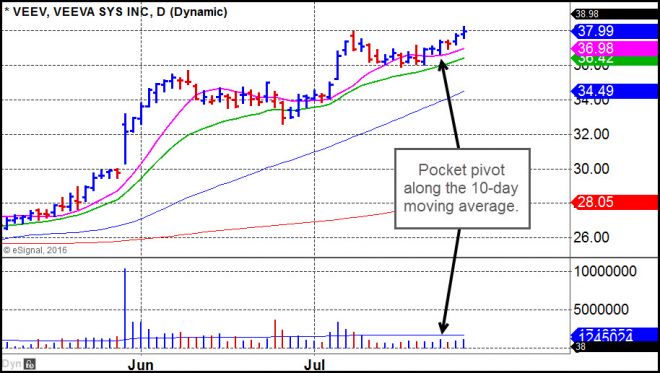 GM - VEEV has moved slightly higher from Tuesday's pocket pivot. Pullbacks into the 10-day line at 36.98 would offer lower-risk entries if one did not get in right away following the pocket pivot. Earnings are not expected until August 25th.
Dr. K - VEEV is becoming slightly extended. It may not hit its 10-day line if it replays its May price action, so a pullback closer to the 10-day line could be bought and still offer less risk than buying at current levels.
Broadcom (AVGO)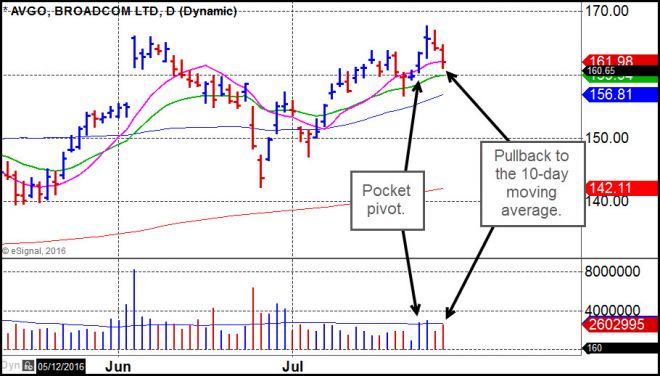 GM - AVGO closed just below its 10-day moving average on Friday as volume increased but remained just below average. A pullback into the 20-day moving average with volume drying up would be good to see and might offer a reasonable, lower-risk entry opportunity.
Dr. K - AVGO would ideally be bought closer to its 20-day moving average but if the market remains strong, it could repeat its March action where it never came within striking distance of its 20-day line, so as always, use market context to gauge your entries and exits.
Fabrinet (FN)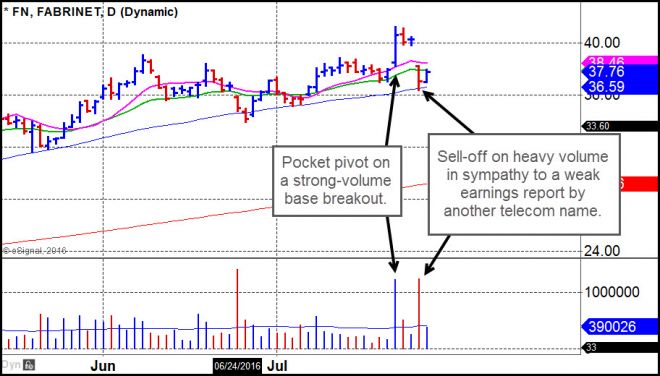 GM - FN was looking quite strong on Tuesday, but as I've often felt with this name it is best to sell this thing into extended strength like this. On Thursday FN got hit with some heavy selling in sympathy to an absolutely atrocious earnings report from an allegedly related telecom name, Infinera (INFN). But if you examine INFN's chart it has been in an extended downtrend since August of 2015. Meanwhile, FN has been in a sustained uptrend since October of 2015. FN is expected to announce earnings on August 15th, and this pullback to the 50-day moving average might offer an opportunistic entry with the idea of using the 50-day line as a tight selling guide.
Dr. K - We mentioned FN's pocket pivot on July 11. It then pulled back constructively to its 20-day moving average where it could have been bought before bouncing off this line into new high ground. When it gapped lower in sympathy with INFN's gap lower, it should have been sold. This opening price was the high of the day. It then hit its 50-day line where it got support. It may stabilize here as it has done three times before, thus its 50-day line could act as a buy point.
Vuzix (VUZI)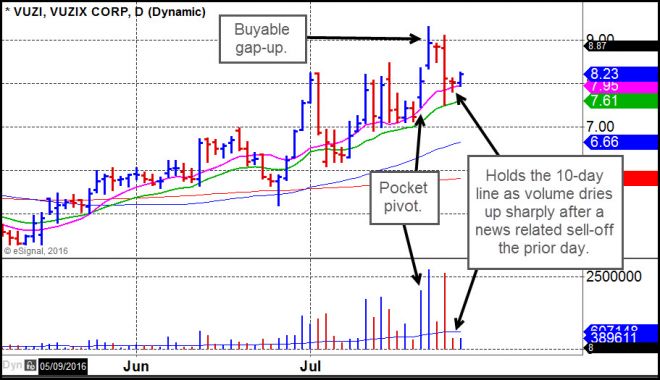 GM - As an extremely thin name, VUZI should only be bought on weakness. Monday's buyable gap-up move was acting okay as of Tuesday, but on Wednesday the stock was hit by a negative report which sent it all the way down to the 20-day moving average. That, however, turned out to be a nice lower-risk entry opportunity as the stock has since regained its 10-day moving average. Notice that on Thursday selling volume dried up sharply as the stock held the 10-day line. On Friday it then pushed off the line just a bit, but remains in a lower-risk entry along the 10-day line based on the volume dry-up, which I like to refer to as "voodoo action."
Dr. K - Key point: Some analyst reports have stated VUZI powers the augmented reality (AR) technology behind Nintendo's blockbuster Pokemon Go game. This is incorrect. This company provides AR glasses that enhance the experience of the game. This is a material difference though VUZI could still continue its climb, but should be sold into strength. It is increasingly doubtful it will be a stock that quickly doubles or triples in price from current levels. One can type in VUZI here to see recent, timely commentary on this stock.