Trading Journal Notes from Gil and Dr. K regarding this past week's pocket pivot and buyable gap-up reports:
Acuity Brands (AYI)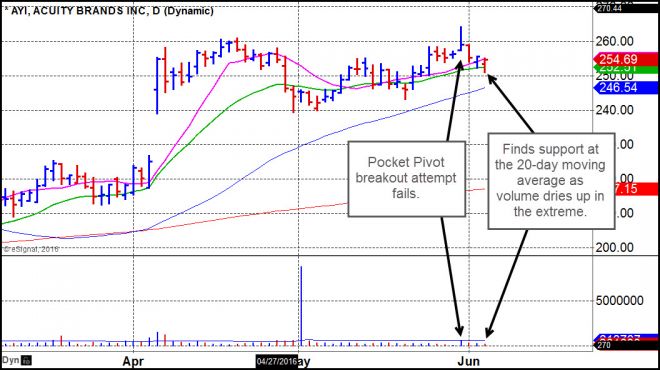 GM - AYI was en route to a pocket pivot breakout this past Tuesday but gave it up as it ran into resistance along the prior April highs in the 260 price range. That's not too surprising in this market, since we often see stocks show strength as they rally into an area of overhead resistance and then turn tail. However, with the stock pulling into the 20-day moving average on Friday as volume declined to -64.6 below average, it is actually sitting in a lower-risk "voodoo" buy position. This is actually my preferred type of entry versus trying to chase a move like we saw on Tuesday.
Dr. K - AYI closed at its 10-day moving average on Friday as it pulled back on quiet volume over the last 3 days. After its gap higher on strong earnings, it went sideways for several weeks until it tried to break out to new highs in the form of a pocket pivot. As we have suggested, buying on weakness is a better strategy in this environment. This type of pullback is constructive and offers a low-risk entry point.
Notes on Active Pocket Pivot and BGU Stocks from Prior Reports: The following stocks are showing low-volume pullbacks into a key moving average where they offer low-risk entry positions: EBIX, FB, ISRG, JBT, MDVN. In most cases one would simply use the nearest moving average as a selling guide. This can be in the form of a hard stop or a technical violation of that same moving average.