Notes from Gil and Dr. K regarding Short-Sale Set-Up Reports sent out this past week.
Activision (ATVI)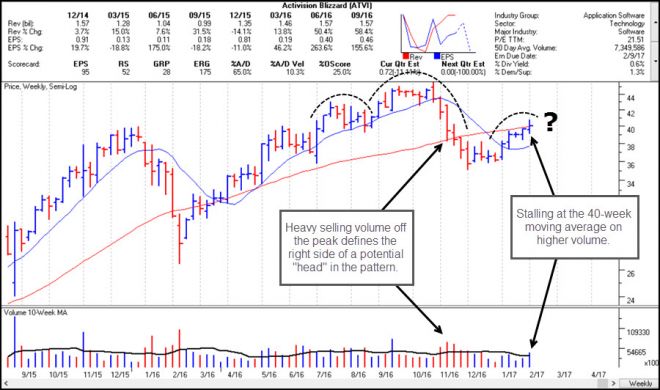 GM - ATVI is expected to announce earnings on Thursday of this coming week. For that reason I would wait to see what transpires after earnings in terms of a potential short-sale entry, if any. Note that while the stock has been showing roundabout type pocket pivots coming up through its 200-day moving average on the daily chart, the weekly chart, above, shows a slighly different story. In this case we can see a possible H&S formation in the making where the stock actually closed below the 40-week moving average where it stalled on higher volume this past week. This may indicate a potential downside move to come, but that won't become clear until earnings have been reported. ATVI did pick up a buy recommendation and $53 price target from a major brokerage firm on Friday, but that only led to a sell-off as the stock closed down on the day.
Dr. K - As a general rule, always remember that analysts are often quick to continue to recommend stocks that are showing weak technical action. Remember the dot.com bubble? From 2000-2001, most analysts continued to defend their buy recommendations even as stocks headed lower. The further a former leader fell, the greater the "buying opportunity". While times are different today, the rule still applies. Analyst upgrades can help a stock higher for maybe a day or two, but such price strength can sometimes offer an entry point to short the stock.
Electronic Arts (EA)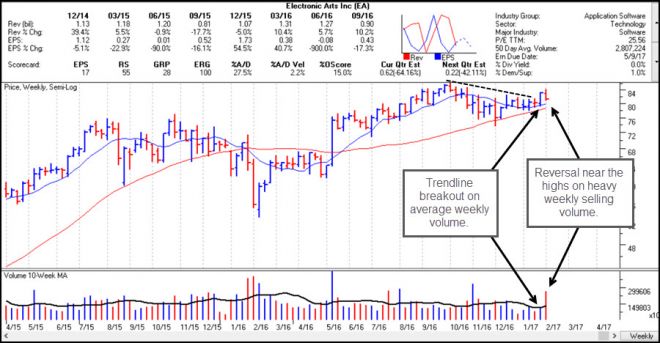 GM - EA came out with earnings after the close on Tuesday, and on Wednesday opened up at 83.43, just below the 84 price level, rallied up to 84.25, and then closed at 83. At that point it was in position to short, and it moved lower over the next two days of the week on heavy, above-average selling volume. EA closed at 81.28 on Friday, five cents below its 20-day moving average. This shows up as a high-volume reversal off the highs on the weekly chart, above. For now the 84.25 high of Wednesday remains your stop on the upside. about 4% above Friday's close. Alternatively, one could use the 10-day line at 82.07 as a guide for a tighter stop.
Dr. K - The price/volume action following EA's earnings report was clearly bearish. The stock has dropped over the last four days on above average volume. Earnings and sales have been problematic while earnings estimates out to the next fiscal year show further slowing.