Current Focus List

The VoSI Focus List is a compilation and reference list of stocks for which Pocket Pivot or Buyable Gap-Up Reports have been issued. It is not intended as a "buy list" or a list of immediately actionable recommendations. Stocks on the list may or may not be in proper buy positions, and investors should exercise discretion and proper judgement in determining when and where stocks on the Focus List can be purchased. The following notes are intended to assist in this process. Please note that members can enlarge the Focus List image by clicking on the body of the email and then holding the Control Key while pressing the "+" key until it is large enough to read.
General Observations:
The major market indexes are in unresolved positions after getting hit with higher selling volume twice this week. In each case, the NASDAQ Composite Index provided a context for a reaction bounce. On Wednesday the index rebounded off of its 50-day moving average, and then on Friday the index rebounded after undercutting prior June lows in the pattern on Thursday. The index is now stalling at the 50-day line as volume declined on Friday ahead of the July 4th holiday. The markets will trade until 1 p.m. EST, 10:00 am PST on Monday.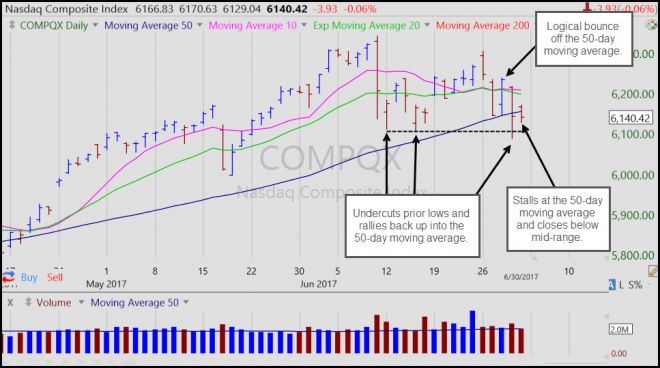 The S&P 500 Index bounced off of its 50-dma on Thursday as it also undercut & rallied back up through prior June lows in the pattern. This set the context for what was a logical reaction bounce on that day. The index then ran into resistance and stalled out at the 20-dema on Friday. Both the NASDAQ and S&P 500 look vulnerable to further downside.
Both the Market Direction Model (MDM) and VIX Volatility Model (VVM) are on a cash signal, reflecting the current market weakness and uncertainty.
Removed from the List this Week: Coherent (COHR) violated its 50-day moving average this past week.
Focus List Stocks Expected to Report Earnings this Week: None.
Notable Action:
Applied Optoelectronics (AAOI) is showing some stalling action as it struggles to hold support around its 50-dma and the top of its prior base breakout point. A clean breach of the top of the prior base would be a bearish development.
Alibaba (BABA) has formed a miniature cup-with-handle formation and so far has been able to hold support at the 20-dema, which we would use as a tight selling guide.
Amazon.com (AMZN) closed just below its 50-day moving average, setting up the potential for a 50-dma violation which should be watched for.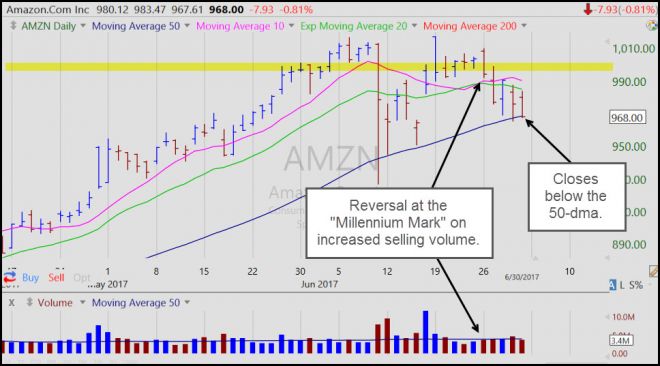 Appian (APPN) is holding tight along its 10-dma as volume dries up. This is constructive action following the roundabout pocket pivot of six trading days ago, but the stock has been unable to make further progress as the weight of the general market puts a lid on the stock for now.
Arista Networks (ANET) is attempting to hold support at its 50-dma, but the prior breaches of the 10-dma and 20-dema would have been sufficient as a selling guide given the steepness of the move down to the 50-dma.
Baozun (BZUN) is attempting to hold support at its 10-dma and 20-dema.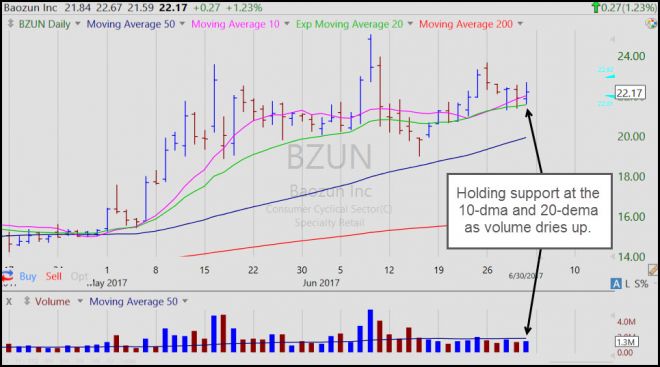 Facebook (FB) is holding support at the 50-dma on its daily chart, but closed the week below its 10-week moving average on the weekly chart. This is at a critical support area.
JD.com (JD) is again retesting its 50-dma after successfully rebounding off the line earlier in June. Whether it can rebound off the line again is questionable, and we would watch this as a maximum selling guide should it breach the 50-dma in the days to come.
Lumentum Holdings (LITE) appears set to test its 50-dma, but was already a sell after failing to hold the 10-dma and 20-dema lines earlier in the week.
Netflix (NFLX) has failed on its recent undercut & rally attempts and is now sitting on top of a prior base.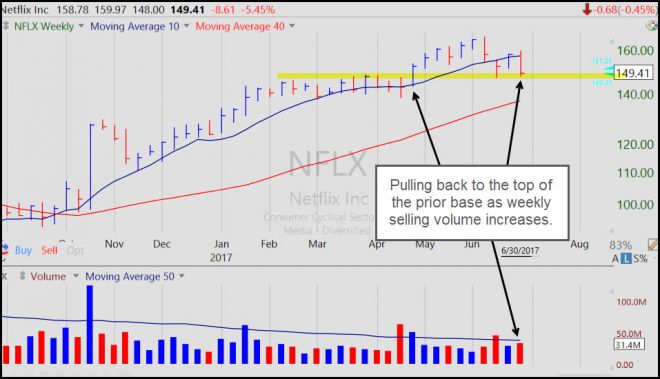 Nvidia (NVDA) is now violating its 20-dema, which we would use as a tight selling guide. The 50-dma can serve as a wider selling guide, but we see no reason to give up profits given that one can easily buy the stock back if it is able to set-up again in a lower-risk position.
ServiceNow (NOW) is attempting to hold support at its 10-dma and 20-dema. We would use the 20-dema as a tight selling guide.
Square (SQ) closed just below its 20-dema, but has not violated the moving average yet. It remains in a four-week base.
Take-Two Interactive (TTWO) has held up on its undercut & rally long entry of three days ago as it also found support at its 50-day moving average. However, it did stall at the 20-dema on Friday and may be set to retest the 50-dma if the general market also corrects further.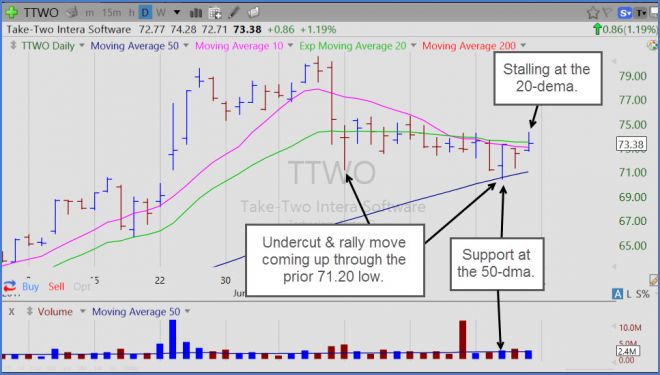 Tesla (TSLA) closed below its 20-dema on Friday, but has not violated the line. The company is set to announce its latest sales and delivery numbers in the next few days, and this could have an influence on the near-term direction of the stock price.
Trivago (TRVG) has been on a tear lately as it ignores the general market action. After breaking out to new highs on heavy buying volume Thursday, the stock continued higher on Friday and is now well-extended on the upside. This was last buyable along the 10-dma and 20-dema and the lows of the prior base per our comments in this report as well as our weekday morning Focus List Notes.