Trading journal notes from Gil and Dr. K regarding this past week's Pocket Pivot reports.
GrubHub (GRUB)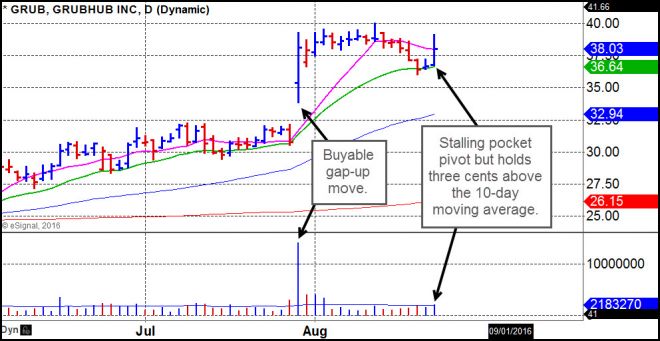 GM - GRUB stalled on Friday's pocket pivot move but held three cents above the 10-day line. While I would prefer to buy this on the pullback to the 20-day line, this is in a buyable position using the 20-day line at 36.64 as a maximum selling guide. Meanwhile, there appears to be some resistance up near the 40 price level that may need to be worked off before the stock can move significantly higher.
Dr. K - GRUB has had a chance to consolidate gains from its prior gap higher. This consolidation period becomes more necessary the lower in the base a stock gaps higher as the stock must work off overhead resistance. Friday's action off its 20-day moving average bodes well for a potential move higher, should the general market continue to trend higher.
New Oriental Education & Technology (EDU)
GM - a nice quiet pocket pivot along the 50-day and 10-day moving averages that is in a relatively low-risk entry position given its proximity to both of these key moving average lines.
Dr. K - It is always a sign of strength to see a pocket pivot occur near a convergence of moving averages, in this case, the 10-, 20- and 50-day moving averages.
Ulta Salons Cosmetics & Fragrance (ULTA)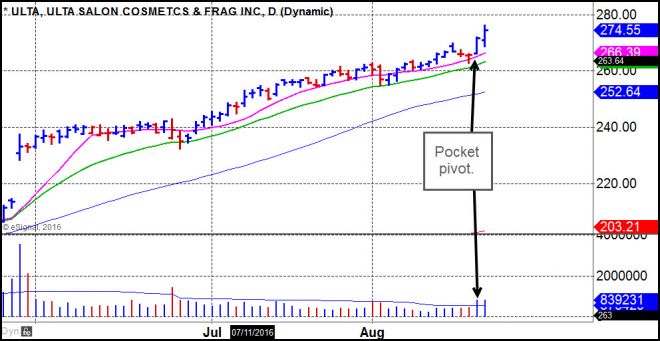 GM - Thursday's continuation pocket pivot was somewhat extended at the time, but a brief pullback on Friday morning brought this closer to the 10-day moving average which made it much more optimal as a potential entry point. It is now extended once again.
Dr. K - We have mentioned ULTA a number of times prior, so it was a bit late to be buying Thursday's pocket pivot, but for those who are sitting on a position and wish to pyramid, Friday's pullback closer to its 10-day line could have been bought.
Edwards Lifesciences (EW)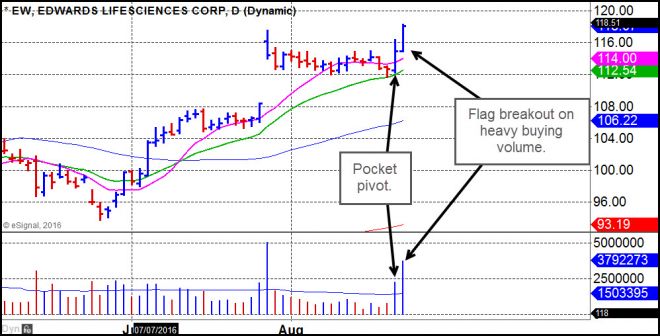 GM - a slightly stalling pocket pivot on Thursday provided a reasonable entry point not too far above the 10-day moving average. EW then broke out of a one-month flag formation on very strong buying volume on news that it had received a key approval from the FDA for one of its newest products, the Intuity Elite Heart Valve. While the stock is somewhat extended from Thursday's pocket pivot, which reported on at that time, it remains within range of Friday's flag breakout.
Dr. K - Since its gap higher on strong earnings, it moved sideways into support at its 20-day line, then pocket pivoted off this line. For any of you who bought EW on the day it gapped higher, you may still have your position since it undercut the low of its gap up day by 2.0%. A rough rule of thumb is placing a sell stop 1-3% below the low of the gap up day, depending on the stock's volatility and general market action. In this case, it traded in a tightly constructive manner then got support at its 20-day moving average, so contextually, one could have held.
Momo (MOMO)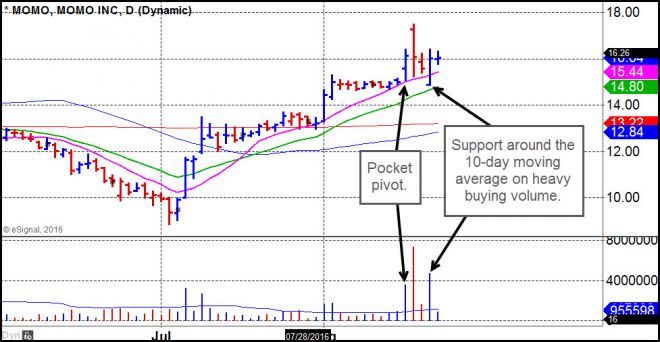 GM - MOMO has been unable to generate any significant upside "mo-mo" since its pocket pivot of this past Monday, but remains viable nevertheless. Overall it was a wild week for the stock, but the end result was little movement from Monday's pocket pivot. On Tuesday, after announcing earnings, MOMO attempted to move higher but was rejected to some extent as it closed below the mid-point of its daily trading range on very heavy volume as sellers hit the stock off the intraday peak. On Thursday the stock showed some supporting action off the 20-day line and back up through the 10-day line on very heavy buying interest, which appears to be quite constructive. Things settled down significantly by Friday as volume declined sharply and the stock held tight just above its 10-day moving average. Now that the dust is settling we see that the short-term tug o' war over this past week has essentially left the stock well within range of its Monday flag breakout and pocket pivot and just above the 10-day line. Therefore this remains buyable using either the 10-day or 20-day lines as nearby selling guides depending on one's risk preference.
Dr. K- MOMO is the dating app Tinder of China. Tinder has been hugely successful in the U.S. Momo's monthly active users in March reached 78.1 million, up 83% from a year earlier, while both its earnings and sales shot higher when the company reported earnings last Tuesday. Sales came in at $99 mil, up 222% from the same quarter a year ago, and earnings turned positive in March 2015, but could not break above 0.03/quarter until its recent report, coming in at 0.06 for the quarter ended June 2016. The stock may have used the last few trading days to work off some overhead resistance around the 16/16.5 level, so keep a close eye on this one.