This week there were only two PP and BGU reports sent out as the market begins to slow down a bit. Below are notes from the Trading Diaries of Dr. K and Gil on these stocks:
New Oriental Education & Technology (EDU)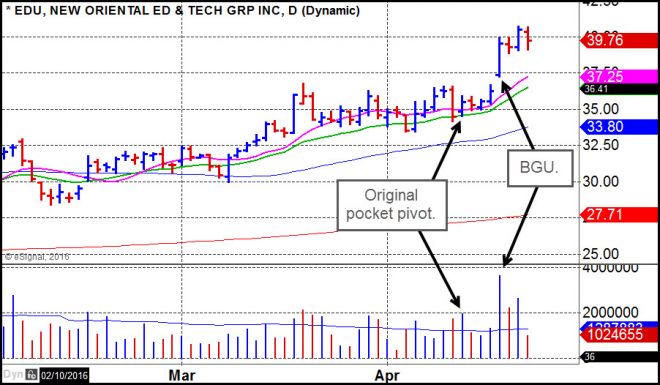 GM - EDU has been a good performer since we first put it on as a pocket pivot within the base on 4/13. The buyable gap-up this past Tuesday came after the company announced a strong earnings report, and it has continued higher since. Only a pullback down close to the intraday low of Tuesday's BGU day at 37.26 would offer your lowest-risk entry. Notice also that this 37.26 BGU intraday low coincides with the 10-day moving average at 37.25, so both can serve as guides for support on any pullback from current levels.
Dr. K - The email on EDU was sent when, after having gapped higher, it was trading roughly mid-bar then continued to rally for the remainder of the day to close near the top of its trading range. Sometimes, one must act fast and buy upon receipt of the email as the risk given EDU's intraday lows at that point in time was still relatively small.
John Bean Technology (JBT)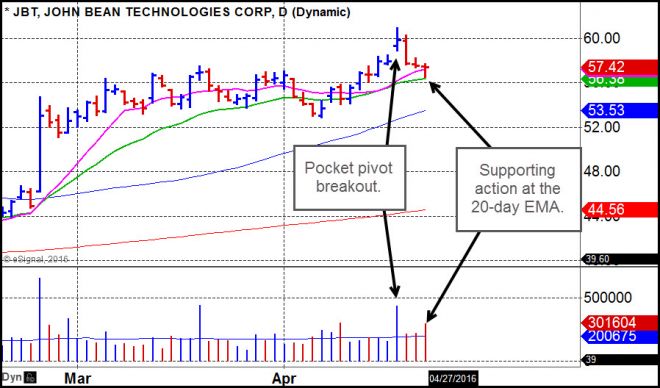 GM - JBT is expected to announce earnings on Tuesday, so I would not be interested in trying to play "earnings roulette" with this. The stock has had a decent price run over the past 5-6 months and this is its third base breakout over that time period. Interestingly, JBT has bucked much of the market weakness seen in late summer 2015 and in January of this year as it has steadily built base after base on the way up. For my money, however, this stock is far too thin for me to play, as I prefer bigger stocks trading more average daily volume. In general, larger average daily volume = greater institutional participation, although this does not apply 100% of the time. Smaller names with outstanding potential can often be accumulated by small-cap funds, albeit in smaller size given their low liquidity.
Dr. K - JBT gapped higher then undercut the low of the gap up day the next day by more than 1-2% so should have been sold. Typically, a 1-2% undercut of the low of the gap up day is permissible. The market has favored larger cap stocks thus given the challenging nature of this environment which has been with us for quite some time, it is best to have any many variables stacked in your favor. That said, if you wish to try your hand at any smaller cap names, a smaller position size or a tighter stop loss is recommended.