Market Lab Report / Dr. K's Crypto-Corner
by Dr. Chris Kacher
The Metaversal Evolution Will Not Be Centralized™
Why inflation may remain persistently high
The recent attempted bounce in the major averages shows the economy is not cooling down at the pace the Fed had hoped. Nevertheless, this is bearish in the longer run as the market prices in higher future interest rates and the dollar continues to bounce. The jobs report to be released this Fri March 10 may show, once again, a tight labor market which will further fuel the odds of an even higher terminal rate. After Fed chair Powell spoke on Tuesday, CME Fed fund futures now shows a 50 bps rate hike as most likely when the Fed meets on Mar 22 along with two more 25 bps rate hikes which would bring the terminal rate to 550-575. But hiking rates only suppresses the demand side of the equation. The Fed has little control over supply side inflation.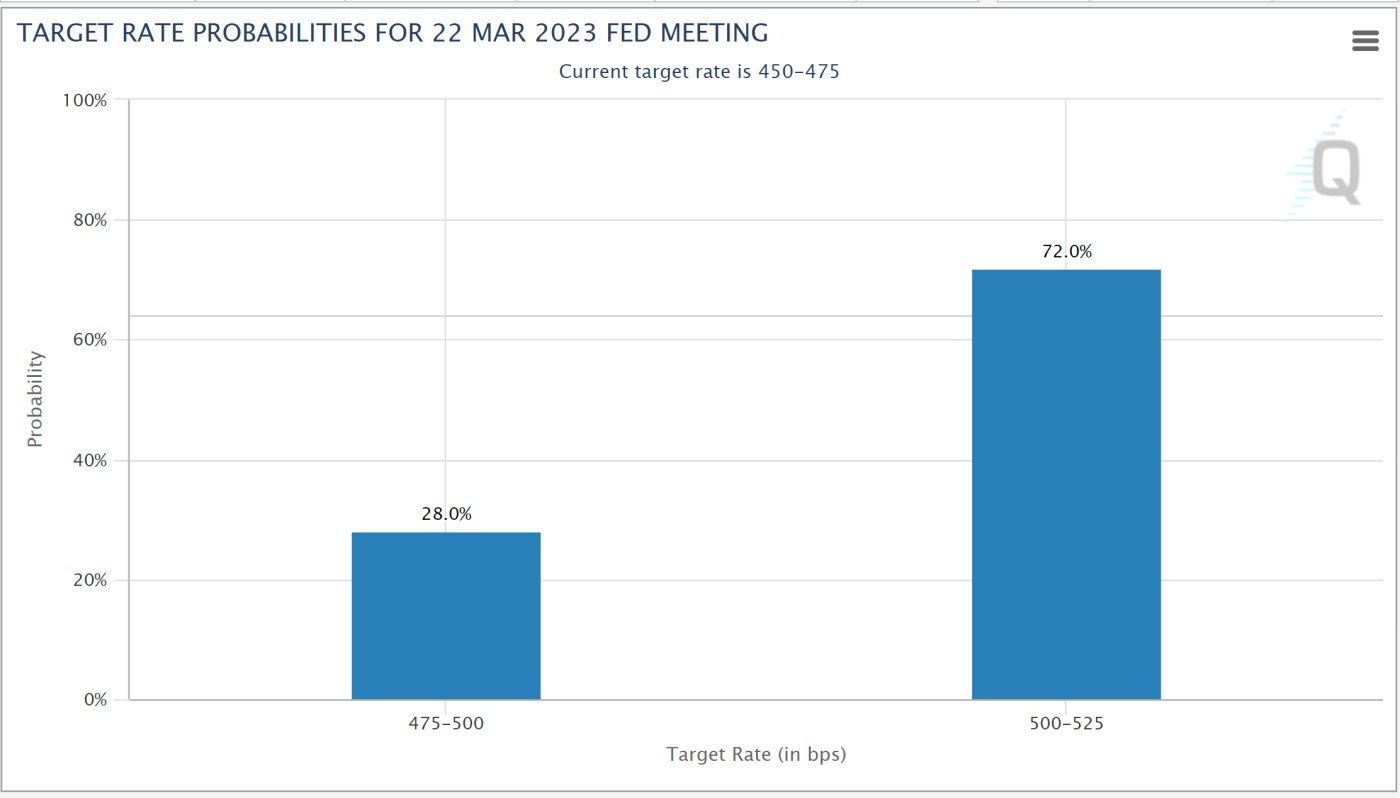 Given the record pace of rate hikes since the Fed started to tighten, a historically hard recession in the US, UK, and EU is in the offing as various metrics are already showing that delinquencies are soaring as nearly 2/3 in the US and UK are living paycheck-to-paycheck which will inevitably impact corporate earnings and unemployment. Meanwhile, sticky inflation is due to persistent supply chain issues, supply shortages of critical commodities such as fertilizer and wheat contributing to food inflation, as well as government anti-competitive overregulation in industries such as healthcare, housing, and education which prevents fair competition.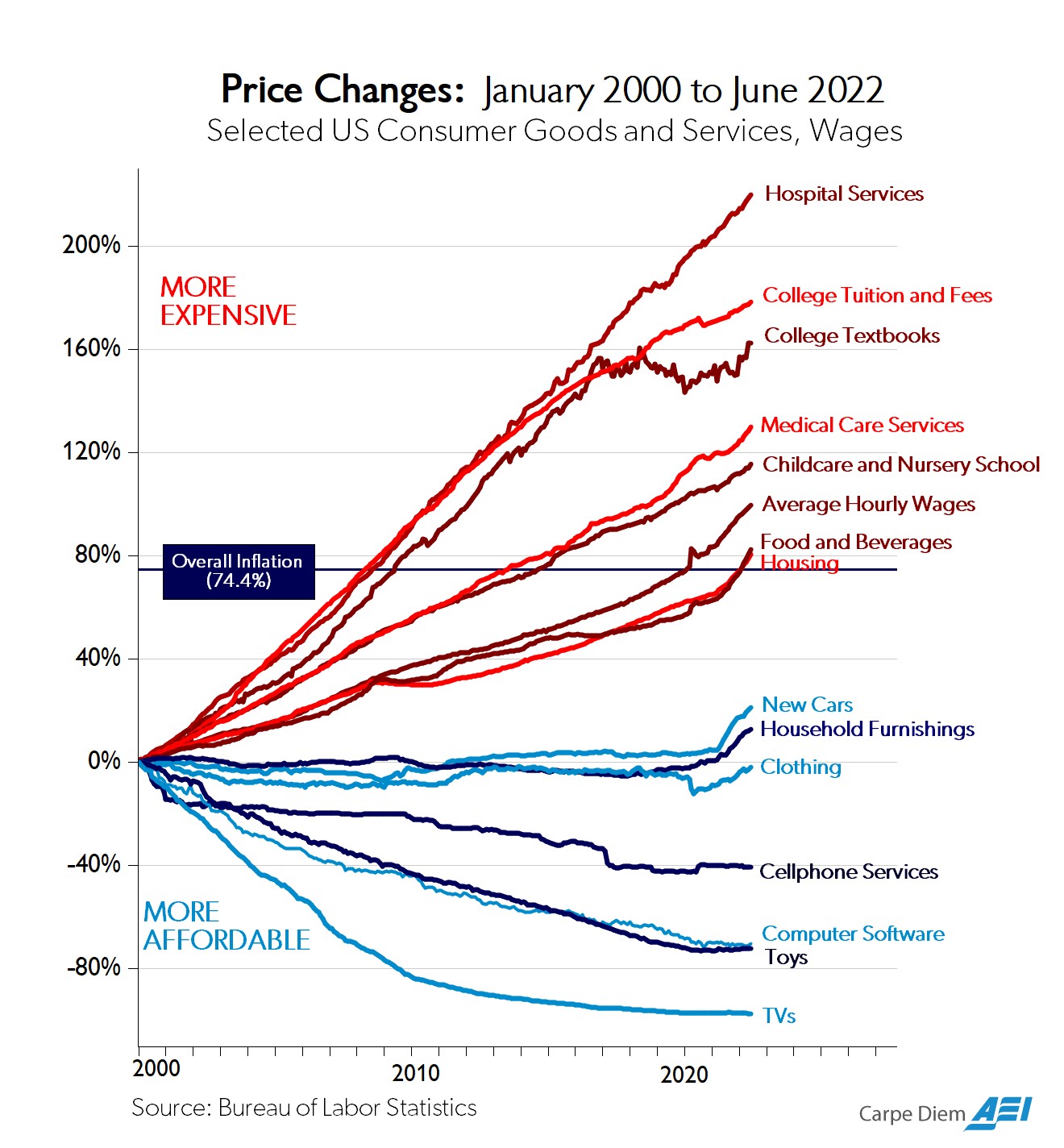 Government overregulation a major culprit
Government overregulation is due to government subsidies and regulations which restrict supply by preventing new competition which causes prices to rise. As one of many examples, the Dodd Frank law prevented new bank creation. But this is nothing new. In the 1930s, the US government gave Ma Bell an artificial monopoly causing all telephonic innovation to come to a grinding halt for the next few decades. Same for other major industries over the last century which greatly hampers progress.
Indeed, back then and in various markets such as today's healthcare, education, and housing, new technologies would lower prices as they do in unregulated industries such as computers, mobile phones, and big screen TVs. Instead, new tech is prevented by nation-states (governments) from manifesting in these overregulated industries. So services remain expensive relative to goods mainly because they are prevented from becoming tradeable. Health care, education, and housing could become tradeable if governments allowed them to be, but they dont in the name of protecting the consumer, jobs, and the suppliers, none of whom get protected in the end since excessive inflation across these industry groups in the end result. Everybody loses. As one of many examples where trade could reduce the skyrocketing price of education, higher ed has forcefully pushed back against online competitors as big money universities lobby politicians. Startups like Udacity couldn't get accreditation and therefore couldn't compete with schools that got governmental subsidies.
Then to protect producers, anti-trade and anti-technology argue against cheaper prices thus government regulations make such industries anti-competitive, much as Ma Bell was given that artificial monopoly in the 1930s.
The reality is that when consumers have more money to spend on everything else due to lower prices in one or more industry groups, the standard of living rises. That new spending creates new jobs and industries into the market of infinite human wants and needs, which is why through the years,
technological advancements never increase overall unemployment.
For example, the unemployment of the horse & buggy operators due to the automobile certainly did not arrest job growth in transportation. Do we want to ban recorded music to boost employment of musicians? Then why are we forcing education to remain in physical classrooms?
AI will be an amazing lever to turn what are now labor intensive services into tradeable technology goods at far lower prices. Today, though, doing that is mostly illegal again in the name of protecting people's jobs and the producers.
Ultimately,
the above is illustrative of the lack of deep understanding of a situation.
The failure to see how everything interconnects drives politicians to pass uneconomic laws which result in higher inflation which costs everyone in the end. We have seen this lack of depth of understanding in global warming, COVID, drugs, sex, terrorism, and anti-money laundering issues. Most of these controversies have become weaponized by mainstream media resulting in emotional, leftist, woke reactionary and uneconomic laws to be enacted.