Trend followers are having a tough time this year because the market has been trading in a choppy and sloppy manner all year, with no sustained uptrends or downtrends as of yet. So far this year, the market tends to move in one direction for a few days only to have some news event cause it to reverse course. For example, it did this twice in January, then again in February.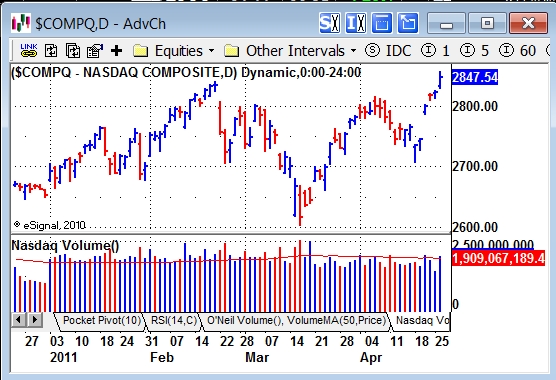 Even the trend following wizards who have been tracked by the likes of Jack Schwager who wrote the classic "Market Wizards" book series and Michael Covel who wrote "Trend Following: How Great Traders Make Millions in Up or Down Markets" have been having a tough time, as most of these wizards are down for 2011, with a couple even down double digits:
http://www.automated-trading-system.com/trend-following-wizards-march-2011/
That said, our Market Direction Model which is more than just a trend following model continues to outperform: https://www.virtueofselfishinvesting.com/results
While year-to-date returns are solid as we are only 4 months into the year, the biggest returns come when the market starts to trend again. You'll notice that when the model hits a true signal as it did a number of times in years past, the profits are huge as it is able to ride the trend without jumping off prematurely. This accounts for how the model achieved returns of +157.3% in 2009 and +86.5% in 2010 using the 3-times ETF TNA which mirrors 3-times the Russell 2000. Incidentally, our studies have shown the Russell 2000 carries the best risk/reward among the various market indices since it tends to rise the most on a buy signal and drop the most on a sell signal issued by the model. So far, year-to-date, four months into the year, TNA is up +8.8%, so we believe the best is yet to come. Please note that these returns are based on our own calculations, and have not been audited or verified by any third party, but we believe them to be accurate for the illustrative purposes for which they are intended.