Major averages rose on higher volume. Both NASDAQ Composite and S&P 500 remain in a tight trading range, though the NASDAQ did just barely close on a new high, so looks to continue its uptrend. Such action accompanied by fairly good action on the part of leading stocks together with quantitative easing remaining on full tilt bodes well for a continuation of the current uptrend, barring of course any shocking news. Nasty news has generally had a short-lived effect on the general markets. The biggest drops in the market since 2009 have had to do with quantitative easing ending as it did after QE1 then QE2, problems in Europe, or the lesser effects of operation twist together with talks of slowing QE altogether.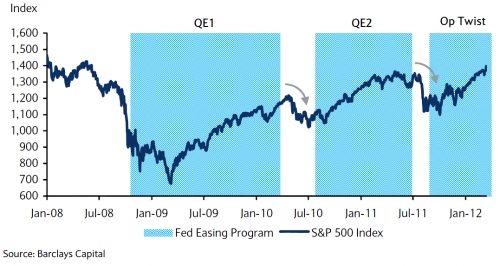 Invensense (INVN) reported earnings yesterday and beat by a penny, but the stock is up less than 1% this morning. INVN has had several pocket pivots in its pattern over recent weeks and remains within buyable range. It may be that the stock gets a slow start following a good, but not blowout earnings release, as most of its story is a forward-looking one.
Stocks that had buyable gap-ups within the past week, such as Illumina (ILMN), remain in a tight range, and generally it is constructive when a stock builds a tight flag formation following a BGU this is generally constructive.
Three-D Systems (DDD) missed on earnings yesterday, but the stock did hold its 50-day moving average on heavy trading volume. It is possible that the stock may be able to stabilize and reset here, so investors should be alert to this possibility.
First Solar (FSLR) just missed a pocket pivot by one day yesterday, but investors should be alert to a potential move off the 50-day moving average if volume is strong enough to qualify as a pocket pivot. SolarCity (SCTY) is in a similar position, although in this case it is sitting at its 10-day moving average.
U.S. Silica Holdings (SLCA), which has had a couple of pocket pivots over the past two weeks, reports earnings after the close.
The Fed releases its latest policy announcement today at 11:00 a.m. Pacific Time which has the potential to move the markets, although it is not likely that they will seek to "rock the boat." Essentially, it becomes a matter of watching one's stocks and reacting to the market's movement on that basis alone.