Some questions have come up from members as to whether ETFs such as TBT which is a 2-times inverse ETF of Barclays 20+ year U.S. treasury index, or TMV which is a 3-times inverse ETF of the NYSE current 30-year treasury index, are good investments as they are breaking their downtrend. To make it clear, when the price of bonds drop, their yields rise. Since TBT and TMV are inverse ETFs, when the price of bonds drop, the price of TBT and TMV rise.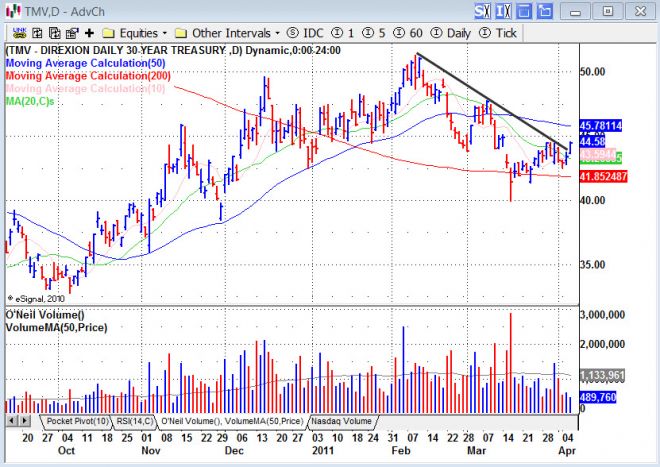 On a fundamental basis, odds are that bonds will be entering a prolonged bear market at some point as interest rates are being kept as low as possible through means such as quantitative easing (QE) so have nowhere to go but up. That said, QE2 should continue until at least June and possibly longer in the form of QE3, so it is possible that rates could be kept artificially low for a prolonged period. Fed futures are pricing in a 25 basis point (0.25%) hike in rates by early 2012.
Attempting to guess the beginnings of a bear market, whether it be bonds or stocks, is most challenging, thus it is best to let price/volume show you the signs. Should we see a pocket pivot in TBT or TMV, we will alert members as this would suggest the potential of a change of trend or breakout to the upside.