A couple of interesting pocket pivots caught our eye today. The first is in Deckers Outdoor Corp. (DECK), which flashed a very subtle pocket pivot volume signature (note that it is in fact higher volume than any down-volume day over the prior 10 trading days) as it cleared the 50-day moving average, as can be seen in the daily chart below. We would expect this buy signal to hold the 50-day moving average.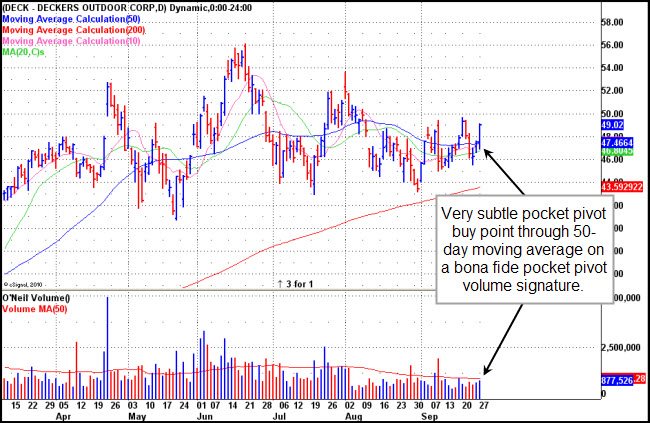 Juniper Networks (JNPR), long dormant, also flashed a pocket pivot buy point off of its 10-day moving average as we see below. This would be buyable using the 10-day moving average as a quick selling guide.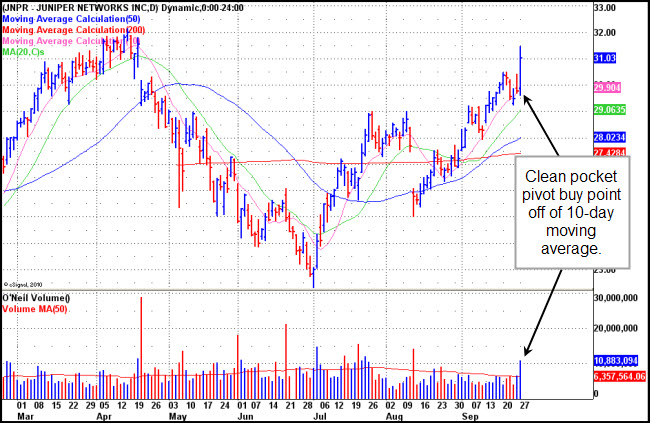 What is most interesting about JNPR's pocket pivot is that it is occurring while the stock is trying to emerge from this long-term cup-with-handle formation, as we see on the 3-year weekly chart below. Keep in mind that some of these pocket pivot buy points we are seeing right now could be "late-bloomers" and so may not have the same thrust as some of the earlier ones we picked off in early to mid-September.