If you were too busy wigging out over all the red on your quote screen today. you may not have noticed that Coinstar, Inc. (CSTR) posted a second pocket pivot buy point in as many days. This occurred in the face of a weak tape as CSTR sold down to its 10-dma right off the opening, providing a nice "scoop and run" that worked out well by the end of the day.
The general market indexes are weak, no doubt about it, but pockets, literally pocket pivots, of strength do continue to show up in a number or leading stocks and sectors. There is some underlying strength in this market, and a follow-through day in the next few days would help to confirm this, although for now the Market Direction Model (MDM) remains on a sell signal. The way we operate, the MDM tells us that risk has increased for the long side, and we act accordingly with respect to setting stops if we choose to play stocks like CSTR which show strength in a weak tape. You may have noticed also that OPEN posted a second pocket pivot buy point in as many days as well. We don't show OPEN's chart here, but you can review our original post yesterday on the first pocket pivot.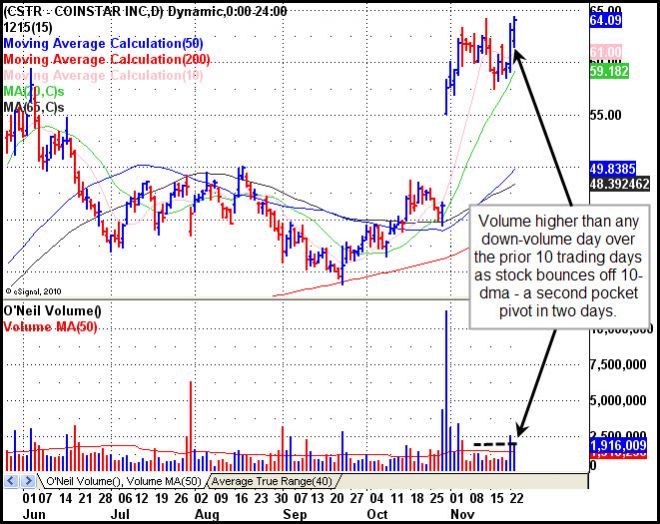 Ulta Salon Cosmetics (ULTA), a retail/cosmetics play, has posted two pocket pivot buy points in a row as it works its way up into new high price ground within this tidy little uptrend channel it's been forming since it broke out a couple of months ago or so. Retail stocks have been showing strength in certain areas, and ULTA would be considered a retail play. This uptrend channel following a breakout reminds us of Chipotles Mexican Grill (CMG), which, incidentally, also flashed a pocket pivot buy point AGAIN yesterday. You may recall that CMG broke out with the market follow-through in early September and then slowly and excruciatingly drifted higher for several weeks before launching decisively to the upside. Whether ULTA ends up like CMG remains to be seen, but we like this pocket pivot buy point right here as ULTA counter-trended the general market today, showing strength in the face of a weak tape.